The following is a list of the top 20 holdings of Stux Capital Management, a New York based firm with more than $520M under management.
Founded in 2001 by Ivan Stux, Ph.D., the previous head of Morgan Stanley's analytical and quantitative research, Stux manages U.S. equity assets for institutional investors. The company was selected for the CalPERS Manager Development Program at year-end 2003.
They explain their strategy as follows: "We employ a set of proprietary techniques and procedures to establish relationships between relevant macroeconomic and fundamental factors and the expected performance of sectors and stocks. This results in attractiveness signals (alphas) for sectors and stocks. Using these alphas and the required client objectives and constraints, we build and maintain investment portfolios."
Here is a list of their top 20 holdings as of June 30, 2010. A full breakdown follows below.
click for expanded images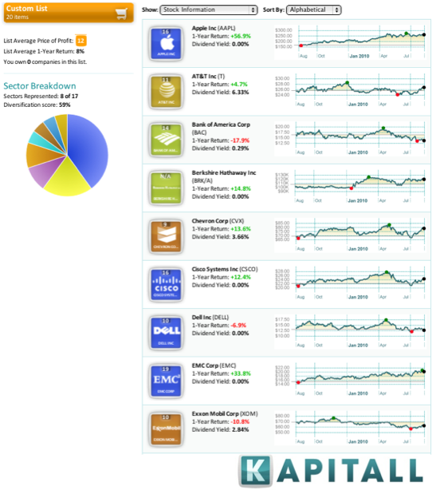 1. Apple Inc. (NASDAQ:AAPL): $13,507,000
2. ExxonMobil (NYSE:XOM): $12,424,000
3. Microsoft (NASDAQ:MSFT): $9,066,000
4. Hewlett Packard (NYSE:HPQ): $8,656,000
5. Procter and Gamble (NYSE:PG): $7,965,000
6. AT&T Inc. (NYSE:T): $7,451,000
7. Johnson and Johnson (NYSE:JNJ): $7,117,000
8. JPMorgan Chase (NYSE:JPM): $7,069,000
9. Bank of America (NYSE:BAC): $6997000
10. Berkshire Hathaway (NYSE:BRK.A): $6,845,000
11. EMC Corp. (EMC): $6,606,000
12. Chevron (NYSE:CVX): $6,589,000
13. International Business Machines (NYSE:IBM): $6,335,000
14. Dell Computer Corp. (NASDAQ:DELL): $6,111,000
15. Pfizer (NYSE:PFE): $5,996,000
16. Cisco Systems (NASDAQ:CSCO): $5,907,000
17. Wells Fargo (NYSE:WFC): $5,875,000
18. Freeport-McMoRan Copper & Gold Inc. (NYSE:FCX): $5,872,000
19. Honeywell (NYSE:HON): $5,488,000
20. Texas Instruments (NYSE:TXN): $5,450,000

Disclosure: No positions