Alibaba (ABABA) is going to be public and Yahoo's (NASDAQ:YHOO) 22.6 percent interest in Alibaba is going to draw some ink.
So what is Alibaba anyway, and what is it worth per Yahoo share? This chart from Quartz.com is helpful.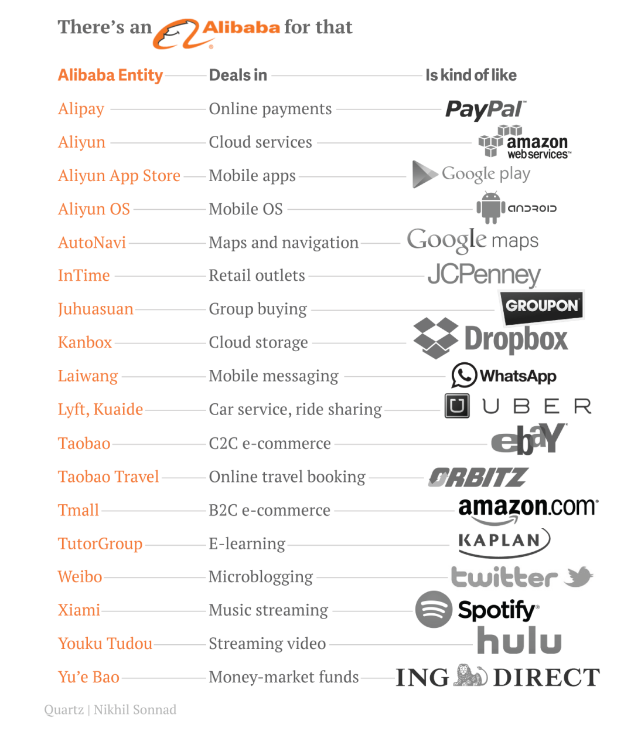 Alibaba is just about everything that is hot on the Internet. Often compared to Amazon.com (NASDAQ:AMZN), Alibaba is all that Amazon is and a bit more. And, it is profitable. The IPO filing shows that Alibaba earned $2.8 billion on revenues of $6.5 billion last year and has $7 billion in cash. The Street will be all ears for the initial pricing of the stock following the IPO with investors trying to handicap not only whether to buy into the newly listed Alibaba but also what it means for the future value of Yahoo.
With about 1 billion shares outstanding, Marissa Mayer's playground has a market capitalization of about $37 billion and owns approximately 22% of Alibaba. If Alibaba goes public at a market capitalization of $195 to $200 billion as many think, Yahoo's holding in Alibaba will be worth $43 for every Yahoo share.
Realizing that value will trigger some tax, no doubt, but the point is that Yahoo's Alibaba stake pretty well represents the total value of Yahoo with no value attributed to the rest of its business, you know, the one Marissa Mayer actually runs.
Yahoo will sell one third of its Alibaba holding in the IPO and could garner about $12 billion after taxes by my arithmetic. The value of the rest of Yahoo's holding will be determined in the market. The IPO seeks to raise $1 billion for Alibaba with the rest of the stock coming from selling shareholders including Yahoo.
There is sure to be some volatility following the Alibaba offering making YHOO an interesting trade.
I think smart money buys some Yahoo stock before the issue and covers the holding with a near the money call option. After all, it is a trade. The longer-term hold is not YHOO but Alibaba itself, depending on the market pricing of course. While Alibaba has plenty of risk, its massive Internet presence in the world's largest economy gives it growth prospects few can match.
Excluding Alibaba, the value of Yahoo is probably on the order of three times revenues or about $15 billion. Yahoo has its problems for sure, but it is profitable and has a net cash balance of a couple of billion. For the purposes of this trade, it is not necessary to be precise on the value of either Yahoo or Alibaba since the ballpark estimates show substantial gains with limited downside.
By my arithmetic, Yahoo shares post the Alibaba IPO should have a value between $42 and $54 all of which are greater than today's price of $35 a share.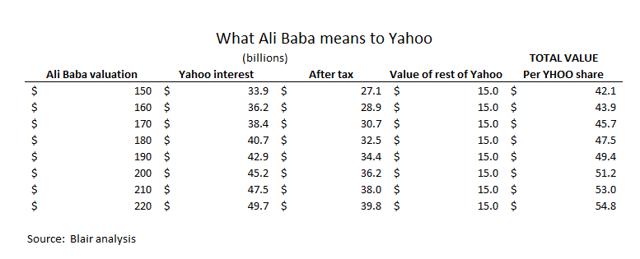 I am long the name.
Disclosure: I am long YHOO. I wrote this article myself, and it expresses my own opinions. I am not receiving compensation for it (other than from Seeking Alpha). I have no business relationship with any company whose stock is mentioned in this article.