The mixed returns continued this week in the IPO market. And interestingly, those companies that went public a few weeks ago are, on average, faring far better than the companies that went public more recently.
In last week's IPO Update which included returns from each company's first day of trading through August 2nd, performance was variable as well. Through August 2nd, Qlik Technologies (NASDAQ:QLIK) was up around 21 percent while Smart Technologies (NASDAQ:SMT) was down around 15 percent.
Last week we saw four of the companies we've been following fall in value, while four rose. As compared to the Russell 2000 Small Cap index, which rose a meager 0.3 percent last week, these stocks were considerably more volatile. The chart below has the returns of the IPOs we've been following.
click to enlarge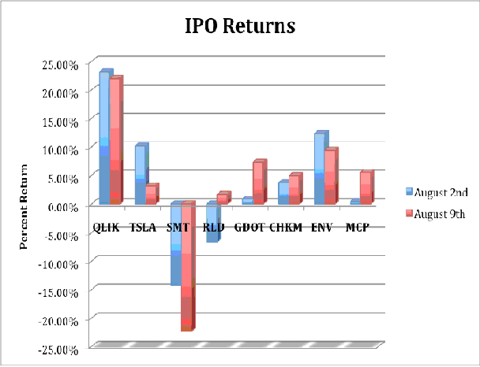 As you can see recent winners included RealD (NYSE:RLD), Green Dot (NYSE:GDOT), Chesapeake Midstream Partners (CHKM), and Molycorp (MCP). Investors jumped in on pre-payment card company Green Dot before it reported second quarter earnings results after the bell on Thursday, sending shares nearly 7 percent higher.
QLIK Technologies (QLIK) and Envestnet (NYSE:ENV) retreated slightly while Tesla Motors (NASDAQ:TSLA) and Smart Technologies (SMT) lost 7 and 8 percent, respectively.
Despite the varied returns last week, nearly all of these companies (six out of eight) are showing positive returns. In sharp contrast, six of the seven IPOs that launched last week have negative returns through yesterday. This is dramatic underperformance, especially considering the Russell 2000 was positive, even if only by a third of a percentage point.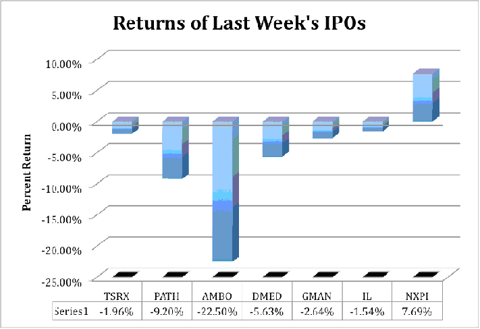 NXP Semiconductors (NASDAQ:NXPI), the only winner for the week, rose 7.7 percent. However, I'd steer clear of this company which has $4.5 billion in debt - a heavy load that could adversely affect the company down the road.
Looking forward, there are six IPOs scheduled to hit the market this week. China Kanghui Holdings, which plans to trade under the ticker symbol KH, is one of China's leading orthopedic companies. The company had $29 million in sales over the last year and plans to raise $68 million in the offering, making it the smallest IPO this week.
DLC Realty Trust (NYSE:DLC) on the other hand will be the largest IPO of the week and is a real estate investment trust with properties in 86 shopping centers. The company had $163 million in sales over the last 12 months and expects to raise $500 million in the offering. It will price 31.3 million shares in the range of $15 to $17 per share.
MediaMind Technologies (NASDAQ:MDMD) is a digital advertising campaign manager and plans to offer 5 million shares in the price range of $14 to $16 a share. At the midpoint of this range, the company plans to raise $75 million.
MakeMyTrip Limited (NASDAQ:MMYT) is one of India's largest online travel companies. The company had $84 million in sales over the last year and plans to raise $65 million in the offering.
Park Sterling Bank (NASDAQ:PSTB), a commercial bank in North Carolina, is offering 23 million shares at a price range of $9 to $11 per share and expects to raise $230 million at the mid-point of the price range.
RealPage (NASDAQ:RP) provides software solutions for rental property owners and expects to raise $189 by offering 13.5 million shares at a price range of $13 to $15 a share.
Once these companies hit the market, I'll give you more details on their operations and which ones I believe we should be keeping an eye on for potential future investments.
One of the more interesting, and well known companies that recently filed to go public was Skype S.A. Skype allows people to communicate over the Internet in real time, and the company just filed with the SEC yesterday. As of June 30, Skype had 560 million registered users, up 41 percent from the same year-ago period.
People are becoming increasingly connected over the Internet. Fifteen years ago we started using computers, 5 years ago we started using Facebook, and 5 years from now, we'll be using video chats on Skype. We will definitely keep our eyes on this company scheduled to go public at some point over the next few months.
That's your IPO update for the week. Stay tuned for next week's as we'll continue following the Skype IPO and other potential winners set to hit the market.
Disclosure: None