American International Group (NYSE:AIG) delivered mixed first quarter 2014 results yesterday highlighting that the large-cap insurance company still has a long way to go. Nonetheless, American International Group exhibits a very appealing reward/risk ratio for investors who can patiently wait for higher book value multiples down the road. Cyclical companies such as American International Group that combine both Property & Casualty and Life businesses are excellent bets on book value multiple expansion, continued book value per share growth, higher interest rates and investment income and an improvement in AIG's underwriting discipline.
Technical picture
Just prior to first quarter results release, American International Group marked a new 52-week High at $53.33 after hovering around the $50 mark for eight month. Q1 2014 results certainly didn't help convince investors of a higher equity valuation: The stock stumbled more than 4% yesterday after the insurance giant disappointed investors with lower net income and an underwriting loss. AIG's chart clearly highlights that the insurance company is oversold in the short-term and I think AIG's share price will find support at the $50 level.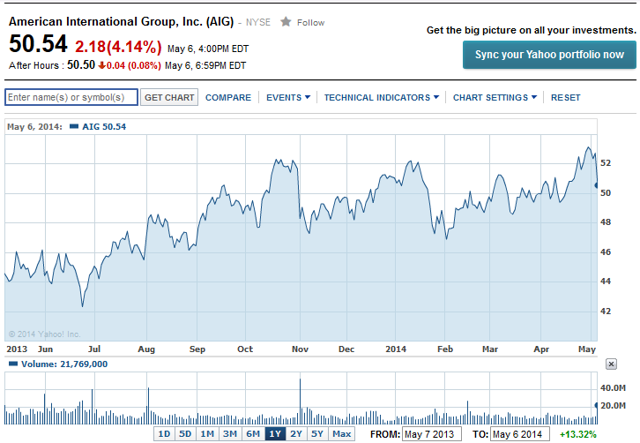 Click to enlarge
(Source: Yahoo Finance)
Other large-cap insurance companies have done better than American International Group over a five-year performance measurement period: Prudential Financial (NYSE:PRU) returned 74% and Metlife (NYSE:MET) 41%. American International Group gained 26% and continues to trade at a sizable discount to book value.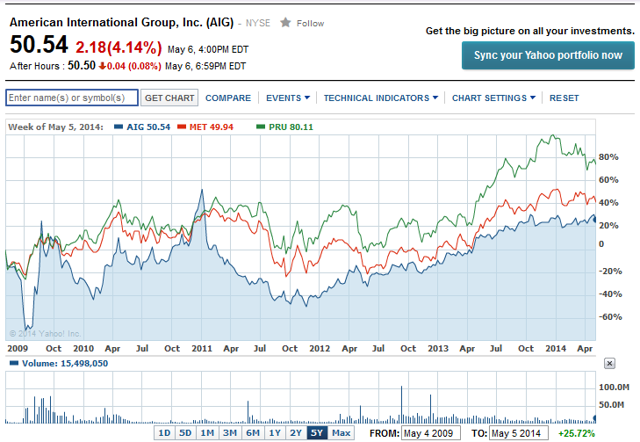 Click to enlarge
(Source: Yahoo Finance)
First quarter results: Don't just focus on the negative
For the first quarter 2014 American International Group reported revenues of $16,112 million vs. $16,962 million a year ago (down 5%). AIG also reported net income of $1,609 million ($1.09 per diluted share) compared against $2,206 million ($1.49 per diluted share) in the year ago quarter. An overview of AIG's first quarter performance results is presented below: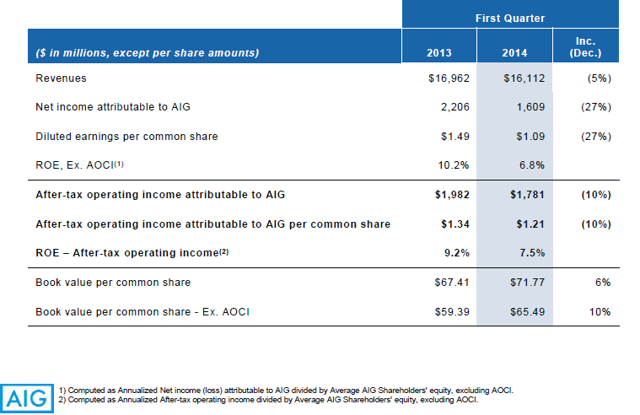 Click to enlarge
(Source: American International Group, Inc. First Quarter 2014 Results Conference Call Presentation, May 6, 2014)
AIG's earnings release highlighted two important themes that dominated the first quarter in 2014:
1. Combined ratio
AIG Property & Casualty's first quarter combined ratio stood at 101.2 compared to last year's 97.3 resulting in an underwriting loss of $97 million. Combined ratios are an important indicator for insurance companies that signal how disciplined AIG prices its policies. Ratios above a 100 result in underwriting losses and indicate potential issues with underwriting discipline. AIG will need to show in coming quarters that it is able to push its combined ratio below 100 -- hopefully with a good margin.
2. Capital management and per share book value
American International Group is still busy on the capital management front: In the first quarter 2014 AIG repurchased about 17.4 million shares at a total cost of approximately $867 million.
American International Group's book value increased 6.5% y-o-y to $71.77 per share. Book value per share increased 4.6% sequentially from $68.62 at the end of 2013 -- a huge positive for shareholders. In fact, first quarter results have highlighted that AIG is now an even better buy than before earnings release -- despite the reported underwriting loss.
Outlook
I am generally bullish on the insurance sector (both Life and Property & Casualty) and on American International Group in particular. Reason is, that American International Group is lagging its U.S. peers both in business and share performance. I also believe cyclical insurance businesses have much better earnings prospects in an environment of rising interest rates which definitely should help American International Group's Life business as well as investment income.
I also think that insurance companies are likely to trade at premiums to book value in the coming years -- just like they did in the past in periods of economic expansion. Prudential Financial, for instance, already trades at a P/B ratio of 1.05 while AIG's P/B ratio stands at just 0.70. This discrepancy can not only be explained by differences in operating performance, but because investors are still repelled by AIG's tarnished reputation earned during the financial crisis. Over time, I expect the market to value AIG's fundamentals and its discount to book value more than its reputation.
I also believe American International Group has the potential to trade at 1.25x book value over the next two to three years (if not more) which would equate to a target price of approximately $90 per share -- and this indicative fair value does not consider per share book value growth whatsoever.
Conclusion
Investors are way too impatient, always expect a company to present one good quarter after another and solely focus on the negative bits of information. Though it is true that AIG's underwriting loss is a disappointment and hints at a larger problem of underwriting discipline which needs to be addressed, it is also true that AIG increased its book value per share by 6.5% y-o-y and a solid 4.6% sequentially. As long as book value is growing and American International Group undertakes efforts that will result in better underwriting discipline, AIG still makes a very interesting value proposition -- especially considering that rising interest rates should provide a boost to AIG's bottom line. I am confident that insurance companies will experience a change in investor perceptions as the economy continues to improve and fund managers increase their exposure to cyclical companies such as AIG. Strong, long-term BUY on pullbacks with a target price of $90 in 2016/2017.
Disclosure: I am long AIG. I wrote this article myself, and it expresses my own opinions. I am not receiving compensation for it (other than from Seeking Alpha). I have no business relationship with any company whose stock is mentioned in this article.