Sunday, May 11 will conclude the 25-day SEC-enforced quiet period on underwriter research on Sabre Corp (NASDAQ:SABR) that began with the firm's April 16 IPO. This point in time allows the firm's IPO underwriters to release research reports on this travel and tourism technology solutions provider into the market.
SABR shares will likely see a boost in price with the end of the quiet period. SABR's IPO priced at $16 per share, well short of the expected range of $18-$20 per share. The stock saw some initial growth, peaking at $17.72 per share before sliding back towards its IPO pricing. SABR closed at $16.02 per share on May 5.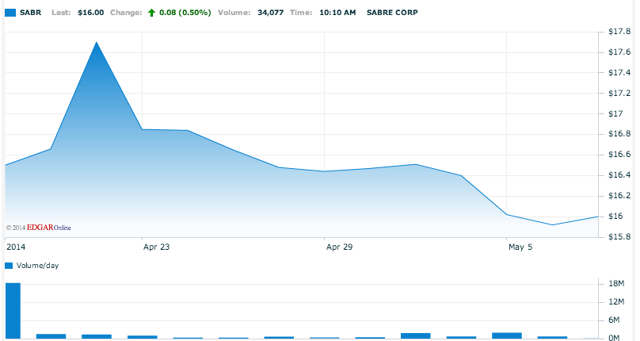 Click to enlarge
(Nasdaq.com)
The IPO's many underwriters, including BofA Merrill Lynch, Goldman Sachs & Co, Deutsche Bank Securities Inc, Morgan Stanley & Co LLC, Cowen and Company LP, Mizuho Securities USA Inc, Evercore Group LLC, Jefferies LLC, Natixis Securities Americas LLC, William Blair and Co LLC Sanford C. Bernstein and Co Inc, The Williams Capital Group LP, and TPG Capital BD LLC, will attempt to revitalize SABR prices with a flow of positive information beginning on the eleventh.
Quiet Period Trends
The results of both the past two years of our research and recent academic studies have generated empirical evidence of a correlation between the reputation and quantity of IPO underwriters and an increase in the price of shares at the close of the quiet period.
Share prices will typically begin to rise several days before the quiet period has expired, as savvy investors buy shares early in order to take advantage of the upcoming underwriter reports. These investors understand that underwriters will only publish positive information on a recently underwritten firm. These early purchases create the perception of increasing demand, leading to increased share prices before the quiet period has actually expired.
Business Overview
SABR is a global provider of software and other services to the travel and tourism industries. SABR's travel marketplace connects travelers with airlines, hotels, rail carriers, cruise lines, car rental firms, among other services. The firm offers information from approximately 125,000 travel suppliers to travel agents, and also provides agents with a platform for pricing and booking travel options.
SABR offers software solutions for tasks ranging from flight and hotel reservations to planning aircraft crew schedules. SABR is one of the largest providers of global distribution systems (Pending:GDS) in the world, and the largest in North America. SABR also operates Travelocity, a popular booking website.
SABR's competitors vary between the numerous sectors of its business. Some major competitors include = Hewlett-Packard (NYSE:HPQ), Amadeus, Unisys (NYSE:UIS), Boeing (NYSE:BA), Accenture (NYSE:ACN), Lufthansa, Datalex, Priceline (NASDAQ:PCLN), ITA Software, and Travelport.
See our previous article, profiling the SABR IPO here.
Experienced Management, With Longevity At Sabre Corp
President and CEO Thomas Klein has served in his current positions since August 2013, and served a stint as company president, beginning in January 2010. He also previously served in various other roles with SABR, including group president of the firm's Travel Network and Airline and Hospitality Solutions businesses and executive vice president.
He previously worked in marketing and operations positions at Consolidated Freightways Inc and American Airlines.
Mr. Klein holds a bachelor's degree in business administration from Villanova University.
Conclusion: Gains Possible From Quiet Period Expiration
We believe that SABR's poor IPO performance on the market will be reversed by the upcoming quiet period end, meaning that gains may result from the release of underwriters many positive reports.
The conclusion of the quiet period offers aggressive investors a potential long opportunity.
We invite readers wishing to join the discussion on IPO Quiet Periods to click the +FOLLOW button above the title of this article.
Disclosure: I am long SABR. I wrote this article myself, and it expresses my own opinions. I am not receiving compensation for it (other than from Seeking Alpha). I have no business relationship with any company whose stock is mentioned in this article.