The 25-day SEC-enforced quiet period on underwriter research on Weibo Corp. (NASDAQ:WB) initiated with the firm's April 16 IPO will come to an end on May 11, allowing the IPO underwriters to publish detailed reports on the Chinese microblogging and social networking platform and likely providing a temporary boost to the price of WB shares.
WB's IPO priced at the low end of its expected price range at $17 per share, but the firm saw strong first day gains of over 19%. WB has since performed unpredictably, hovering in the neighborhood of $18-$20 per share.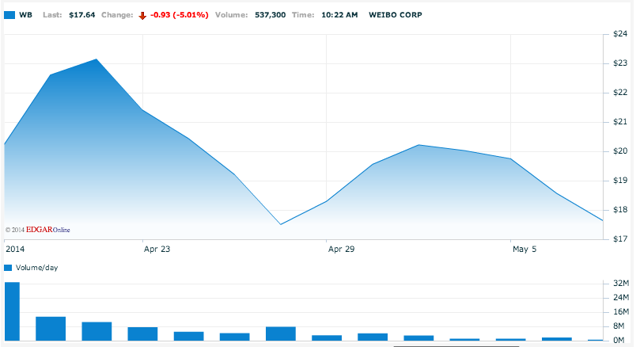 (Nasdaq.com)
WB's IPO underwriters, including Goldman Sachs, China Renaissance Securities, Morgan Stanley & Co. International plc, Credit Suisse Securities (NYSE:USA) LLC, and Piper Jaffray & Co., will try to recapture the stock's first day successes with a release of detailed positive reports at the expiration of the quiet period.
Correlation Between Underwriter Characteristics and Share Price At QP Expiration
Recent academic studies and the results of our past two years' research have led to empirical evidence of a correlation between the number and reputation of IPO underwriters and gains in the price of shares at the conclusion of the quiet period.
Share prices typically begin to see increases a few days before the quiet period expiration, as experienced investors purchase shares in advance of the expiration in anticipation of the underwriter publishings. These early buys generate the perception of rising demand, leading to increased share prices before the actual quiet period expiration.
Weibo: Largest Chinese Microblogging Platform
WB, a subsidiary of Sina Corp. (NASDAQ:SINA), is the largest Chinese microblogging platform in China, and is also used widely in Chinese communities around the world. Companies, public figures, and government agencies often use Weibo to communicate with the public and make announcements.
The firm boasted 129.1 million monthly active users and 61.4 average daily active users as of December 2013. Users shared more than 2.8 billion feeds in December 2013.
WB's platform is reminiscent of Twitter (NYSE:TWTR), inviting users to post feeds limited to 140 Chinese characters that can be commented on and reposted by other users; any user may follow any other user. The character-limited feeds and simple information format make Weibo optimal for use on mobile devices.
WB faces competition from other major Chinese internet firms for user traffic, including the likes of NetEase Inc. (NASDAQ:NTES), Phoenix New Media Limited (NYSE:FENG), Sohu.com Inc. (NASDAQ:SOHU), and Tencent Holdings Limited. WB also competes with other online social services providers, such as WhatsApp, Douban, Yixin, and renren.com (NYSE:RENN) - along with Twitter. Some of these competitors have access to significantly greater financial resources than WB.
For additional information, see our profile of Weibo's IPO.
Leadership Highlights
Charles Chao has served as chairman of the Board of WB since WB's inception, and has also served as the chairman of the Board of SINA since August 2012. He has also served in various executive roles with SINA including president, CEO, CFO, Co-COO, and executive vice president. He previously worked as an audit manager with PricewaterhouseCoopers, LLP and as a news correspondent with Shanghai Media Group.
Mr. Chao holds a Master of Professional Accounting degree from the University of Texas at Austin, an M.A. in Journalism from the University of Oklahoma, and a B.A. in Journalism from Fudan University.
Conclusion For Aggressive Investors
Though WB's early performance on the market has been somewhat unstable, we believe that the stock still has every opportunity to succeed, and that investors should consider getting a piece of WB now to benefit from the quiet period expiration.
WB's well-connected leadership team and relationship with SINA should serve it well as it continues to grow.
We believe that WB could reach profitability before other social media options like Twitter.
We invite readers wishing to join the discussion on IPO Quiet Periods to click the +FOLLOW button above the title of this article.
Disclosure: I am long WB. I wrote this article myself, and it expresses my own opinions. I am not receiving compensation for it (other than from Seeking Alpha). I have no business relationship with any company whose stock is mentioned in this article.