By Todd Shriber & Tom Lydon
S&P 500 members spent $129.4 billion on share buybacks during the fourth quarter of 2013, up from $128.2 billion in third quarter. For all of last year, S&P 500 constituent companies spent $475.6 billion on buybacks, up from $398.9 billion in 2012, according to S&P Dow Jones Indices data.
While the debate regarding which is better - dividends or buybacks - is likely to rage on, what is not debatable is the stellar long-term track record of the PowerShares Buyback Achievers Portfolio (NASDAQ:PKW).
Year-to-date, PKW is trailing the S&P 500, though nearly all of the benchmark index's out-performance of the buyback ETF was accrued in the first three weeks of the year. Over the past 90 days, PKW is slightly ahead of the S&P 500. Daisy Maxey reports for the Wall Street Journal, citing Morningstar data:
In the five years through April, the PowerShares ETF returned an average of 22.7% a year, outpacing the S&P 500′s 19.1% annualized gain.
PKW tracks the NASDAQ U.S. BuyBack Achievers Index, which is, according to PowerShares:
comprised of U.S. securities issued by corporations that have effected a net reduction in shares outstanding of 5% or more in the trailing 12 months.
Interestingly, and as the Journal notes, PKW's number of holdings dropped to 177 from 194 when its underlying index was rebalanced in January. The rebalancing methodology for the NASDAQ U.S. BuyBack Achievers Index also explains why Apple (NASDAQ:AAPL) is not yet a member of the ETF.
While California-based Apple has been one of the most voracious repurchasers of its own shares for over a year and recently announced it will add $30 billion to its current buyback plan, the NASDAQ U.S. BuyBack Achievers Index only makes new additions and subtractions in January. The other rebalances throughout the year are used to adjust the weights of the current holdings in the index. That means the earliest Apple can gain entry into the index and PKW is January 2015.
One criticism of PKW has been its 0.71% annual expense ratio with some analysts saying, including one cited in the Journal, that the quality factor offered by PKW is available with other ETFs sporting lower fees.
While that is true, what is difficult is finding an ETF with PKW's long-term track record, regardless of fees. Since the March 2009 market bottom, PKW has outperformed the S&P 500 by nearly 7,000 basis points. PKW has also outperformed the benchmark U.S. index in every year since 2008 except 2012.
PKW's legacy of trouncing the S&P 500 explains why over the past year and year-to-date the ETF ranks as the second- and third-best PowerShares ETF in terms of new assets gained, according to issuer data.
So successful has PKW been that it spawned the creation of an international equivalent, the PowerShares International BuyBack Achievers Portfolio (NASDAQ:IPKW). IPKW debuted in late February and now has $15.1 million in assets.
PowerShares Buyback Achievers Portfolio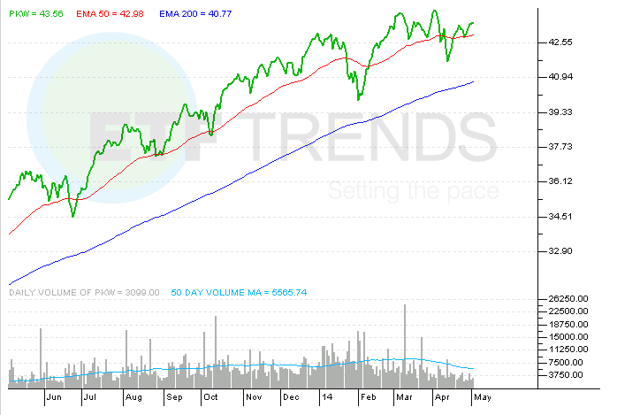 Tom Lydon's clients own shares of Apple.
Disclosure: I am long AAPL. I wrote this article myself, and it expresses my own opinions. I am not receiving compensation for it. I have no business relationship with any company whose stock is mentioned in this article.