By Brad Zigler
A while back, we heralded the breakdown in commodity stocks' relative strength ("Commodity Futures Outperforming Stocks"). Perhaps "heralded" isn't the right word. I mean, weakness isn't something to be sought after.
It's relative strength we were talking about, however. Agricultural stocks were merely ceding market leadership to commodity futures. As stocks flagged, futures strengthened, relative to each other.
That's not to say that all hope is lost for agribusiness stocks. In fact, there's been a bit of a bounce in ag stocks' step that may take their relative strength a bit higher in the near term. It's likely to be a reactive move rather than a trend changer, but it can't be ignored.
Relative Strength: Commodity Stocks (MOO/HAP) vs. Commodity Futures (DBA/GCC)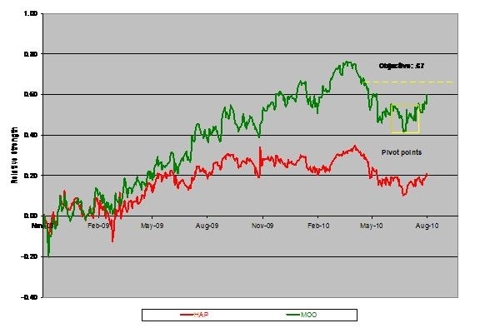 Click to enlarge
(Click to enlarge)
One of the stocks pulling the DAXglobal Agribusiness Index — the benchmark tracked by the Market Vectors Agribusiness ETF (NYSEARCA:MOO) — higher is top dog DEERE & Co. (NYSE:DE). Deere is the index's largest component, taking up 8.4 percent of its capitalization.
Illinois-based Deere & Co. is an agricultural equipment manufacturer that's risen $23 a share, or 50 percent, over the last year. The stock's most dramatic ascent has been staged in the last month, coincident with the spike in grain prices.
Deere & Co. Price and Money Flow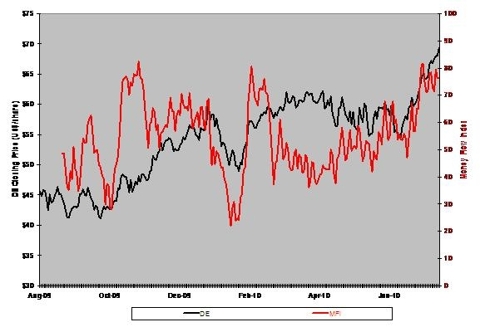 Click to enlarge
(Click to enlarge)
You'd naturally expect a stock touted by Jim Cramer to take off with a big "BOO-yah!" but Deere's got a lot more to recommend it to investors' portfolios; namely, three brokers who've upgraded the stock to "buy" or "overweight."
Still, money flows have stalled near their yearly highs as investors hold their breath awaiting the Fed's next move. Notions of new orders ahead have been buoying the stock's price, most especially as a consequence of Russia's recently imposed grain export ban.
The volatility in wheat prices has wobbled the PowerShares DB Agriculture Fund (NYSEARCA:DBA), but has been a boon to Deere and the MOO portfolio.
There's danger in Deere's popularity, though. The stock's classically overbought. Not that that means there can't be further spikes; some stocks linger in the red zone for quite a while before the air's let out of their balloons. Deere's been hanging out there, in fact, since the end of July.
And that's not to say that a pullback will signal a trend reversal. There's still fertile ground for Deere to plow. It's just a question of what spot is best for investors to lower their plowshares.
Disclosure: No positions