As a clinician working with patients and individuals with Duchenne Muscular Dystrophy (DMD), I notice daily what this disease can do to these patients. DMD is the inability to produce the dystrophin protein. There are currently no drugs to treat DMD.
This condition affects 1 in 3600 boys, and results in muscle degeneration and eventually death. By age 10, the patient usually requires braces to walk, and by 12, is usually wheelchair-dependent. The average life of a patient is 25 years of age.
As you can see in the picture below, these micrographs cross-sections show normal muscle biopsy, (A) showing uniform fibre diameter with no fiber degeneration, whilst (B) shows fibers in a patient with DMD, which are smaller and more rounded.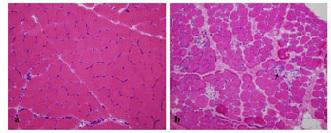 (Adapted from PNAS)
Here is where Sarepta Therapeutics (NASDAQ:SRPT) comes in. Sarepta is studying a drug known as Eteplirsen. Eteplirsen is an oligomer that triggers excision of exo 51 during pre-mRNA splicing of the dystrophin RNA transcript.
The studies
The studies performed by Sarepta were very strong, and were published in the Annals of Neurology recently. The results showed that at week 24 following treatment with Eteplirsen, dystrophin-positive fibers increased to 23% of normal, whilst there were was no increases in placebo-treated patients. At week 48, improvements continued and an impressive 52% and 43% increases was seen in the 30 and 50mg/kg cohorts. This suggested that dystrophin increased with longer treatment. Functional dystrophin was also confirmed by detection of sarcoglycans and neuronal nitric oxide synthase at the sarcolemma. Ambulation stability was also maintained in the patients treated. The full study can be read here.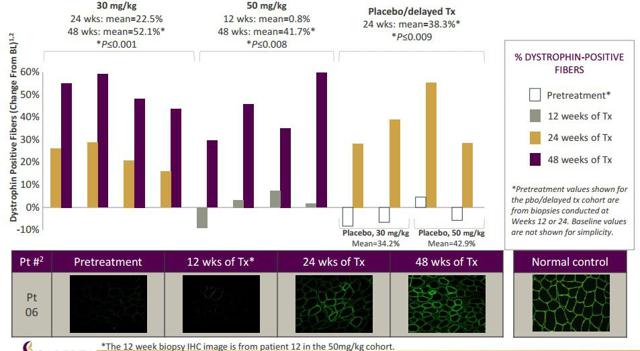 (Adapted from Sarepta Therapeutics)
What I really like about the study is safety. The FDA always looks for efficacy and safety. Efficacy was strong, as seen above, but safety was impressive. The table below summarizes safety issues during the study.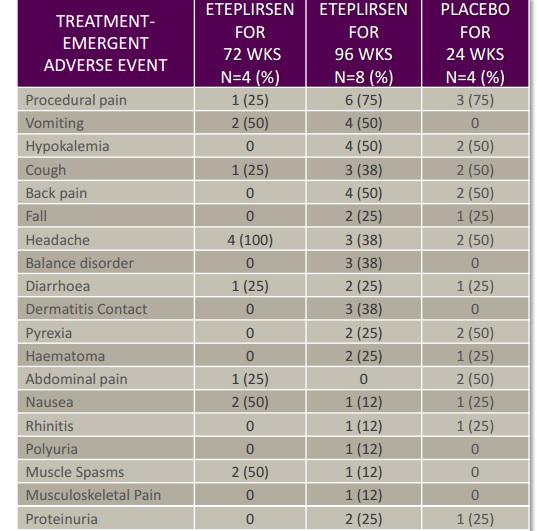 (Adapted from Sarepta Therapeutics)
Bullish scenario
There are a number of points that I believe can push Sarepta higher soon. These include:
Recent secondary offering of shares last week increased the cash to over $300 million. This is massive, and should allow the company to continue its research and fund operations well into 2014. The offering was oversubscribed, and around 75% went to existing shareholders.
Over 40% of the float remains short. The float in itself is quite small, at around 34 million shares. 17% of the float is owned by insiders.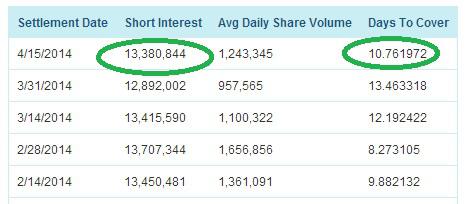 (Adapted from nasdaq.com)
Strong management - CEO Chris Garabedian has stated that he does not want to sell the company and is very motivated to help patients with DMD.
Recent FDA news is massive, as it shows that the company is back on track and the future is very bright.
The company is working on other conditions, not just DMD. If the drug treating DMD works, expect other exciting news on other conditions.
The risks
1. Investing in biotech companies is always risky. What if the final Phase III fails? One has to note that these studies has only tested 12 patients. The results were impressive, as 10 patients had amazing results. However, n=12 is always risky, as it's quite a low number of patients.
2. The stock has been very volatile. Look at a monthly chart here. Volatility in the market can cause big losses, as stops can be taken out easily. This is one reason why I only invest a small amount of my portfolio in every stock.
3. The large percentage of shorts can be bullish and bearish. Is there something the shorts know?
4. Funding - Although Sarepta now has over $300 million in cash, one must argue that the company will burn this over 2014 and into next year, so a secondary offering of shares is still possible in the future.
Technical analysis
Both the daily and weekly charts continue to set up here.
If we analyze the daily chart first, one can see a nice bullish flag forming. The 10 and 20-day moving averages are now trending up. Volume has been strong on the recent news, another sign that institutions have been loading up.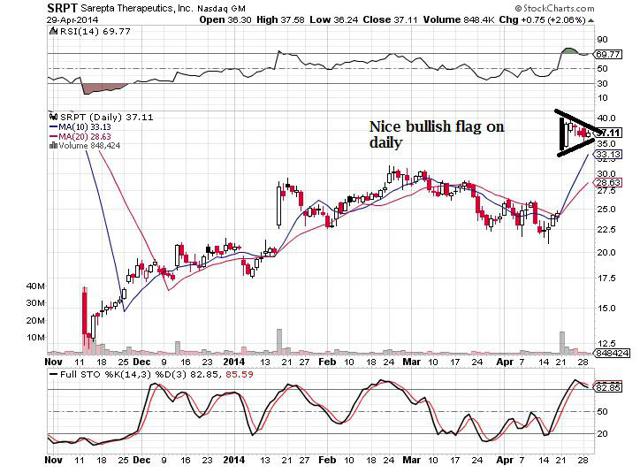 The weekly chart also remains very bullish. Volume has been on the rise, and stochastics are moving back higher.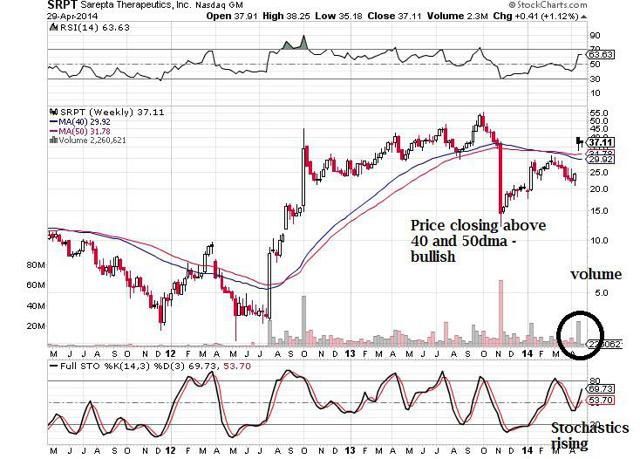 (Adapted from stockcharts.com)
Conclusion
I remain very bullish on SRPT, and have initiated a position. I believe 2014 and 2015 will be big years for Sarepta and for patients suffering with DMD. I cannot wait for a drug to help these patients, as it is a terrible condition. The potential for Eteplirsen is there, and with accelerated approval now an option, the future is very bright.
Disclosure: I am long SRPT. I wrote this article myself, and it expresses my own opinions. I am not receiving compensation for it (other than from Seeking Alpha). I have no business relationship with any company whose stock is mentioned in this article.