A lot of investors that dabble in master limited partnerships, or MLPs, do so because they are attracted to the yield. Like virtually all asset classes nowadays, ETFs are beginning to emerge for MLPs as well. In a sector where higher yields are the norm, it's not difficult to find a distribution yield north of 5%. However, with a high yield MLP ETF like Yorkville High Income MLP ETF (NYSEARCA:YMLP) you can find a yield as high as 9%.
Yorkville High Income MLP ETF is the only ETF out there, according to the ETF Database, that tracks the Solactive High Income MLP Index which holds large positions in MLPs like Ferrellgas Partners (NYSE:FGP) and Teekay LNG Partners (TGP). Since it's the only fund tracking the High Income MLP Index, it shouldn't be surprising that Yorkville has the highest yield in the MLP ETF space - currently at 8.95%.
And that yield has been consistent over time. Consider the following chart.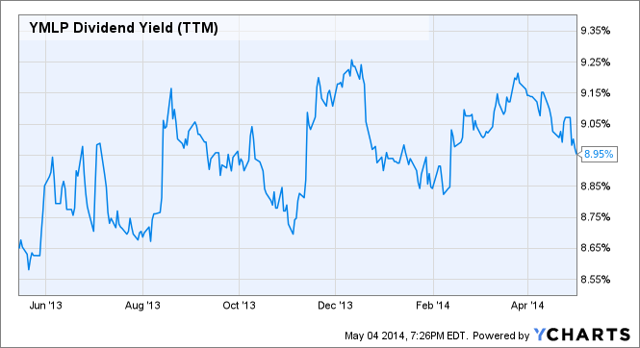 YMLP Dividend Yield (TTM) data by YCharts
The quarterly dividend has been a consistent $0.41 per share since its inception in March 2012. That translates to a consistent yield that's never been below 8.5% and at times has topped 9%.
Investors in Yorkville High Income MLP need to be aware of the ETF's cost structure though. One may look at the expense ratio of 0.82% and think all is well. But Yorkville is structured as a C corporation which means that the corporation is taxed separately from its owners. The advantage of such a structure is that come tax time investors will receive a 1099-DIV detailing the year's distributions as opposed to the more complicated K-1 form which is used by partnerships to detail the amount of reportable income due to each partner.
However, it also means that the ETF accrues in the present for a tax liability it expects to incur in the future. This expense represents the tax hit the portfolio would be expected to take should it realize all gains and losses. And that deferred tax liability gets passed on to the shareholders. The deferred income tax expense currently is 3.83% which gets tacked on top of the 0.82% management fee. Therefore, the total operating expense makes tracking the index closely very difficult.
As would be expected from an investment with such a high yield, this ETF is not without its risks. According to the ETF Database, almost 89% of this fund's assets qualify as small cap or micro cap. This is in stark contrast to the Alerian MLP ETF (NYSEARCA:AMLP) - currently the largest MLP ETF out there at over $8 billion in assets - that has 95% of its assets that would be categorized as large cap or mid cap (for comparison's sake, the Alerian MLP ETF carries a current dividend yield of about 6%).
Conclusion
People that invest in MLPs are looking for two things - yield and consistency - and the Yorkville High Income MLP ETF has both. It provides the highest yield in the MLP space and its dividend has never wavered. The diversification factor helps limit some of the risk that comes with investing in a primarily small cap vehicle but there are risk/return and cost/benefit questions that must be addressed to see if an ETF like this is appropriate for an investor.
But the yield makes it compelling. If you're looking for a juicy yield out of the MLP space, it's challenging to find one that provides the income that this ETF does.
Disclosure: I have no positions in any stocks mentioned, and no plans to initiate any positions within the next 72 hours. I wrote this article myself, and it expresses my own opinions. I am not receiving compensation for it (other than from Seeking Alpha). I have no business relationship with any company whose stock is mentioned in this article.