There are a few deals today and one of particular interest to us that could embolden Nelson Peltz to push his hand and look elsewhere in his portfolio for his next move. Outside of the deals, Janet Yellen is speaking on Capitol Hill and markets are reacting to Vladimir Putin's remarks that he is open to talks regarding Ukraine and wants the referendum scheduled for this weekend to be called off.
This is all important and could move various markets including, but not limited to, the US bond market, Russian stock market and various forex markets. Many investors we talk to have been worried about going into the weekend holding equity positions, but maybe this Friday that will be less of a fear.
Chart of the Day:
The last five trading days have seen a 10 basis point range in the 10-year US Treasury. That is significant but we would point out that it does appear that there is strong support just under the 2.60% level and we would not expect to see yields fall below that level unless Russia or Ukraine cause a rush to safety.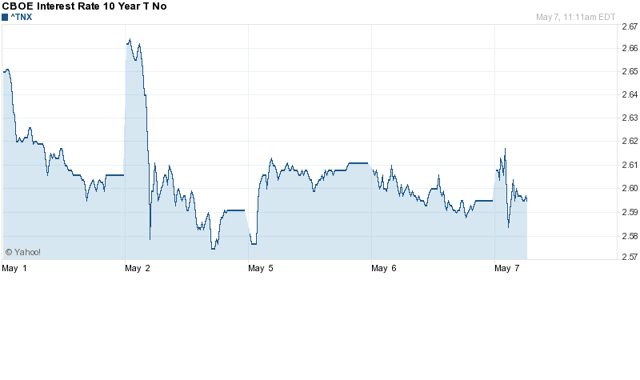 Source: Yahoo Finance
We have economic news today, and it is as follows:
MBA Mortgage Index (7:00 a.m. EST): Est: N/A Act: 5.3%
Productivity - Prelim (8:30 a.m. EST): Est: -1.2% Act: -1.7%
Unit Labor Costs (8:30 a.m. EST): Est: 2.5% Act: 4.2%
Crude Inventories (10:30 a.m. EST): Est: N/A Act: 1.781 M
Consumer Credit (3:00 p.m. EST): Est: $16.1 B
Asian markets are lower today:
All Ordinaries -- down 0.38%
Shanghai Composite -- down 0.89%
Nikkei 225 -- down 2.93%
NZSE 50 -- up 0.27%
Seoul Composite -- down 1.00%
In Europe, markets are lower this morning:
CAC 40 -- down 0.13%
DAX -- down 0.05%
FTSE 100 -- down 0.46%
OSE -- down 0.62%
Coffee Deal
Shares in Mondelez International (NASDAQ:MDLZ) are rising strongly today after the company announced a deal to merge its coffee assets with those of D.E. Master Blenders to form a pure-play with roughly $7 billion in annual revenue. Mondelez will receive 49% of the combined entity along with a one-time cash payment of $5 billion. In the future, investors can expect D.E. Master Blenders to make a deal for the French coffee assets owned by Mondelez as those assets were not included in this deal.
As many know, Nelson Peltz and his Trian Fund Management, LP are big investors in Mondelez and have been pushing for changes at the company that would increase shareholder value. This deal certainly does that as the sales price is at a higher valuation than what Mondelez currently trades at.
Although the deal talks were started before Peltz joined the company's board, CNBC is reporting that it was at his urging that the board decided to move forward with the deal (see article here). This is a significant step in the two sides working together on a mutually beneficial deal and could pave the way for future deals and/or corporate actions that Mr. Peltz has been pushing but those could be pushed out to 2015 or later as the company works to close this deal.
Sights On Pepsi?
One has to wonder if Mr. Peltz is going to feel emboldened enough after this deal to focus his sights on PepsiCo (NYSE:PEP) once again, a company he has recently tried to talk into splitting into two and looking at other means to increase shareholder value. He has his work cut out for him if he does because PepsiCo has turned a corner and is doing much better than bitter rival Coca-Cola (NYSE:KO) as it trades at highs just like smaller beverage maker Dr. Pepper Snapple Group (NYSE:DPS). Investors are well aware of this fact and might not want to rock the ship, especially with the company buying back stock and numerous dividend increases, including yesterday's 15% increase (see press release here).
Asking a company hitting on all cylinders to split will not get the board's attention nor will it gain much traction among the company's shareholders. The talk recently has centered around speculation that Mr. Peltz wanted PepsiCo or a spun-out Frito Lay division to purchase Mondelez to bulk up its snack offerings. Looking at the situation now, one has to believe that the best Mr. Peltz could do is hope for either a full blown merger between PepsiCo and Mondelez or a situation where PepsiCo buys certain divisions from Mondelez to add to their product line-up in the snacks business.
PepsiCo has outperformed its peers, however since last May the shares have traded sideways in the $5-7/share range. Still, the stock trades very close to its highs and one would think that this alone puts management in a very good spot.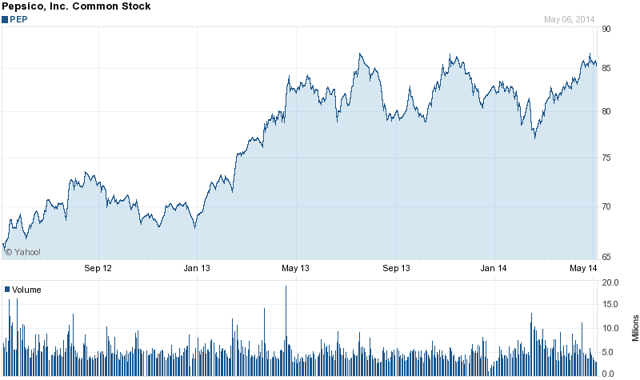 Source: Yahoo Finance
With Mondelez having a portfolio of faster growing snacks and other products, thanks to the break-up of Kraft which created Mondelez and Kraft Foods Group (KRFT), PepsiCo could realize some upside by bringing certain products into the fold. Any type of deal involving branded businesses seems a long shot right now and until PepsiCo begins to stumble, we doubt that the management team will feel any pressure to change their plan. With the stock currently trading at highs, it is safe to say we are at least a couple of years away from Mr. Peltz being able to throw his weight around outside of Mondelez unless he acquires a larger stake at the soft drinks and snack maker.
Mr. Peltz might find it easier to talk the two companies into potential joint ventures in international markets where the two could benefit by working together and opening new markets for each other. Aside from that it would seem the only other proposals he could offer would be strictly financial engineering and not necessarily beneficial to those shareholders looking to be long-term holders.
Disclosure: I have no positions in any stocks mentioned, and no plans to initiate any positions within the next 72 hours. I wrote this article myself, and it expresses my own opinions. I am not receiving compensation for it (other than from Seeking Alpha). I have no business relationship with any company whose stock is mentioned in this article.