Russia is apparently pulling their forces back from Ukraine's eastern border and calling for a delay to the referendum on succession that was to take place this weekend. This is a sign of cooler heads prevailing we think and could lead to rates moving a little higher in the US and certain commodity prices moving strongly as well.
Deal flow is picking up in the energy sector with the second deal in the Eagle Ford Shale this week announced. This is obviously bullish for readers' portfolios as we know many are overweight E&P names.
Chart of the Day:
One of the metals we expect to be impacted by Russia and Ukraine settling their differences is nickel. It is trading near multi-year highs and looks to be running into resistance. Even if no deal is reached and supplies continue to flow we expect problems, but with Putin appearing ready to take his winnings and cash out we think the fear that has driven prices higher will abate and a correction will take place.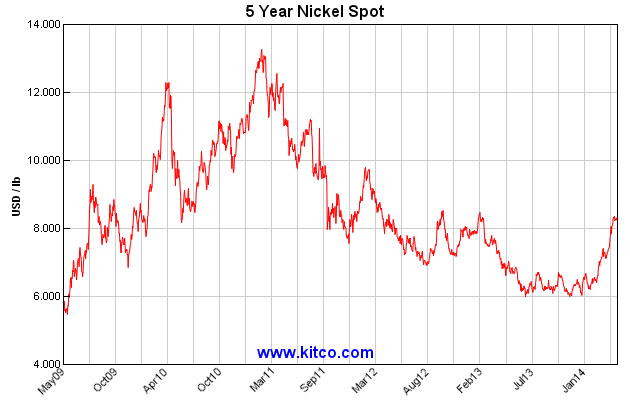 Source: Kitco
Commodity prices are as follows (at time of submission):
Gold: $1,289.80/ounce, down by $18.80/ounce
Silver: $19.28/ounce, down by $0.318/ounce
Oil: $100.74/barrel, up by $1.24/barrel
RBOB Gas: $2.9145/gallon, up by $0.0287/gallon
Natural Gas: $4.732/MMbtu, down by $0.067/MMbtu
Copper: $3.032/pound, down by $0.025/pound
Platinum: $1,436.80/ounce, down by $21.30/ounce
Another Eagle Ford Deal
In the second deal in as many days in the Eagle Ford Shale [see yesterday's article on Swift Energy's (NYSE:SFY) transaction here], we have Freeport-McMoRan (NYSE:FCX) agreeing to sell 45,000 acres in the heart of the Eagle Ford Shale to Encana (NYSE:ECA) in a deal which will be transformative for Encana and vastly alter Freeport-McMoRan's E&P business. The acreage is in the core of the Eagle Ford and will double Encana's oil production once the deal closes as the acreage produces some 53,000 boe/d.
The sales price for the acreage is $3.1 billion, with Freeport left with around $2.5 billion after taxes. The plan is to use half of the proceeds to pay down debt, and with the company having around $19 billion in debt this would amount to a reduction of roughly 6.5%, with the other half used to explore the deep water Gulf of Mexico assets the company has.
This deal changes Encana from being a natural gas story, and consequently its stock being a natural gas proxy, to a story featuring an E&P with a diversified production base with numerous key acreage positions to fuel future growth.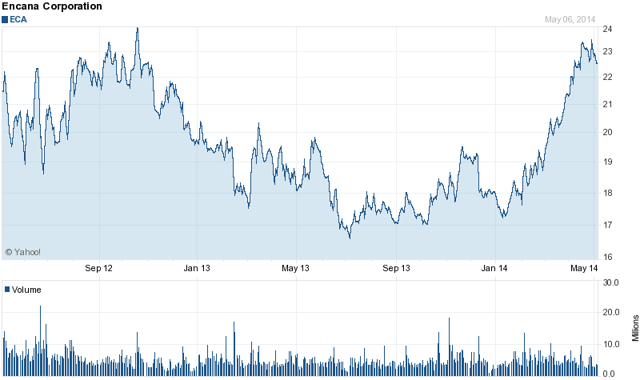 Source: Yahoo Finance
The real winner here is obviously Encana as they have put themselves in a position to meet many of their production diversification goals with one transaction. Freeport-McMoRan is not necessarily a loser in the deal, but our hope was that they would be selling assets with far less production and not as important strategically. They are taking half of the proceeds and reinvesting in the business, but they are going elephant hunting and although the reward is greater, so too is the risk they are taking.
Deals In The Pipeline
With Freeport-McMoRan looking to grow organically through their vast acreage holdings, it was great that they got this deal done when they did. Rumors are once again heating up that Talisman Energy (NYSE:TLM) is looking to sell its Eagle Ford Shale holdings in a deal that could fetch up to $4 billion. It was rumored almost a year ago that these assets were up for sale in the company's previous divestiture program, but the company ended up selling other assets. Right now things are at an early stage with bankers having just been interviewed, according to Bloomberg (see article here), but we would expect the property to draw significant interest.
With Freeport-McMoRan having taken Encana out of the bidding (we assume) it would leave Devon Energy (NYSE:DVN) as the logical frontrunner in the bidding should Talisman seek offers. Devon is looking to diversify its production profile, much like Encana has been, and a purchase of the Talisman joint venture would seem to fit within the parameters of the size and type of deal they need to move the needle. This is something we will continue to watch, especially now that Carl Icahn is involved with Talisman Energy.
Disclosure: I have no positions in any stocks mentioned, and no plans to initiate any positions within the next 72 hours. I wrote this article myself, and it expresses my own opinions. I am not receiving compensation for it (other than from Seeking Alpha). I have no business relationship with any company whose stock is mentioned in this article. FCX has previously been recommended.