by Alexander Moschina
Chances are, you've never heard of this small Massachusetts-based biotech firm… But on July 23, an important announcement from the FDA sent its shares skyrocketing 81%.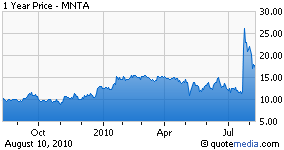 On that day, Momenta Pharmaceuticals Inc. (Nasdaq: MNTA) received approval for its generic version of Lovenox – a blood thinner that is quite complex and difficult to replicate, but a huge moneymaker. Founded in 2001, Momenta has roots in the labs of MIT. Here, two of the company's co-founders helped develop the technology that makes reproduction of drugs like Lovenox possible. Now this "little" company is poised to dominate a $100 billion industry. And that's just the beginning.
Attention, Sanofi: There's a New Drug in Town
Last year, Lovenox manufacturer Sanofi-Aventis (NYSE: SNY) raked in $2.3 billion from sales of the drug in the United States alone. It's the best-selling hospital-based medicine in the country and has treated 200 million patients worldwide. And for Sanofi-Aventis, it's been the cornerstone of the company's empire since 1993. No other drug on the market has been able to touch its success, until now.
Approval of a generic version of Lovenox spurred an immediate drop for Aventis shares, which slipped 4.3% on the news. And it's because once Momenta's product, M-Enoxaparin, becomes widely available, it will eat into Sanofi's sales.
And Momenta's generic isn't just some repackaged knock-off. Like Lovenox, it's not technically a drug. M-Enoxaparin is the first generic medicine of its kind. Different from a chemically-created pharmaceutical, the therapy is developed within small living cells. Until recently, U.S. regulations prevented the creation of this type of biogeneric medicine. There was no set procedure for comparing drugs made from living cells or engineered proteins. But with generics making up half of all prescriptions written, it's no surprise that the FDA is updating its processes.
And while it took the agency four years to respond to Momenta's submission, things should move more swiftly from here. That's because in 2012, over $30 billion worth of brand name drugs will lose patent protection. This will open up a whole new world of opportunities and profits.
Jeffrey George, global head of the Novartis (NYSE: NVS) generic drug unit – and Momenta's commercial partner for M-Enoxaparin – is greatly encouraged by the approval of the drug. Moreover, he states, "It bodes well for the approval of more complex generic products in the future." And Momenta is perfectly positioned to scoop up its share.
Momenta's Profit-Grabbing Trifecta
For example…
Multiple-Sclerosis: Momenta has another new product awaiting FDA approval – M356. It's a generic version of Teva Pharmaceuticals' (NASDAQ:TEVA) $2.8 billion moneymaker Copaxone, which treats multiple sclerosis. And if M356 is approved, it would be the first generic version of Copaxone on the market.
Heart Disease: Momenta also has M118 in its drug pipeline, which is an anticoagulant for patients with heart disease. A single syringe, pre-filled with 12-ml of a name brand anticoagulant, can cost $500.
Cancer: The M402 cancer drug could be Momenta's most promising prospect yet, given that most cancer treatments cost $40,000 to $90,000 annually.
With new products in the pipeline and Momenta's ability to recreate existing products, the company should have a strong and lasting position in the rapidly growing biogeneric market.
Disclosure: Investment U expressly forbids its writers from having a financial interest in any security they recommend to our subscribers. All employees and agents of Investment U (and affiliated companies) must wait 24 hours after an initial trade recommendation is published on online - or 72 hours after a direct mail publication is sent - before acting on that recommendation.
Disclaimer: The Oxford Club LLC/Investment U and Stansberry & Associates Investment Research are separate companies, and entirely distinct. Their only common thread is a shared parent company, Agora Inc. Agora Inc. was named in the suit by the SEC and was exonerated by the court, and thus dropped from the case. Stansberry & Associates was found civilly liable for a matter that dealt with one writer's report on a company. The action was not a criminal matter.