On May 4, 2014 Kofi Bofah has written the article "Sell BlackBerry. Buy Apple." in which he argues that investors switch from their investment in the ailing smartphone maker BlackBerry (NASDAQ:BBRY) to Apple (NASDAQ:AAPL). In particular, he wrote:
In recent times, simmering feuds between technology financiers, employees, and fanboys have reached a fever pitch as the consumer electronics industry has become increasingly bifurcated. Apple investors, of course, have been handsomely rewarded for maintaining their commitments to ride the winning horse. Alternatively, BlackBerry investors who stubbornly clung on to their positions have been all but shellacked over the course of the past six years. Apple's emergence at the forefront of the mobile revolution did come largely at the expense of BlackBerry. Ironically, Apple was at one time the wily upstart who took aim at the formidable BlackBerry Empire with little more than a literal iPhone slingshot. Going forward, contrarians claiming that the BlackBerry Turnaround Party is just getting started need not out-think themselves. This time, it is different. Sell BlackBerry. Buy Apple.
What follows in the article is a recapitulation of Apple's and BlackBerry's equity story over the last couple of years. Innovative products such as the iPhone and the iPad, the rise of the Apple ecosystem and a high market share for iOS are all indicative of solid business fundamentals warranting an investment in Apple stock. While there is little to argue about the presentation of the facts and the declining market capitalization of BlackBerry over the last five years, I do take issue with the recommendation made by the author: "Sell BlackBerry. Buy Apple." In other words: Sell low and buy high.
Let's be real here: Investors who bought BlackBerry five years ago are sitting on massive losses. Apple investors, on the other hand, clearly had a winner on their side. The chart below depicts the yawning gap in performance over the last five years.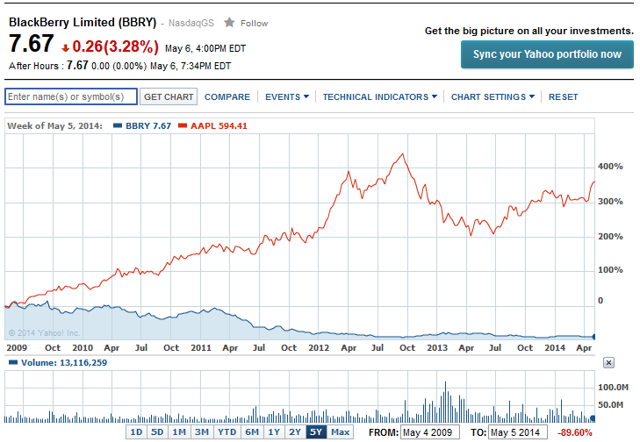 "This time it's different"
The author alleges in his introductory paragraph, that "this time, it is different" with regard to a turnaround of BlackBerry. If any phrase sums up both mainstream thinking and memory loss, it would be this phrase: "This time it is different". No, it isn't. BlackBerry is a classic turnaround example: The company focuses on new smartphone models and taps production efficiencies by collaborating with leading smartphone manufacturer Foxconn (OTC:FXCOF). Its emerging focus on Enterprise also suggests that Chief Executive Officer Chen pushes the company down a new path. Judging a turnaround before the company has had a decent shot at delivering results for shareholders does not only seem unfair but also unwarranted. Any contrarian or distressed security investor knows this by heart: Buy the stock when others wouldn't want to touch it. Or as Warren Buffett said: "Be greedy when others are fearful and fearful when others are greedy".
The stock market provides a constant stream of turnaround investment opportunities -- many of which are written off at first but make stunning comebacks just when most people gave up on the stock (that is, they sell Low). My experience as a distressed security investor suggests that BlackBerry will be no different at all. While, of course, BlackBerry has been sleeping at the wheel over the last years, it now appears that Chen indeed steers BlackBerry into a new direction: Enterprise.
Sell Low and Buy High? No thanks...
Selling BlackBerry now is probably a big mistake. I have seen way too often, that retail investors sell stocks at the bottom and purchase stocks at the peak. That notion alone is mind-boggling food for thought and highlights the influence of mass psychology on the average investor. BlackBerry is and remains a turnaround investment. Moreover, I have previously pegged BlackBerry's intrinsic value in the neighborhood of $17 per share -- which is supported by the value of BlackBerry's Enterprise business and patent portfolio, which, unfortunately, gets neglected way too often.
Selling low and buying high does not seem to me to be a good investment strategy. Maybe it is because I am a contrarian investor and naturally attracted to the inherent pricing inefficiencies of turnaround and restructuring investments. The problem with the maxim "Sell low and buy high" is, that it lures investors into thinking that the grass is always greener on the other side. This is a very important realization, because too many investors rationalize their impatience that way (this is a general notion).
Investors are also likely to be subject to the regret aversion bias, which basically implies that investors want to buy the stock that everybody else buys (that is, Apple) because it allows them to avoid regret should the investment fail -- after all, everybody bought the stock so I cannot blame myself for sustained losses.
Instead, contrarian investors who established a long position in BlackBerry recently in order to play the reorganization of the company, are probably well advised to hold on to their investment and not make the mistake to close out their positions for Apple or any other stock. BlackBerry and Apple are two fundamentally different investments: One is a restructuring play and the other a growth investment.
Conclusion
I would highly recommend investors to never follow the herd -- no matter what the asset class. Warren Buffett's opportunistic (and successful) investment approach incorporates the idea of "buying low and selling high" and Warren Buffett clearly is the undisputed master of his field. I think selling BlackBerry at the current price of $7-8 is a bad idea -- especially when considering that BlackBerry now has probably the best chance in years under Chen's leadership to turn the business around. The grass is not always greener on the other side. Long BlackBerry.
Disclosure: I am long BBRY, AAPL. I wrote this article myself, and it expresses my own opinions. I am not receiving compensation for it (other than from Seeking Alpha). I have no business relationship with any company whose stock is mentioned in this article.