Haverty Furniture Companies, Inc. (NYSE:HVT) got hit by the severe winter weather in the first quarter. This furniture maker is seeing sales momentum pick up however.
Haverty has seen it all. The company was founded in 1885 in Atlanta and used to make deliveries in horse and buggy. It now has showrooms in 16 Southern and Midwest states. Haverty went public in 1929 during dark economic times, but it has survived each of the big economic shocks.
The impact of the recent housing bust is obvious in Haverty multi-year earnings history. Earnings plunged 88.7% in 2007 to just 8 cents before the rest of the country went into recession and took Haverty even lower.
The company didn't make money in either 2008 or 2009. Even 2010 and 2011 were still a struggle. But in 2012, the turnaround in the housing market, and the consumer, began to take hold. Haverty made 67 cents that year and it has seen rising earnings ever since.
Weather Hits the First Quarter
On May 1, Haverty's reported first quarter results and beat the Zacks Consensus by 2 cents. Earnings were $0.27 compared to the Consensus of $0.25.
But that was 9 cents under the first quarter of 2013.
First quarter comparable store sales also were 0.9% lower than the first quarter the year before. Weather was the culprit as comparable store sales actually increased 7.3% in its 30 store in the south which were not impacted by the severe winter weather.
April, however, saw the return of sales momentum. Comparable store business as of May 1 was trending up 7.5% in the second quarter after adjusting for the Easter calendar shift. Total written business was also up 6.4% on top of the 19% produced the year before.
Full Year Estimates Cut
The Zacks Rank is a short term recommendation of just 1 to 3 months which analyzes analyst estimates. The analysts have been cutting full year estimates due to the weak first quarter which was weather related.
The 2014 Zacks Consensus has fallen to $1.36 from $1.55 over the last 90 days. It is now expected to see an earnings contraction of 3.9% in 2014.
The Zacks Rank isn't making a judgment on the longer term outlook for Haverty's business, just the shorter term outlook in the estimates.
Shares Have Weakened
Shares have pulled back over the last month.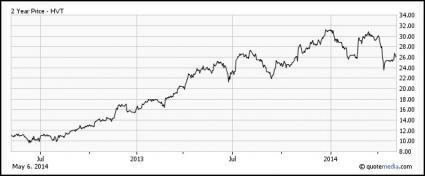 Haverty's has a forward P/E of 19.5 which isn't exactly cheap, even with the recent pullback.
If you really want to buy a furniture retailer right now, you may want to consider Restoration Hardware Holdings Inc. (NYSE:RH). It is a Zacks Rank #2 (Buy) and is expected to grow earnings by the triple digits this year.
[In full disclosure, the author of this article owns shares of RH.]