RightNow Technologies (NASDAQ:RNOW) took further steps today to differentiate its customer service platform in "cloud computing." RightNow is honing its focus around a specific niche in cloud services platforms: Improving customer experience.
The company announced details of its 'Cloud Service Platform' that will help customers build complex web-based customer-service applications that integrate with their own software and databases.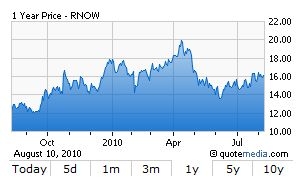 The product release will include a number of developer tools and applications, including Custom Objects, a capability to create new applications, interaction channels, and components; Connect, which accesses standards-based API capabilities to integrate with desktop applications, backend systems, telephony systems, and the web; and Experience Design, which allows business analysts and designers to customize the interface of RightNow CX, using visual design tools and standard web languages.
The easiest way to think of the Right Now's new "CX Cloud Platform" is that it gives companies more leeway to develop custom interfaces, data feeds, and applications for interacting with customers over the web. At the same time, it is presented as a SaaS, cloud-based application that can be acquired on-demand.
While seen as a niche within cloud computing, customer service and "CX" certainly provides a huge opportunity for growth for RightNow, which currently has about $160M in annual revenue, could certainly grow its share of the market to $1B+, if analyst estimates are even close to correct.
Gartner estimate that the SaaS market will grow to $8.5 billion in 2010, up 14% from 2009. Within this larger SaaS market, Gartner estimates Customer Relationship Management (CRM), the market that RightNow addresses, is about 25% of that size but growing faster than the overall Saas market.
RightNow backed up the release -- many of whose components will be available in November of 2010 -- with customers who endorsed the concept of a cloud-based customized customer service applications.
"This platform will take us to the next level, allowing integration around CX (Customer Experience)," said Rick Nucci, the Chief Technology Officer (CTO) of Boomi, a systems integrator based in Philadelphia. "Being able to reach into other systems and data allows limitless expansion."
Disclosure: No positions