It was another beat for Lithia Motors, Inc. (NYSE:LAD) as both new and used car sales kept humming along despite the weather. This Zacks Rank #1 (Strong Buy) is expected to grow earnings by the double digits both in 2014 and 2015.
Lithia is one of the largest automobile retailers in the United States with 100 stores in 12 states. It sells 28 brands of new and used cars as well as operates repair and maintenance.
It serves both urban and rural markets and is therefore a good barometer of the nationwide economy.
Best Month in the Company's History
On Apr 24, Lithia reported first quarter results and beat the Zacks Consensus by $0.07. Earnings were $1.03 compared to the Consensus of $0.96.
It was the 17th consecutive earnings surprise. The company hasn't missed since 2010.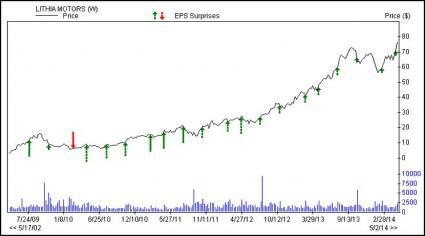 Revenue jumped 19% to $1.1 billion from $903 million in the year ago quarter.
Total same stores sales jumped 12%. Both new and used vehicles also remained hot. New vehicle same store sales rose 10% while used increased 19%.
Service, body and parts same store sales also grew by 9%.
March was the best month for car sales industry-wide in 6 years. At Lithia, it was the best month in the company's history in both revenue and pre-tax profit.
Lithia has also been growing its footprint. It acquired 8 stores and opened up one location since October 2013 with annual revenue of $380 million. That adds another 9% on to full year 2013 revenue.
Full Year Estimates Jump
Lithia gave a full year EPS guidance in the range of $4.57 to $4.65 but with its history of beating, it's not surprising the analysts are more bullish.
5 estimates have moved higher since the earnings report. It has pushed up the Zacks Consensus Estimate to $4.76 from $4.61 in that time.
That is earnings growth of 19.4%.
2015 is also expected to be another solid year with continued earnings growth of 13.2%.
Shares Near 5-Year High
It has been quite a run for Lithia over the last 5 years but shares recently surged to new 5-year highs.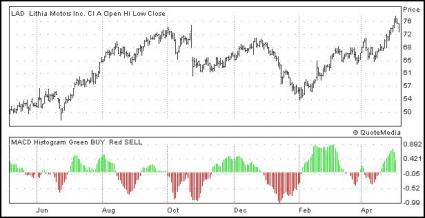 Still, they trade with a forward P/E of just 15.8.
Lithia also has an attractive PEG ratio of 0.6 as it's cheap and has growth. That's a rare combination.
If you're looking for a way to cash in on the hot auto market, Lithia is definitely one you want on your short list.