Within the past 18 months Numerex (NASDAQ:NMRX) has quietly positioned their business for strong growth in revenues and profits. Financially they are strong and getting stronger. Long-term debt has been reduced to zero, cash is growing and stands at $7.5 million or about 50 cents per share, and non-GAAP net income (before legal expenses) was $1.8 million or about 12 cents per share in the most recent quarter, up from $1.3 million (sequentially). Overhead (ex-legal) has been flat to down for the last 6 quarters, and as mentioned on the conference call, should remain near current levels well into next year. GAAP net income just turned positive last quarter, which followed 2 straight quarters of operating income. With this backdrop in place the company just announced that subscriber additions to their network will have to at least double in the 2nd half of 2010 over the 1st half of 2010. At the end of 2009 there were 937,000 subscribers.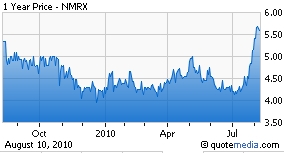 With the company's forecast of 30-40% subscriber growth, Numerex will have to add at least 180,000 subscribers in the 2nd half of 2010 over the 90,000 added already this year. Looking out to 2011, if the pace of subscriber additions is consistent with the back half of 2010 and industry growth, which is very likely, another 360,000 subscribers will then be added to the network, bringing the total up to near 1.6 million subscribers by the end of next year. The obvious question is -what does that mean to earnings? Each subscriber generates (on average) gross revenue of $2.60-3.00 per month. Gross Margin on the subscriber revenue is about 60-62%. Therefore, every additional 100,000 subscribers will add approximately $0.15 per share – pre tax – to annual recurring earnings. At about 900,000 subscribers Numerex is operating at break-even. At 1.6 million subscribers they are generating earnings of about $1.05 per share (pre-tax). These figures do not take into account the contribution margin Numerex could receive from additional hardware related revenue above current levels. At the end of this year the run rate on recurring earnings (pre-tax) should be about $0.45, and by the end of next year about $1.05. The stock currently trades near $5.50.
The growth drivers are broad and growing and within a variety of industries and geographies. Because of its leadership position in wireless machine-to-machine (M2M) communication, Numerex has become the "go to" provider of M2M services for many companies, including many multi-nationals like GE, AT&T (NYSE:T), Vodaphone (NASDAQ:VOD), and Lockheed Martin (NYSE:LMT), as well as the U.S. Government. Numerex offers a one-stop-shop/turnkey solution – they call it Numerex DNA, providing a variety of communications Devices, which will transmit data over a variety of Networks, and deliver the data to an Application which will present the valuable information to the customer, all wirelessly via the Numerex platform. This platform is highly scalable and can accommodate a nearly limitless number of additional devices/subscribers, without any significant increase to headcount or overhead. The recent conference call referenced a "very robust opportunity funnel" and "many solutions will come online in the next few months", and to expect news on some of this in the near future. It is important to note that virtually every opportunity is structured around adding subscribers and the related recurring revenue stream.
Disclosure: Long NMRX