Growlife Inc. (OTCPK:PHOT) and most marijuana stocks in the pot sector have enjoyed phenomenal growth and volatility this year. This is a natural cause of fear and greed for this new industry potentially worth tens of billions in the future. What I think is one of the biggest risks for marijuana stocks is rarely talked about. Marijuana is still illegal across the United States.
Still Illegal Under Federal Law
Although I think the marijuana industry will be booming one day, it certainly may not come any time soon in the United States. The fact is the use of growing and/or using marijuana is still illegal under federal law. The Drug Enforcement Administration (NYSE:DEA) still have the full power and authority to prosecute anyone or business with the use/sale of marijuana. Marijuana is still classified as a Schedule I drug. Schedule I drugs are considered highly addictive and having no medical value. Currently, the DEA is choosing not to prosecute those small businesses selling marijuana and patients using them for medical purposes. However, there have been cases where the DEA decided to enforce the Controlled Substances Act (NYSE:CSA) (21 U.S.C. § 811). CSA does not recognize the difference between recreational or medical use. This law can be used to prosecute any person who possess, cultivate or distribute large quantities of marijuana.
Many investors argued that 21 states and the District of Columbia have legalized medical marijuana. Two states, Colorado and Washington, have legalized marijuana for recreational use. That's a valid statement and does bear weight. However, that represent a conflict between state and federal laws.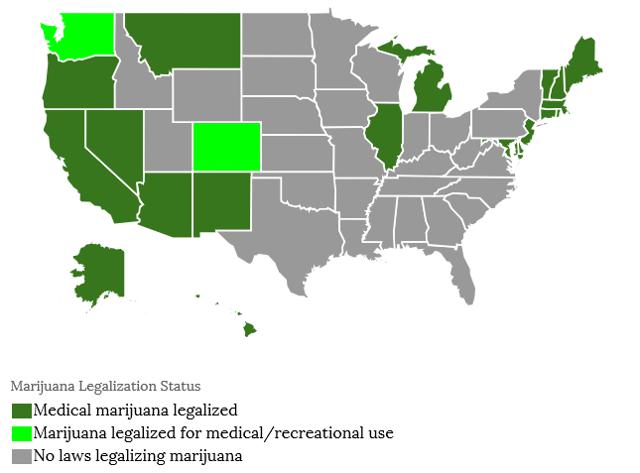 Before you get excited, you have to consider something called Preemption. Preemption allows federal law to replace/preempt state laws when they are conflicting with each other. It will take more than an act of congress to change this rule as it is part of the constitution under the Supremacy Clause.
Growlife and Terra Tech (OTCQX:TRTC) are both selling growing equipment while Terra Tech plan on growing their marijuana indoors. This is a good strategy as greenhouses offer more control over quality and secure their inventory against theft. Growing in the US represents a high risk of the federal government, mainly the DEA, sending their agents in to seize the property. Investors may think it's wrong and illegal because state laws may allow it. However, federal law will preempt state law every time if the DEA chooses to prosecute. Even if the case is appealed up to the Supreme Court, the ruling will always rule in the DEA's favor due to the Supremacy Clause of the constitution.
Consistently High Risk
There had been 5 different suspensions by the SEC recently in the pot sector. The publicly traded businesses affected were: Growlife Inc., Citadel EFT. (OTC:CDFT), Aventura Equities (OTC:AVNE), and Petrotech Oil & Gas, Inc. (OTC:PTOG), Advanced Cannabis Solutions (OTCQB:CANN).
The reasons were:
PTOG: The Commission temporarily suspended trading in the securities of PTOG because of questions that have been raised about the accuracy and adequacy of publicly disseminated information concerning, among other things, the company's operations. Source
AVNE: The Commission temporarily suspended trading in the securities of Aventura because of questions concerning the adequacy and accuracy of publicly available information about Aventura, including, among other things, its financial condition, the control of the company, its business operations, and trading in its securities. Source
CANN: The Commission temporarily suspended trading in the securities of Advanced Cannabis due to a lack of current and accurate information concerning the securities of Advanced Cannabis. There are questions regarding whether certain undisclosed affiliates and shareholders of Advanced Cannabis common stock engaged in an unlawful public distribution of securities. Source
CDFT: The Commission The Commission temporarily suspended trading in the securities of Citadel because of questions that have been raised about the accuracy and adequacy of publicly disseminated information concerning, among other things, the company's business operations and assets. Source
PHOT: The Commission temporarily suspended trading in the securities of PHOT because of questions that have been raised about the accuracy and adequacy of information in the marketplace and potentially manipulative transactions in PHOT's common stock. Source
While not every case is the fault of the business, it does represent a high risk to current investors with so much potential illegal activities and stock manipulation going on. PHOT's recent SEC trading halt caused the stock to fall more than 60%. Sitting at $0.16 per share, it is a mere fraction of its former 52 week high $0.78 share price. Investors who came at the height of the hype found themselves losing most of their investment rather than enjoying the expected high growth.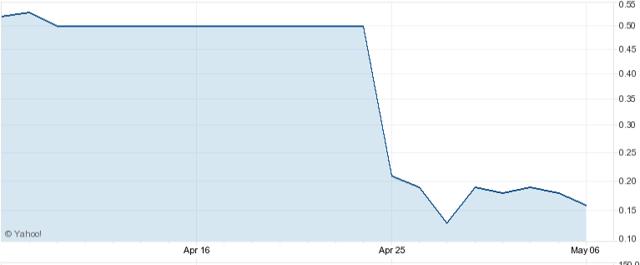 Source: Yahoo Finance
What Does It Take To Legalize Marijuana At The Federal Level?
There's two ways to legalize marijuana. The first is to change its status to Schedule II to be legally use for medical purposes. Schedule II are drugs with legitimate medical use but have strong potential for abuse and/or addiction. The second method is to change the federal law making marijuana as legal as cigarettes.
Changing the status of marijuana to Schedule II isn't easy. This had been attempted multiple times in several decades. One of the first attempts was in 1972. NORML petitions the DEA to reschedule marijuana. It was not resolved until 1994 when the court ruling in favor of the DEA to keep its Schedule I status. The most recent attempt to reclassify marijuana was in Jan 22, 2013. The case of Americans for Safe Access v. DEA. The U.S. Appeals Court ruled in favor of the DEA once again because "medical efficacy of marijuana do not exist".
The second option was to change the law legalizing marijuana. Currently 21 states and DC legalized medical marijuana. However, only 2 states legalized recreational. That's not hopeful when you need to get over 50% votes in the House and Senate to pass the law. Marijuana is very popular in high density populated states. I think states like New York or California will soon legalize it for recreational use. There's a good chance that we can get more than half of the House to vote for the bill. The Senate is another story. You need 26 states to vote for it in the Senate. I don't think this will happen anytime soon. This is because legalizing marijuana will make it legal for both medical and recreational. Right now, only 2 states agreed to that. We've got another 24 states to go and a President that will agree with it.
Final Thoughts
I don't think many investors really think about the potential risks associated with this new controversial industry. While I wholeheartedly support the movement to legalize marijuana, investing is about money. I would be hesitant to invest in any marijuana stock with plans to grow within the U.S. The risks are high and the pot sector as a whole have shown consistent shady activities. Right now, it's clear that sky high share prices were driven by hype. PHOT was once valued over $400M with revenue well under $10M. I believe in PHOT's management. I also believe their current valuation of $128M market cap is closer to reality but still too high.
For investors in multiple pot stocks across the sector, I highly recommend them to reassess your risks. These stocks are not only overvalued, they are having trouble getting adequate financing from banks. Even though the Obama administration provided new federal guidelines allowing banks to provide financial services to legal marijuana sellers, it's a guideline that's in contradiction to itself because marijuana is still illegal at the federal level. The American Bankers' Association have noted that it is still illegal and can face risk of prosecution. Basically, the Obama administration gave the "OK" for banks while it is still illegal. Banks are saying they still won't take the risks because it is still illegal. Marijuana companies are still at square one trying to find reasonable financing.
A combination of high valuation, legal problems and finance difficulties represent an extremely high risk to investors. At this point, I'm not so sure the reward is as high. Any U.S. marijuana grower is going to be at the mercy of the DEA. It would be wiser to invest in a company that made the right decision, growing marijuana in a country where it is legal, like Canada.
Disclosure: I have no positions in any stocks mentioned, and no plans to initiate any positions within the next 72 hours. I wrote this article myself, and it expresses my own opinions. I am not receiving compensation for it (other than from Seeking Alpha). I have no business relationship with any company whose stock is mentioned in this article.
Editor's Note: This article covers one or more stocks trading at less than $1 per share and/or with less than a $100 million market cap. Please be aware of the risks associated with these stocks.