By Chris McKhann
Shares of Dollar Thrifty Automotive (NYSE:DTG) hover near multi-year highs, but option traders aren't looking for much more upside.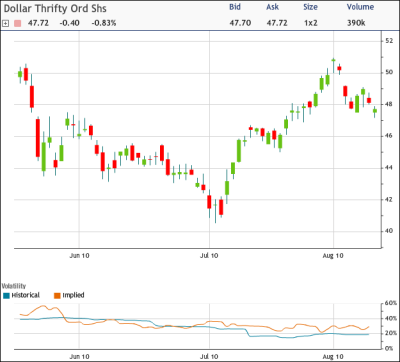 DTG is down 0.83 percent to $47.72 in morning trading. The car rental company's shares bounced from support at $40 in early July and were unable to regain their multi-year high of $52.05 set in May. This stock has been on an incredible run, up almost 800 percent from its March 2009 low.
The January 50 puts are the most active option strike. More than 4,000 of those calls traded against open interest of just 95 contracts. Although call action is often seen as bullish, the largest block of 3,910 of these calls were sold.
They went for $2.25, a credit that the seller gets to keep regardless of what happens. If shares are above $50 at expiration, the seller (if still short) is obligated to sell shares of DTG. For that reason, it is likely that the trader is already long the shares and is using this as a covered call strategy.

Disclosure: No positions