By Joscelyn MacKay
Morningstar has launched credit ratings on the department stores, including Kohl's (NYSE:KSS), TJX Companies (NYSE:TJX), Nordstrom (NYSE:JWN), J.C. Penney (NYSE:JCP), Macy's (NYSE:M), Sears (NASDAQ:SHLD), and Saks (NYSE:SKS). Our ratings are based on the four pillars that we apply consistently across all industries (Business Risk, Cash Flow Cushion, Solvency Score, and Distance to Default). For a more in-depth discussion of our ratings process, please see our Corporate Credit Ratings Methodology document.
In assessing the department stores, we focused on free cash flow generation, lease-adjusted credit metrics, pension liabilities, debt reduction efforts, and share repurchase activity. The chart below depicts a summary of our analysis. (Click to enlarge)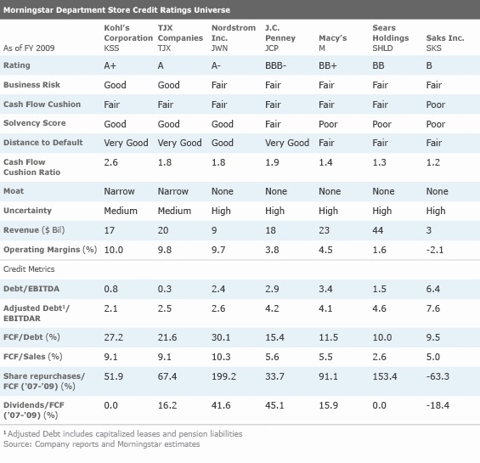 Free Cash Flow Pays the Creditors
Strong, stable cash flow is a characteristic of most solid credits and weak cash flow is typically a cause for concern. In this regard, the department stores are no exception. With healthy operating margins and reduced capital spending due to the economic downturn, the strong investment grade rated department stores--Kohl's, TJX Companies, and Nordstrom--generated free cash flow roughly equal to 10% of sales, versus the low to mid single digits generated by their competitors. Kohl's in particular has stronger margins relative to peers due to its store format; the company's free standing model--not tied to malls--is less costly to operate.
The Cash Flow Cushion scores for Kohl's, TJX Companies and Nordstrom (the five-year ratio of cash plus expected free cash flow to debt and debt-like obligations) are also high relative to the below investment grade department stores. As such, we estimate that these companies could easily pay down their debt with little risk of being forced to access the capital markets at an inopportune time.
Operating Leases and Pensions Are Debt, Too
We focus on the department stores' lease-adjusted credit metrics, as these numbers are more telling of retailers' true debt obligations. Department stores vary widely in the proportion of leased versus owned stores. In order to establish an appropriate comparison, we capitalize operating leases and treat them as debt-like obligations. TJX Companies, illustrates this issue perfectly. The company's debt / EBITDA ratio is quite low at 0.3. However, TJX Companies leases nearly all of its stores and its sizable lease expense adds more than 2 turns of leverage. With adjusted debt / EBITDAR of 2.5, the company's leverage is actually similar to that of Nordstrom, which leases a much smaller percentage of stores, but has a higher debt balance.
We also view pension obligations as debt-like obligations, and companies with underfunded pensions warrant more critical examination than those without pension issues. While Macy's, Saks, and J.C. Penney all have underfunded pension plans, we are most concerned about Sears. The company's $1.8 billion underfunded pension at fiscal year-end 2009 adds another level of debt-like obligations to the company's $2.5 billion debt balance. This number grows to $11.5 billion when capitalized lease obligations are added to the mix.
Department Stores Learned Lessons During the Credit Crisis
In 2009, many companies--including the department stores--tightened working capital and reined in capital spending to improve free cash flow. J.C. Penney, the most marked example, generated more than 5 times the amount of free cash flow in 2009 compared to 2008, through working capital rationalization and reduced capital expenditures--despite lower earnings. The same effort at Saks--which saw negative free cash flow in the prior two years--allowed the company to yield $131 million in free cash flow.
With reduced earnings that inflated leverage ratios, many companies used this excess cash flow to reduce debt. J.C. Penney and Macy's are two notable examples. With high--but improving--credit metrics, both were the first to halt share repurchase activity in 2008 and have made substantial progress in improving their balance sheets. Even with minimal near-term debt maturities, J.C. Penney appears focused on paying down debt. In May 2010, the company issued $400 million in senior notes at a favorable rate to refinance an upcoming maturity, and paid down $300 million ahead of its scheduled maturity. As a result, the company's only near-term maturity is $230 million due in 2012. Macy's, after paying down nearly $1 billion in debt in fiscal 2009, has further reduced its debt load by $500 million in 2010--ahead of its scheduled maturity. Sears, on the other hand, reduced its debt balance by $252 million in 2009, but also spent roughly the same amount on share repurchases. We would have preferred to see the company reduce its significant debt and pension obligations further before returning money to shareholders.
A Bond Shopping Spree at the Department Stores?
We generally believe that most department store bonds are trading in a range appropriate for their respective credit qualities. J.C. Penney, however, rated BBB- (low investment grade) has bonds that trade much wider than the average BBB- credit in the Morningstar Corporate Credit Index. The chart below illustrates two of J.C. Penney's outstanding bond issuances versus the average credit in the BBB+, BBB, and BBB- buckets in the Morningstar Corporate Bond index.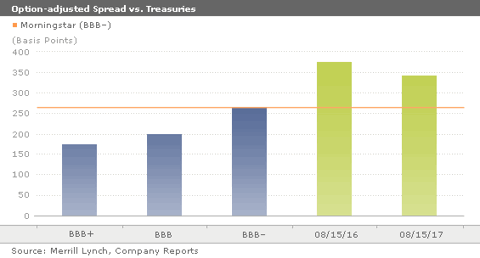 In our view, the wide market pricing likely reflects the fact that the agencies consider J.C. Penney a below investment grade credit. We believe that the company's efforts to improve its balance sheet will not go unnoticed by the market and that spreads should tighten. As such, Morningstar has a "Buy" opinion on the two issuances outlined below.

Disclosure: Morningstar licenses its indexes to certain ETF and ETN providers, including Barclays Global Investors (BGI), First Trust, and ELEMENTS, for use in exchange-traded funds and notes. These ETFs and ETNs are not sponsored, issued, or sold by Morningstar. Morningstar does not make any representation regarding the advisability of investing in ETFs or ETNs that are based on Morningstar indexes. Tim handles their stock strategist posts (separate feed) if you need help formatting or have other Morningstar-related questions.