The moment investors have been waiting for has finally arrived. Alibaba has filed for an IPO.
Alibaba is the largest player in the Chinese e-commerce market and has been growing at an unbelievable rate. The company is often described as a juggernaut combination of Amazon.com (NASDAQ:AMZN), eBay (NASDAQ:EBAY), Groupon (NASDAQ:GRPN), and PayPal all smashed into one company. There have been some fears in recent months of an economic slowdown in China, but the internet economy in the world's most populous country has been booming.
According to figures from the non-profit China Internet Network Information Center from the end of December 2013, some 618 million Chinese citizens are now on the web, representing a 45.8% penetration rate. For a quick point of reference, this is nearly double the US population of 319 million, while their internet penetration rate is only about half of ours (81% as of 2012), which still leaves plenty of room for expansion. In 2013, the internet user base in China grew by 9.5% compared to the previous year, while the user base in the United States grew by only 4% between 2011 and 2012.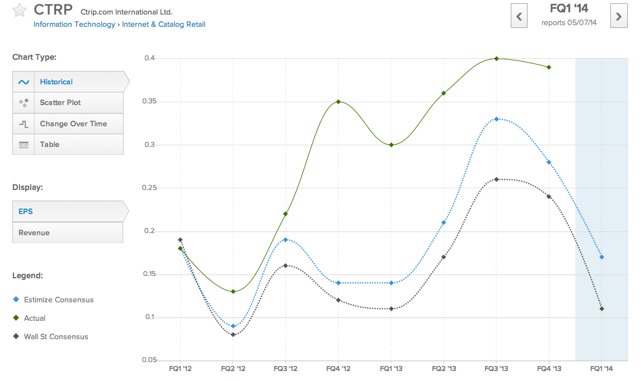 Click to enlarge
Click here for Ctrip data.
The growing population that's spending time on the web in China is also spending an increasing amount of money online. This is evidenced by the growth of companies like vacation booking website Ctrip.com (NASDAQ:CTRP), search engine Baidu (NASDAQ:BIDU), automotive marketing website BitAuto (NYSE:BITA), and media and entertainment holding company Tencent (OTCPK:TCEHY).
Last year, nearly $248 billion worth of merchandise was sold across Alibaba primarily through its Taobao and Tmall websites. Tmall is a platform for larger and more established companies like Apple (NASDAQ:AAPL), while Taobao is a massive online bazaar featuring over 8 million vendors. From the nearly quarter trillion dollars of goods sold over Alibaba e-commerce websites, the company brought in $5.66 billion in revenue within China alone in the 9-month period that ended December 31, 2013. The bulk of this revenue comes from fees, commissions, and marketing services such as display ads. According to the initial prospectus from Alibaba released on Tuesday, Taobao alone receives 100 million visits per day.
Taobao and Tmall together represent almost 87% of Alibaba's revenue. While Alibaba has plenty of room left to grow within China, international expansion opportunities have investors watering at the mouth. The first website from Jack Ma, the now almost mythic founder of Alibaba.com, connects US shoppers directly to merchants in China. But international commerce still only represents 8.8% of Alibaba's total revenue.
Alibaba operates on a huge scale, its growing at an insane rate, and it holds high profit margins at roughly 40%. Sales growth projections of roughly 30-50% per year have Alibaba seeing a potential earnings based valuation of $150 billion within a year or two. Some think that international expansion will see sales grow even more quickly than that. But the company also owns roughly $25 billion worth of equity stakes in other Asian and Western internet companies. Private-company research shop PrivCo is valuing Alibaba at $195 billion, and other analysts have suggested it could see an even higher valuation when it's listed publicly in the US.
The size and growth of Alibaba are monstrous, but may there may be a few reasons to pump the brakes. Alibaba's market share is off the charts; it controls some 80% of all Chinese e-commerce across its various websites. If Alibaba were located in the United States, the antitrust folks would be having a field day. But in China, state-sponsored and state-favored companies have and can operate on a monopoly-like scale. And the Chinese government does have a track record of protecting its exports. However, some regulatory risk will always be in play when you are talking about a company that has 80% market share and controls a dominant online payment platform in Alipay.
The other question is simply a matter of valuation. No matter how much a company earns or how fast it's growing, the stock price is only worth what someone else is willing to pay for it. Alibaba is the dominant player in Chinese online shopping, and will probably become the #1 equity for e-commerce in all of Southeast Asia soon. For the foreseeable future, there will be no better way to gain exposure to the booming internet economy in Asia than Alibaba stock. The exact details of the IPO valuation are not available yet, but any price that gives Alibaba a market capitalization of less than $140 billion will, by all indications, go favorably for investors.
Disclosure: None
Editor's Note: This article discusses one or more securities that do not trade on a major U.S. exchange. Please be aware of the risks associated with these stocks.