Company Overview
: Amgen Inc., (NASDAQ:
AMGN
) a biotechnology medicines company, discovers, develops, manufactures, and delivers human therapeutics based on advances in cellular and molecular biology primarily in the United States, Europe, and Canada. The company markets primarily recombinant protein therapeutics in supportive cancer care, nephrology, and inflammation. Its principal products include Aranesp and EPOGEN erythropoietic-stimulating agents that stimulate the production of red blood cells; Neulasta and NEUPOGEN, which selectively stimulate the production of neutrophils, a type of white blood cell that helps the body fight infections; and Enbrel, an inhibitor of tumor necrosis factor that plays a role in the body's response to inflammatory diseases.
The company also markets other products, including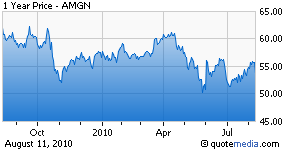 Sensipar/Mimpara, a small molecule calcimimetic that lowers serum calcium levels; Vectibix, a human monoclonal antibody that binds specifically to the epidermal growth factor receptor; and Nplate, a thrombopoietin (TPO) receptor agonist that mimics endogenous TPO, the primary driver of platelet production. In addition, its lead product in mid-to-late stage development include Denosumab, a human monoclonal antibody that targets a ligand, known as RANKL, an essential regulator of osteoclasts, which is under regulatory review. It markets its products to healthcare providers, including physicians or their clinics, dialysis centers, hospitals, and pharmacies.
Prognosis
: The stock has dropped nearly 20% since its highs of last October.
Amgen has come off these highs due to concern about future revenue growth, the fallout from health care reform and some setbacks in its drug pipeline.
Valuation: AMGN is selling for approximately 11 times this year's consensus earnings and 10 times next year's projected earnings. It has over $2 billion in net cash on its balance sheet. It is selling at the low end of its five year range for P/E, P/S, and P/CF.
Catalysts: There are several factors that we believe should provide support for a higher stock price in the near and medium term:
1.
Prolia should be approved for several cancer caused bone loss conditions
2.
Company throws off huge cash flow which it is using to buy back stock and could acquire new growth assets
3.
Given Genzyme's recent possible merger, Amgen could eventually be bought by large pharma company for its biotech portfolio and pipeline
4.
Market should continue to rotate to defensive sectors given slowing economy
Recommendation(s):
Given its low valuation and strong cash flow; we feel stock is currently undervalued.
In our opinion, the stock should be trading at a more reasonable rate of approximately 13-14 times this year's projected earnings of around $5. Our target Price is $65-$70, up from the current price of $54.26.


Disclosure: Long AMGN