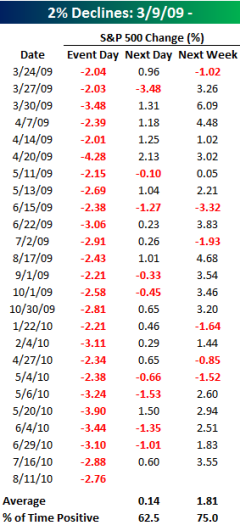 In the table to the right we highlight each decline of 2% or more in the S&P 500 since the March 2009 low. Today's decline is the 25th day since then where the S&P 500 has lost more than 2%, and it is on pace to be the worst day since July 16th.
The average return on the day after these big down days has been a gain of 0.14% with positive returns 62.5% of the time. Over the next week, the S&P 500 has risen 75% of the time for an average gain of 1.81%. Additionally, in each of the five occurrences since the flash crash on May 6th, the S&P 500 has been up over the next week every time.
Taking a longer term view, we also looked at the S&P 500's performance following 2%+ declines since the year 2000. Here the results are still positive, but certainly more modest. In the 99 occurrences where the S&P 500 has been down between 2% and 3%, the S&P 500 has averaged a gain of 0.1% the following day and 0.5% the following week.
When the index is down more than 3% (57 occurrences), it has averaged a gain of 0.4% the next day and 1.1% over the next week.