My favorite stock evaluation tool, Alpha Omega Mathematica (AOM) still gives Intel (NASDAQ:INTC) a Buy rating. Intel's aggregate AOM score of 75% is notably lower than Qualcomm (NASDAQ:QCOM). However, based on the scoring algorithm of AOM, Intel is also a high-quality stock that's undervalued compared to its market, industry, and sector peers.
Please study the chart below from Alpha Omega Mathematica.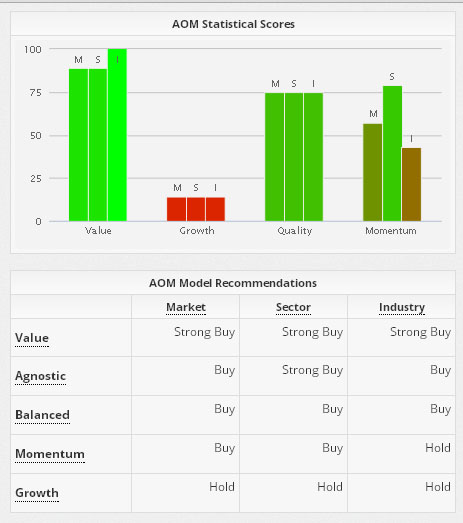 Intel has poor statistical scores for Growth indicators, but it has excellent grades in Value. Intel's management also get good grades on Quality. As per AOM model's judgment, value-biased investors should appreciate the Strong Buy recommendation for Intel when compared to its market, sector, and industry peers.
Growth-biased modeling gives Intel just a Hold rating when compared to its peers. AOM's math accurately reflects the market perception that Intel's growth is stunted by the company's failing grade in mobile chips.
Great Value in Plain Sight
Intel won't be graduating with a mobile chip leadership diploma anytime soon. Investors should just make their bets on Intel based on its excellent value indicators.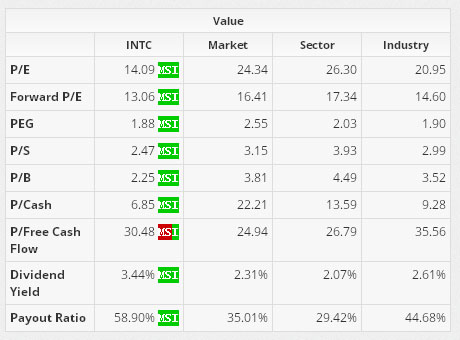 The chart above from AOM shows Intel is very much underpriced right now. Its P/E, Forward P/E, PEG, Price/Sales, P/B, and Price/Cash ratios are notably better than all the market, sector, and industry averages. The high Dividend Yield and Payout Ratio of INTC are again much better than its peers.
For value investors who prefer Enterprise Value-based metrics, Intel has decent TTM EV/Revenue ratio of 2.46 and a good TTM EV/EBITDA of 6.04. The great fundamental metrics of this company is greatly complemented by an efficient management that keeps Intel one of the world's most profitable companies.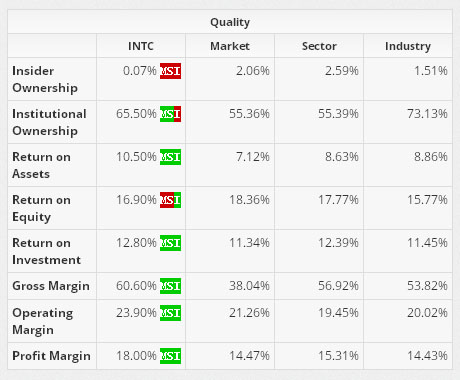 Alpha Omega Mathematica's Quality scoring algorithm praises Intel for its excellent Return on Assets (10.50%), Return on Investment (12.80%), Gross Margin (60.60%), Operating Margin (23.90%), and Profit Margin (18%). Krzanich and his team are competently keeping Intel's cash cow healthy. Intel's contra revenue strategy to improve its bench player status in mobile chips comes at a great price.
However, the losses can be offset by the company's huge income from its near-monopoly hold on server and PC processors. Speaking of monopoly, Intel has cornered the x86 chip market for ChromeBooks.
Google Gives Intel License To Monopolize ChromeBooks
Intel is divorcing itself slowly from its Wintel marriage to Microsoft (NASDAQ:MSFT). Intel's renewed focus on Android-based tablets this year makes for a strong relationship with Google (NASDAQ:GOOG) (NASDAQ:GOOGL). Intel's dalliance with Google is not only limited to tablets, it is also the sole x86 chip supplier for ChromeBooks and ChromeBox computers.
Microsoft intensely dislikes Chrome OS and Intel's defiant gesture of continually supporting it means Krzanich sees enough potential on Google's Windows-is-unnecessary-campaign. Intel and Google are coming up with more powerful ChromeBooks. For 2014, Intel says there will be 20 new ChromeBooks which will all be powered by Intel chips.
The U.S. education system has fallen in love with ChromeBooks. Around 10,000 schools now use ChromeBooks. Google is offering a new IT tool for teachers called Classroom which leverages the web-services of ChromeBooks. Apple and Microsoft have ceded market share because of ChromeBooks. As of last year, Chrome OS accounts for 19% of the education market, a significant increase from its 1% share in 2012.
Mainstream acceptance of ChromeBooks is also gaining ground. U.S. notebook sales for 2013 showed ChromeBooks capturing 21% market share. This rapid rise towards commercial success is a compelling reason why Intel loves ChromeBooks.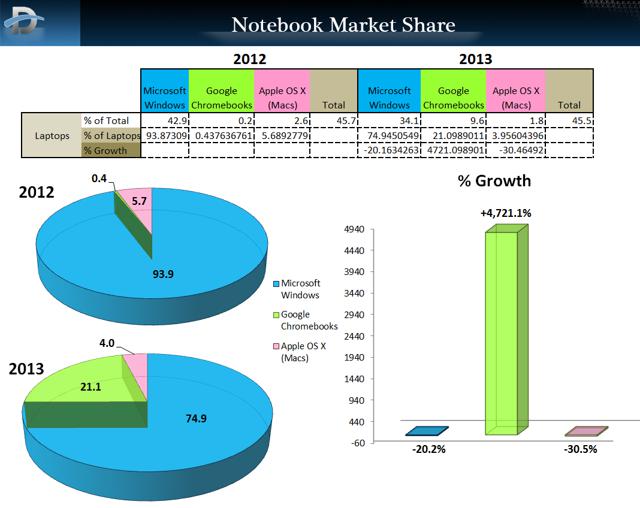 Click to enlarge
Source: Dailytech.com/NPD Group
As far as I know, Intel is not doing any contra revenue for ChromeBooks. This product category is therefore a positive tailwind for the company.
Conclusion
The Buy rating from Alpha Omega Mathematica is supported by the technical indicators from BarChart.com.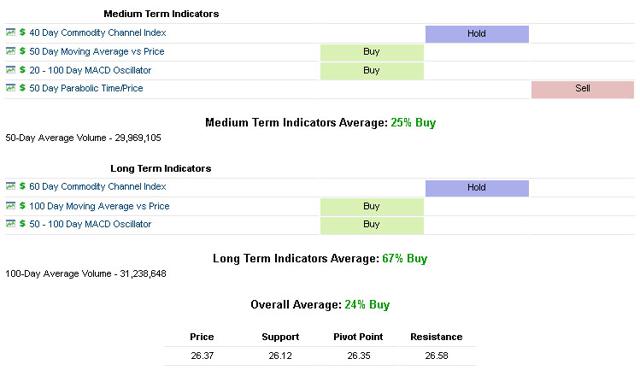 Click to enlarge
The stock market is often irrational, but many financial analysts still believe in the power of mathematics. Many analysts (11 of them) at BarChart now give INTC a Strong Buy Recommendation.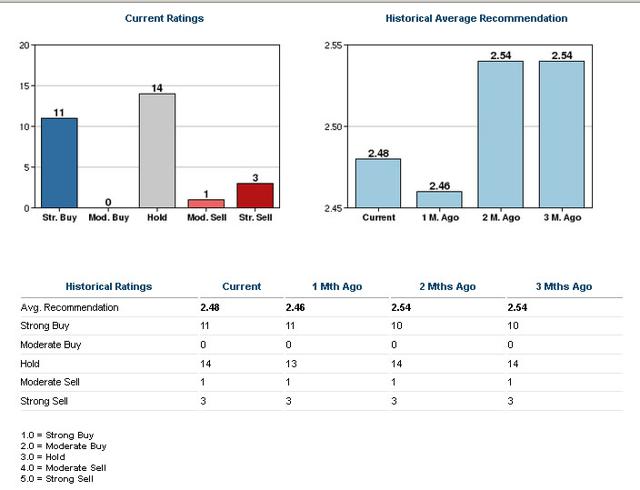 Click to enlarge
The Buy whisperings for INTC is also inspiring many analysts at FT.com to give Intel a 12-month price target high of $35.

Long-term value investors should buy INTC now because the stock market is still not acknowledging the company's correct fair value. The market currently perceives INTC as an old dinosaur that is clumsily failing in mobile. Intel is a T-Rex in server and PC processors, but it is slowly learning how to be a top predator in tablets this year.
PCs and notebooks still account for the majority of computer sales. Intel's income from these two product categories just got improved because of its monopoly on Chrome OS-computers.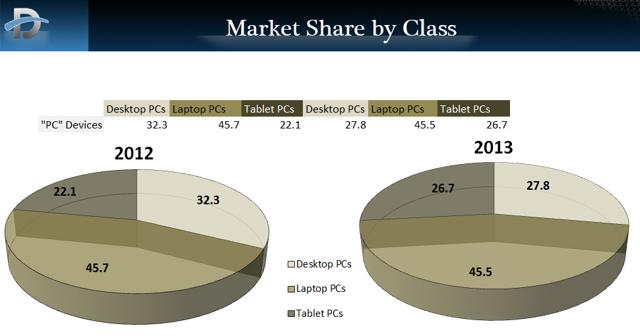 Click to enlarge
Source: Dailytech.com/NPD Group.
Disclosure: I am long INTC, GOOG. I wrote this article myself, and it expresses my own opinions. I am not receiving compensation for it (other than from Seeking Alpha). I have no business relationship with any company whose stock is mentioned in this article.