Independent oil & gas producer, Noble Energy Inc. (NBL) received the go-ahead for developing an alternate natural gas field offshore Israel. The Israeli government gave its consent for the development of the Tamar South, which is expected to provide initial deliveries of gas by late 2012.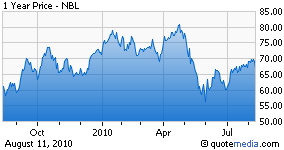 Noble's New Tamar Option
Noble Energy and its Tamar partners had last week recommended the Tamar South development option, to replace its previous Tamar North option, to Israel's Minister of National Infrastructure and the Petroleum Commissioner. The Tamar South development option would utilize the existing onshore gas receiving terminal located at Ashdod.
Tamar South would involve a similar field development as the northern option, but would bring the gas to a new offshore platform to be constructed next to the existing Mari-B platform and then redeliver the gas to the existing pipeline that connects Mari-B to the Ashdod onshore terminal. The new platform would take advantage of the structural design of the existing and proven Mari-B platform. The company expects the cost of Tamar South to be almost the same as Tamar North.
Tamar North Option
Earlier, Noble Energy and partners had planned to develop Tamar using the Tamar North option, which would take gas from the deepwater field to a new onshore receiving terminal to be constructed in the northern half of Israel. However, the delay in the selection and approval of the site for the onshore terminal has pushed back the date of delivery of gas to Israeli markets beyond 2012. This delay has raised concerns as the company would fall short of meeting customers' demand and also disrupt the continuity of gas deliveries in Israel.
The Tamar development is vital for Israel as it has only one source of domestic natural gas – the Mari-B field located offshore Ashkelon – till date. Though Mari-B has been reliably meeting gas needs since 2004, its production is expected to begin declining sharply in late 2013. Noble Energy operates both the Tamar and Mari-B fields.
Noble Positive on Alternative
Though disappointed about not reaching a timely decision for the northern Tamar onshore site, Noble is happy to have arrived at an alternative development, which has also received government approval. However, the company continues to believe that a second gas receiving terminal in the northern half of Israel provides significant benefits. Thus, Noble's management continues to work with the National Planning Council and the involved ministries in evaluating northern sites.
Our View
The Tamar project is one of Noble's important growth projects, which would contribute to the company's proved reserves and earnings. We see Noble's alternative plan (Tamar South) for meeting Israel's near-term gas needs, positively.
Though Noble's ongoing development projects ensure substantial growth, we remain concerned about the moratorium-related issues in the Gulf of Mexico. We maintain our Neutral recommendation, supported by the Zacks #3 Rank for the stock.