Weatherford International Ltd. (NYSE:WFT) supplies equipment and services to the oil and gas exploration and production industry for both onshore and offshore operations. Credit Suisse has recently reaffirmed an outperform rating on Weatherford and raised its price target for the company's stock from $19 to $30. While the stock is currently trading at around $20.77, the price targets highlight the stock's handsome upside potential. The firm identified the company's internal efforts for the recovery and the persistent positive OFS macro as the reasons behind the optimism for the company. Therefore, in this article I will determine the factors that are brightening the company's future and presenting it as a good investment opportunity. Furthermore, I will also take a brief look at the results in the company's recently reported quarter.
Q1 FY 2014 Results: Better than Expected
Weatherford reported an adjusted EPS of $0.13 in its recently reported quarter, Q1 FY 2014, beating analysts' estimates of $0.11 by 18%. However the company's Q1 FY 2014 EPS was down from the $0.15 earned in Q1 FY 2013. The company's revenue in Q1 FY 2014 plunged to $3.6 billion compared to Wall Street's estimate of $3.7 billion. The company's revenue for Q1 FY 2014 was also down 6.3% in comparison to Q1 FY 2013.
The company's share price climbed the most in five years as the company reported better-than-expected earnings for Q1 FY 2014 along with an announcement of further initiatives to be enacted by the company to improve its performance and position. The world's fourth-largest oilfield services provider rose 11% to $20.47 reflecting the greatest rise since January 21st, 2009 (see graph below). This reflects the fact that the company's shareholders are optimistic about the company's future prospects. The other announcement in the company's Q1 FY 2014 results included the company anticipating as much as $1 billion in divestiture proceeds by the end of FY 2014. These divestiture advantages are part of the company's planned and on-going restructuring initiatives.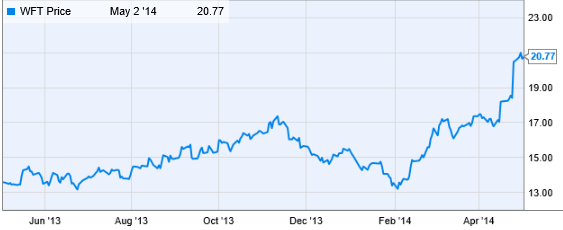 Source: Ycharts
Asset Sales Will Support Financial Position
Weatherford has recently announced that it has signed an agreement with Baker Hughes Incorporated (NYSE:BHI) for the sale of Weatherford's pipeline and specialty services business to a subsidiary of Baker Hughes. The transaction will bring a total consideration of $250 million for Weatherford that includes $241 million in cash and $9 million in retained working capital. The sale is part of Weatherford's previously announced plan to divest its non-core businesses as shown in the following diagram.
Source: Howard Weil 42nd Annual Energy Conference Presentation
The sale of Weatherford's pipeline and specialty services business has also been regarded as an essential first step towards refocusing on its core businesses. These steps will help the company to be a leaner, more proficient and stronger organization.
The pipeline business is just one of the four businesses that Weatherford has planned to sell. The other non-core businesses that the company is looking to divest include well testing and production services, drilling fluids and the construction and rental of wellheads. These operations will be divested because they are draining the company's cash. As a whole, these four businesses are expected to generate proceeds of $1.3 billion in FY 2014. Thus, the company is aiming to net up to $1 billion by the end of FY 2014 through the asset divestments.
As part of the company's focus on capital efficiency, the company is expected to shut-down 50 loss-making facilities worldwide by Q2 FY 14. The company will also wind-down loss-making contracts in Iraq by Q3 FY 14. As a result, the company expects to generate $500 million in free cash flow by the end of FY 2014. The positive free cash flow figure projected to be logged by the company in FY 2014 will be the first one in a decade.
Consequently, cash flows from divestitures will be used by Weatherford to reduce its debt by almost 20% by the end of FY 2014, as planned by the company. Weatherford repaid $600 million worth of debt during FY 2013. The company has planned to achieve a debt to capitalization ratio of 25% by FY 2016 down from 52% recorded in FY 2013 (see chart below).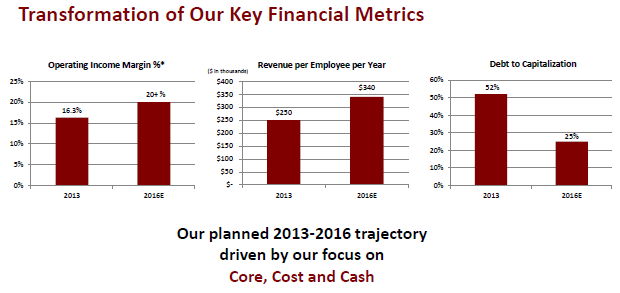 Source: Howard Weil 42nd Annual Energy Conference Presentation
Cost-cutting Initiatives Will Support Financial Performance
Along with divesting its non-core businesses, Weatherford is also enacting cost-cutting initiatives as part of its restructuring efforts. The company is on its way to cutting a large group of its workforce that will equate to nearly 6600 job cuts expected to be completed in Q2 FY 2014. More than half of the planned global workforce cut was completed in Q1 FY 2014 removing 4,300 employees from the company. This reduction in workforce was supplemented by the initiation of the process of closing 20 facilities in Q1 FY 2014. The closure of the remaining facilities will begin in Q2 FY 2014. Weatherford estimates that it will save $500 million per annum after-tax due to these decisions.
The personnel reductions are projected to bring in $0.25 per share in savings for the company in the second half of FY 2014, in addition to $0.05 to be saved from facility reductions. More importantly, these cost savings are not one-off but are permanent and will contribute to the company's earnings growth year-over-year.
In another effort to reduce costs Weatherford is shifting the location of its corporation from Switzerland to Ireland. The company's CEO and President Bernard Duroc-Danner believes this move will assist Weatherford in operating at the lowest conceivable cost. This is because the tax environment is more attractive for the company in Ireland. The company is hoping to gain from Ireland's financial shelter to operate at lower costs and boost its balance sheet. Currently this decision to relocate is subject to stockholder's approval at the company's annual meeting that is to be held in June 2014.
Oil Field Equipment and Service Industry Forecasts and Final Take
Weatherford generated around 45% of its total revenue in Q1 FY 2014 from North America (see table below). This reflects the fact that activities in the U.S. oil and gas E&P environment impact the company materially.

Source: WFT 10Q Q1 FY 2014
The U.S. demand for oil and gas drilling products and services is forecasted to rise by 8.1% per annum through 2014. This growth will come from the rise in oil and gas drilling activity in the region aimed to take advantage of the relatively high oil prices and USA's efforts to reduce dependence on foreign energy sources.
Weatherford has an EPS guidance of $1.10-$1.20 for FY 2014. Credit Suisse has increased its FY 2014 EPS estimate for Weatherford to $1.13 up from $0.99 and to $1.84 from $1.48 for FY 2015. Currently the majority of analysts rate Weatherford a buy.
The company is enacting initiatives to improve its financial position and its performance has led analysts to raise their price targets on the company's stock. The company is divesting and selling assets from its non-core business and loss-making facilities. This will bring in cash flows for the company that the company has planned to utilize to reduce its debt. In addition to this the company is reducing its workforce to generate $0.25 per share per annum in cost-savings. The outlook of the U.S. OFS industry is slightly positive due to the region investing to grow its domestic oil supply. All of these factors suggest that the company is a good buy.
Disclosure: I have no positions in any stocks mentioned, and no plans to initiate any positions within the next 72 hours.
Business relationship disclosure: The article has been written by a Gemstone Equity Research research analyst. Gemstone Equity Research is not receiving compensation for it (other than from Seeking Alpha). Gemstone Equity Research has no business relationship with any company whose stock is mentioned in this article.