JPMorgan Chase & Co. (NYSE:JPM) came through the financial crisis of 2008 relatively unscathed; since then, though, it's been tarred several times: by connections with Bernie Madoff, the London Whale episode, and more. But, the company also had some good news, including the passing of a stress test, which allowed it to announce a dividend increase and share buyback.
In this article, we'll analyze the ownership of JPM by looking at the buying and selling of selected, non-retail investors: institutional investors, insiders, and shorts. This is the first in a series on the four major banks, or Money Center Banks, as they're technically known: Bank of America Corporation (NYSE:BAC), Citigroup Inc. (NYSE:C), and Wells Fargo & Company (NYSE:WFC), as well as JPMorgan Chase & Co.
After a quick overview of the company, we'll look at the buying and selling of each of these groups.
JPMorgan Chase: The Company
In its 10-K Report (2013) JPM describes itself as a financial holding company, and its principle subsidiaries are:
JPMorgan Chase Bank, National Association (branches in 23 states),
Chase Bank USA, National Association ("the Firm's credit card-issuing Bank"), and
J.P. Morgan Securities LLC ("the Firm's U.S. investment banking firm" - note the spelling of the name here: periods after the initials and a space before Morgan).
The following table outlines some of the key numbers (from Yahoo! Finance) that concern us: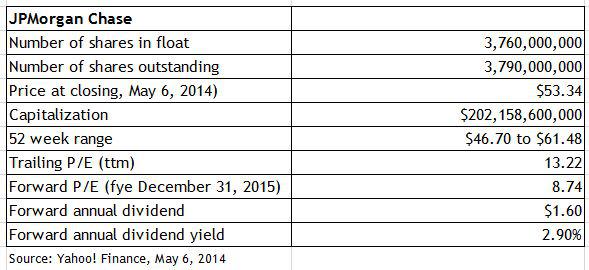 And here's a YChart showing the company's price history over the past decade:

Institutional Investors
Representing large pools of money -- including pension funds, mutual funds, insurance companies, and hedge funds -- institutional investors bring different perspectives to our consideration. That includes the ability to literally move markets, although they usually don't like to, because of the volumes they trade. On the pension fund side, at least, they take a very long view, generations even. Third, they can afford quantitative and qualitative resources we retail investors can only envy.
Current institutional ownership in JPM stands at 78%, which is middle ground when compared with highs and lows set in recent years. The following GuruFocus chart shows JPM's institutional holdings since 2008: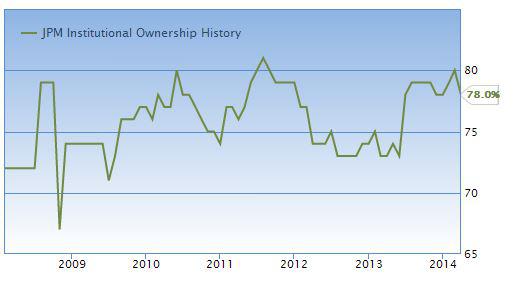 As we can see, institutional holdings dipped below 80% recently, but still remain well above the lows of 2013, and relatively close to highs of recent years.
Insiders
No one knows a company's prospects better than insiders, the officers and directors who deal with the company's financial, competitive, and operating issues day in and day out. For that reason, many stock watchers like to keep an eye on what insiders have bought and sold recently. The following table sums up activity at JPM:

As the table indicates, there's been little net buying or selling, less than 1% based on the number of outstanding shares.
How does that compare with insider transactions by JPM's peers and competitors? The following chart shows activity for Bank of America Corporation, Citigroup Inc., and Wells Fargo & Company: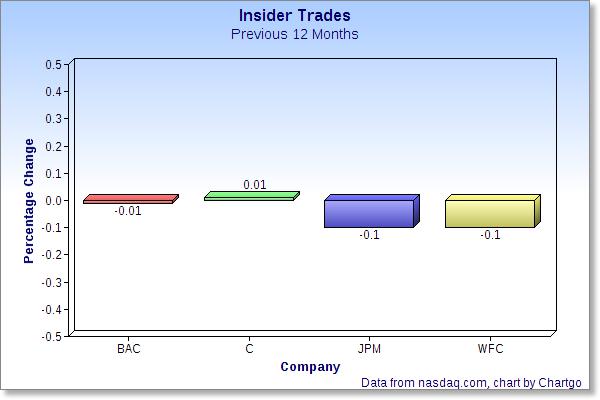 Their net purchases and sales are all less than 1% over the past 12 months
Shorts
Is there a weak spot in JPM's armor, a potential vulnerability that might prompt investors and traders to go short on the stock and hope to see the price fall? That's what short sellers look for: an opportunity to profit when (or if) the stock price takes a significant tumble.
According to GuruFocus, short interest in JPMorgan Chase & Co. sits below 1% -- to be specific, 0.93% of the float. Here's how the number looks in historical context: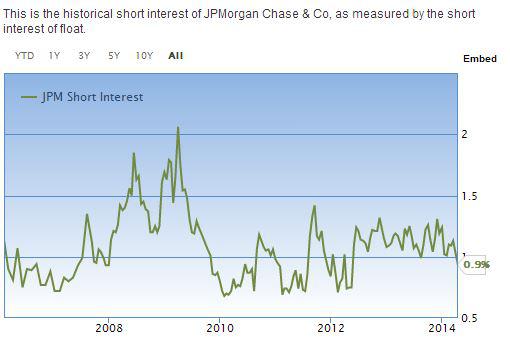 Short sellers were most eager to take on JPM in the months following the 2008 meltdown (during which JPMorgan Chase & Co. reluctantly bought the investment bank The Bear Stearns Companies Inc., and some of Washington Mutual's consumer banking operations).
Conclusion: Neutral
Overall, JPMorgan Chase & Co. has held up well despite recent missteps and subsequent public controversies.
Institutional investors continue to hold the vast majority of its shares, at about 78%. And while there's been a recent dip in institutional interest, levels still remain high.
Insiders sell about as many as they acquire, maintaining a neutral position in their holdings. Apparently they have not seen anything too menacing in JPM's recent problems.
Shorts haven't found much, either, as their interests remain below the 1% level. We can't know what motivates that lack of interest, but a lack of interest by shorts would be considered good news by long investors.
Ownership analysis provides an introductory screen to potential buying, and prospective buyers should follow up with more analysis.
Based on this analysis, I have no plans to investigate JPM further, one way or another, since these non-retail investing powerhouses have shown no compelling reasons to buy or to sell.
Disclosure: I have no positions in any stocks mentioned, and no plans to initiate any positions within the next 72 hours. I wrote this article myself, and it expresses my own opinions. I am not receiving compensation for it (other than from Seeking Alpha). I have no business relationship with any company whose stock is mentioned in this article.