There is much excitement about the Alibaba IPO. And rightly so: it is a wonderful opportunity to invest in the next phase of China's development & the Chinese consumer. But it is not for me. I am hoping that the Alibaba IPO will well create a better entry opportunity for me at Amazon (NASDAQ:AMZN). Why?
When Alibaba lists, in all likelihood it will be a hugely popular offering. It will be of sufficient size to make an impact on the markets. And the stock will appeal most to people who have investments in internet growth stocks like Facebook (NASDAQ:FB), Google (NASDAQ:GOOG), LinkedIn (NYSE:LNKD) and Twitter (NYSE:TWTR), and to people who invest in e-commerce companies like Amazon.
As these investors allocate capital to the Alibaba offering, they will reduce holdings in their internet growth and e-commerce portfolios. And as they sell, prices will decline to create attractive entry levels for new investors: perhaps GARP style investors instead of the more aggressive growth investor.
Why Alibaba is not for me
The question to ask is why not invest in Alibaba and walk away from Amazon. After all Alibaba is the bigger e-commerce opportunity. China's population is huge at 1.35 billion. And it already has over 600 million internet users, including over 500 million mobile internet users and over 300 million internet shoppers. This tells me there is much scope for growth in the internet user base, and there is much scope for growth in the internet shopper base.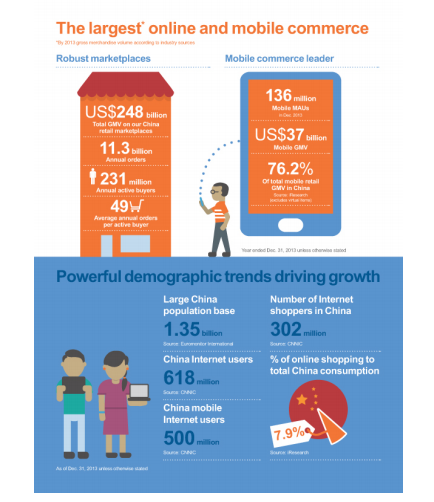 Source: Alibaba IPO Filing with SEC
And once that growth is exhausted, there is much scope for the internet shopping industry to grab market share from traditional retailers. Alibaba through its Taobao and Tmall sites grabs the lion's share of China's online retail industry.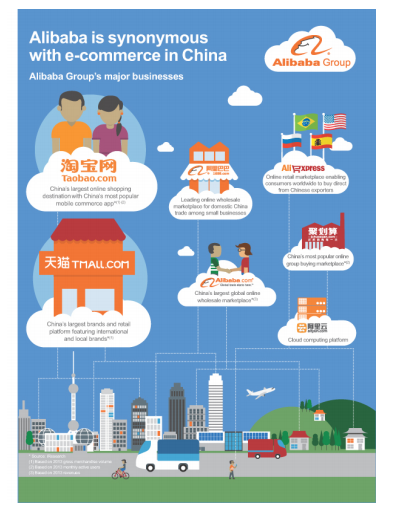 Source: Alibaba IPO Filing with SEC
The other important point to note in the IPO filing is the natural advantage to the online retail industry given the underdeveloped offline retail industry in China.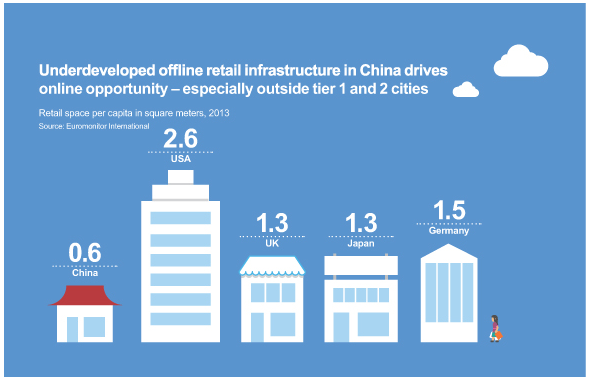 Source: Alibaba IPO Filing with SEC
And finally, in the IPO filing Alibaba displays this picture to highlight its superb execution capability.
Source: Alibaba IPO Filing with SEC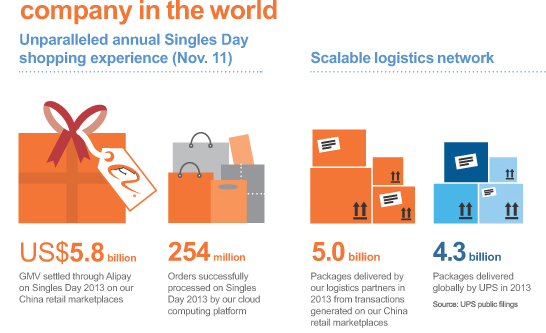 Source: Alibaba IPO Filing with SEC
And if that were not enough, Alibaba actually makes money!

Source: Alibaba IPO Filing with SEC
So why not invest in Alibaba? It's clearly a humongous opportunity.
I shy away from investments where the risk of poor governance and abuse of minorities is high, regardless of return potential, which in the case of Alibaba is clearly immense. The way I look at things is very different from most others, so what might be right for me, is in all likelihood not right for you. I never make an investment decision based on return potential. In my view, returns are a consequence of an investment decision, and not the cause. And being an outcome, it must come second. The investment decision is driven mainly by quality, value and growth: if I get this right the returns will follow. And in the case of Alibaba, I am wary on quality, and so I am unable to move ahead to value and growth considerations.
My first concern is on the risk to governance caused by majority voting rights being held exclusively by a small group of people involved in running the business. The second reason is the fact that what I buy when I subscribe to the Alibaba IPO is not the Chinese assets. It is an indirect economic interest in the Chinese assets. In their IPO filing Alibaba say:
"Alibaba Group Holding Limited is a Cayman Islands holding company established on June 28, 1999, and we conduct our business in China through our subsidiaries and variable interest entities.
Due to PRC legal restrictions on foreign ownership and investment in, among other areas, value-added telecommunications services, which include Internet content providers, or ICPs, we, similar to all other entities with foreign-incorporated holding company structures operating in our industry in China, operate our Internet businesses and other businesses in which foreign investment is restricted or prohibited in the PRC through wholly-foreign owned enterprises, majority-owned entities and variable interest entities. The relevant variable interest entities, which are 100% owned by PRC citizens or by PRC entities owned by PRC citizens, hold the ICP licenses and operate the various websites for our Internet businesses. Specifically, our variable interest entities are generally majority-owned by Jack Ma, our lead founder, executive chairman and one of our principal shareholders, and minority-owned by Simon Xie, one of our founders and a member of our management. These contractual arrangements collectively enable us to exercise effective control over, and realize substantially all of the economic risks and benefits arising from, the variable interest entities. See "Our History and Corporate Structure - Contractual Arrangements among Our Wholly-foreign Owned Enterprises, Variable Interest Entities and the Variable Interest Entity Equity Holders." The contractual arrangements may not be as effective in providing operational control as direct ownership. See "Risk Factors - Risks Related to Our Corporate Structure."
As a result, we include the financial results of each of the variable interest entities in our consolidated financial statements in accordance with generally accepted accounting principles in the United States, or U.S. GAAP, as if they were our wholly-owned subsidiaries.
Other than the ICP licenses and other licenses and approvals for businesses in which foreign ownership is restricted or prohibited held by our variable interest entities, we hold our material assets in, and conduct our material operations through, our wholly-foreign owned and majority foreign owned enterprises, which primarily provide technology and other services to our customers. We generate the significant majority of our revenue directly through our wholly-foreign owned enterprises, which directly capture the profits and associated cash flow from operations without having to rely on contractual arrangements to transfer such cash flow from the variable interest entities to the wholly-foreign owned enterprises."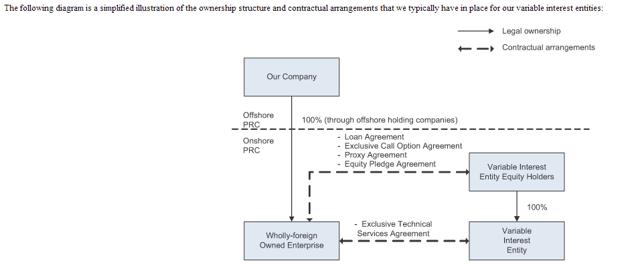 Source: Alibaba IPO Filing with SEC
This structure gravely raises risks to investors because the material assets of Alibaba are all held in variable interest entities which are 100% owned by PRC citizens or by PRC entities owned by PRC citizens. Thus while U.S. owners might have certain economic rights to the underlying business, those economic rights are potentially at risk on account of an absence of direct ownership and control. And there are also additional risks arising from different interpretations and changes to present regulations, which could harm the economic interests of owners of the Cayman Islands based holding company.
Adding to my discomfort is the manner in which Alipay was removed from Alibaba into a separate entity belonging to Jack Ma, the lead founder of Alibaba, without so much as a thank you to Yahoo and Softbank, which are significant owners of Alibaba. After Yahoo and Softbank screamed, a settlement was reached.
Will you be able to scream loud enough to be heard?
Where might the Alibaba IPO create an attractive entry opportunity?
I don't own Google or Facebook, despite liking them simply because I don't feel comfortable owning companies where the risk of poor governance and minority abuse is high: even if the risk is very unlikely to crystallize. The way the voting rights are skewed in favor of a special small group of owners raises the risk of poor governance and minority abuse. I know well that the share holdings I might accumulate would be ineffectual even if I had voting rights. But Glass Lewis and Institutional Shareholder Services could growl as threateningly as they can, and bark as aggressively as they must, and it would not matter a whit. In the case of Facebook and Google, I would buy if the stock became really cheap, to a point where the risk of bad governance is very fully priced. As I said in my recent Facebook post, the stock is priced to buy. Google is still a bit expensive for my taste: as I said in my prior post, I will get interested if it did ever get to $400. I am holding off on Facebook mainly on account of the governance risk and the fact that the Alibaba IPO may create a better entry price in the coming days.
Amazon is another stock I like. In fact I had set a price target of $278 for myself in a recent post. And we are almost there now. But I am holding off for now, partly because the stock is not universally hated just yet: despite the substantial decline from a high of $408, the stock still rates a hold for most value, balanced, growth, momentum and style agnostic stock selectors, regardless of whether they allocate capital at sector, industry or whole market level. At present it rates a sell only for momentum investors allocating capital at the sector level.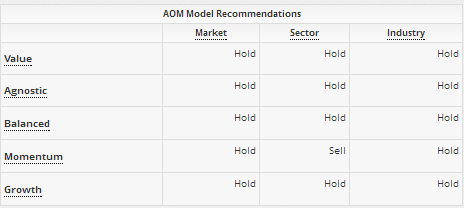 Alpha Omega Mathematica [AOM] is a quantitative scoring model made up of 15 sub-models, which seeks to analyze behavior of a variety of market participants. It is intended as a tool to understand the behavior of different market participants using quantitative techniques, and then bring that data together so that users can hear the voice of the market through the noise. The 15 sub-models score stocks based on 38 key indicators, weighted in a manner suitable for value, growth, momentum, balanced, and stock selection style agnostic investors, versus the market capitalization weighted key indicators for market at large, the sector and the industry.
Source: Alpha Omega Mathematica
So I want to buy Amazon. But I want to wait for an attractive entry price.
I would like to see momentum investors allocating capital at industry level flash to sell or strong sell on the AOM Model Recommendation. And I would like to see growth investors allocating capital at industry level flash to sell or strong sell on the AOM Model Recommendation. If this were to occur, I would be reasonably comfortable that a decent bottom fishing opportunity has arrived. I would be very comfortable if any of the value investor styles were to go to a buy, but I doubt this will occur.
Another indicator I will keep my eye on is weekly price change. Over the past five years, the average weekly price change on Amazon has been 0.476% (median 0.27%). The standard deviation over the period has been 5.3%. As you can see in the chart below, in recent times the stock price has declined substantially. But it has been a measured decline in that there have been no moves of average minus two standard deviations. I would like to see a weekly price move of average less two standard deviations: if it occurs it will raise my conviction in the fact that we might be seeing a decent bottom fishing opportunity.

Source: Extracts from my beta regression model
In absolutes, in my view Amazon gets compelling at $225. The size of the U.S. retail industry is so large, that Amazon has years and years of supernormal growth ahead as they continue to grab market share from traditional retail, even if they are joined by new competitors. The question unanswered is whether this growth can be profitable. And in my view it can be very profitable. Indeed, but for Amazon's relentless pursuit of growth at all costs, it would have been profitable today.
Will we see a profit catalyst arriving with the loss of admiration of the U.S. e-commerce investors once Alibaba lists? Will Amazon recognize that the future and the time for profit have arrived?
Best I can guess is yes - eventually - one day - perhaps!
Disclosure: I have no positions in any stocks mentioned, and no plans to initiate any positions within the next 72 hours. I wrote this article myself, and it expresses my own opinions. I am not receiving compensation for it (other than from Seeking Alpha). I have no business relationship with any company whose stock is mentioned in this article.