Like any other industry the food industry has also changed a lot over the years. Innovation is not limited to the technology industry as food and beverage companies are also focusing on innovations in their menus as well as aggressive expansion and marketing strategies to attract customers. This has resulted into greater than ever customer traffic at food chains. Chipotle Mexican Grill (NYSE:CMG) is one of the big food giants that is performing well in the industry and is expanding its boundaries to gain a bigger slice of the market.
Chipotle is amongst fast-growing restaurant chains in the U.S. and its performance has remained consistently well throughout each quarter. Chipotle opened its first store in 1993 and now generates around $3.4 billion in revenues and operates more than 1500 restaurants. Chipotle has succeeded in delivering quality food service and providing customer satisfaction. Chipotle's management expects a bright future for the company and this goal may be achieved as its stock has been growing around 525% over the past five years reflecting its strong performance and investors' confidence in the company. However, despite the strong performance the stock is still expensive.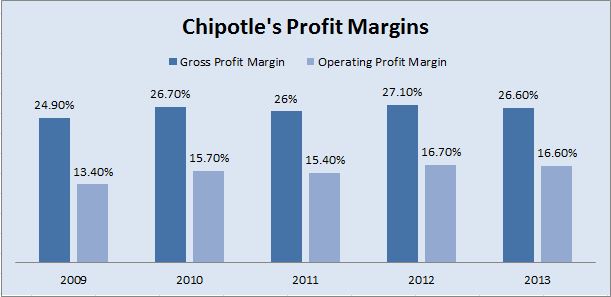 Source: Morningstar
Chipotle's profits margins have been relatively stable over the last five years and the reason for flat margins is the appreciation in the prices of beef which is resulting in a decline in beef sales. Besides beef the company is seeing price hikes in ingredients such as salsa, dairy products and poultry products. With the prices rising the company is under pressure to maintain profit margins or even squeezing margins. The rapid increase in food costs and comparatively lower earnings growth is posing problems for the company and the stock now is trading at a three-month low.
Mixed Bag of First Quarter Results
Chipotle continued to impress with its latest first-quarter earnings release for fiscal year 2014. Chipotle reported double-digit growth in revenues and comparative restaurant sales but there are a few market concerns such as rising commodity prices that could hurt the earnings growth. In the first quarter Chipotle's revenues improved 24.4% to $904.2 million and comparable restaurants sales increased 13.4% from the same quarter of the previous year. Primarily comparable restaurant sales growth was driven by increased traffic and to a lesser extent by an increase in average check and the benefit of one additional trading day in the quarter compared to the first quarter of 2013.
Chipotle continued to expand and opened 44 new restaurants in the quarter bringing its total to 1,637 restaurants at the end of the period. The food costs during the quarter were 34.5% of revenue which is an increase of 150 basis points mainly caused by higher commodity prices. Due to the increasing costs the operating margins fell to 25.9% reflecting a drop of 40 basis points. This resulted in a net income increase of 8.5% to $83.1 million. The net income growth declined to 8.5% compared to 29.8% in the fourth quarter of 2013. The diluted earnings per share of $2.64 improved 7.8% from the same quarter of the previous year.
Chipotle's Current Initiatives
Chipotle is trying hard to focus on different business aspects by enacting important initiatives to improve its profitability. Chipotle has recently made a strategic move to leverage its profit margins by dropping pork from the menu. On the other hand, despite dropping pork from the menu prices remain the same. Chipotle is also expanding its portfolio with La Combe to serve coffee brewed from organic beans. In this competitive market Chipotle is serving coffee as a breakfast item however competing in the coffee market is not a piece of cake and Chipotle will face stiff competition from coffee giants such as Starbucks (NASDAQ:SBUX), McDonald's (NYSE:MCD) and Dunkin' Donuts. Another difficulty that Chipotle has to face is the increasing prices of coffee beans due to the demand supply problem.
Surveys have revealed that coffee is the most popular beverage globally with annual consumption of 400 billion cups. Further, coffee constitutes 83.3% of the hot beverages market in the U.S. Coffee consumption is predicted to increase at an annual growth rate of 2.7% till 2015. These statistics can force Chipotle to serve coffee at all of its locations in the future. This can help Chipotle to derive more revenues from the still growing coffee business in the U.S. and this initiative would help the company to support its earnings.
Ultimately Chipotle will have to Increase Prices
According to the U.S. Department of Agriculture, retail beef hit a 27-year high in February at an average price of $5.28 per pound. The rising commodity prices continue to pressurize the profit margins as seen in the recent first-quarter results. This situation has ultimately urged Chipotle to increase the prices of its menu items for the first time in three years after a surge in beef and avocado prices increased food costs in the first quarter. During the conference call with analysts, chief financial officer Jack Hartung said that Chipotle would start increasing menu prices in the mid-single digits by the end of the current quarter. The price increase will not hurt its restaurant traffic but even if Chipotle's higher prices for steak push customers to trade down to chicken or other options that would still be good for the company as those alternatives are more profitable for Chipotle because the ingredients don't cost as much.

Source: Earnings Release
Conclusion
Chipotle's growth has remained very impressive and there is still a lot more to go. The table above shows that Chipotle's comparable restaurant sales are consistently increasing at a pretty decent pace along with the consistent increase in the average restaurant sales. Chipotle's future expansion into different markets will also boost the earnings growth. In terms of total return to shareholders over the last twelve months Chipotle's total return went up 37.40% and has outperformed the total return of the S&P 500, Starbucks, and Yum Brands (NYSE:YUM).
The stock is trading at a forward P/E of 31.54X which seems to be a bit expensive but while looking at the significant growth potential this P/E ratio is justified. For the next five years Chipotle's earnings per share are expected to grow 21.60% each year which is quite strong performance. The recent 18% price dip is an ideal entry point as the stock has started recovering after hitting a six-month low.
Disclosure: I have no positions in any stocks mentioned, and no plans to initiate any positions within the next 72 hours.
Business relationship disclosure: The article has been written by a Gemstone Equity Research research analyst. Gemstone Equity Research is not receiving compensation for it (other than from Seeking Alpha). Gemstone Equity Research has no business relationship with any company whose stock is mentioned in this article.