Next 6 to 12 months will be crucial for Merck's (NYSE:MRK) stock price. There are several important catalysts that can reshape the growth trajectory for the company. I see a positive risk-reward profile at this point in time and would recommend a long position in Merck. The divestiture of Consumer health care business to Bayer for $14.2 billion strengthens Merck's balance sheet and its ability to pursue inorganic growth going forward.
Merck currently trades at an EV/EBITDA of 11x (2014) which fails to reflect the extraordinary growth prospects that the pipeline of the company promises for investors. The upcoming catalysts have a positive risk reward profile and a favourable outcome should add about $15 billion to Merck's existing consensus sales forecast for the year 2020.

The important upcoming milestones and their impact on consensus peak sales estimates are discussed below.
1) USFDA approval for lambrolizumab and Phase 3 read out from head-to-head study comparing lambrolizumab with Bristol Myer's (BMY) Yeryoy
Earlier this year Merck announced that they will be doing a rolling submission for their anti-PD1 drug lambrolizumab (MK-3475). Lambrolizumab has been granted a breakthrough designation by the USFDA and hence an accelerated approval is likely.
The filing for lambrolizumab in metastatic melanoma patients who have failed treatment with ipilimumab (Yeryoy) will be complete by June this year and an approval should come by YE 2014. Thus, lambrolizumab could potentially be the first anti-PD1 to reach the market.
Patients who have not responded or progressed on prior treatment with ipilimumab represent a major unmet need as eventually all patients treated with ipilimumab progress.
Phase 3 read out from study comparing lambrolizumab to Yeryoy in melanoma patients
Merck is conducting a head-to-head study comparing lambrolizumab to Bristol Myer's Yeryoy (ipilimumab) in metastatic melanoma patients who have not received prior systemic treatment. We should see data from the trial by YE 2014 or early 2015.
The probability that lambrolizumab will show superiority over ipilimumab is very high based on a cross trial comparison of ipilimumab and lambrolizumab. In the Phase 1 trial in patients with advanced melanoma, lambrolizumab has demonstrated an estimated 1-year overall survival rate of 81% across all monotherapy doses evaluated while ipilimumab is associated with a 1 year survival rate of just 46%.
Post approval I foresee a quick ramp up for lambrolizumab as the drug will also be widely used off-label as a first line treatment besides being approved for patients who have failed ipilimumab therapy. I see an upside to Merck FY 2015 earnings estimate as consensus currently estimates just $300m in sales in 2015, while I believe it should be able to gross about $1 billion in the first year itself.
We might as well see off label use in other indications like heavily pre-treated NSCLC patients. In the Phase I trial, we have seen lambrolizumab demonstrating an impressive 24% overall response rate and 33% in the harder to treat squamous cohort. The side effects from therapy were mild and included rash, fatigue, purities and diarrhea.
Phase II/III trials are ongoing in lung cancer and these trials compare lambro to Taxotere. The data is expected by Q4 2015..
2) Safety data on odanacatib from an 8000 patient extension trial
Odanacatib (once weekly pill) is a first-in-class cathepsin K inhibitor intended for the treatment for osteoporosis. The Phase 3 trial on this drug was stopped early because of its robust efficacy and a positive risk reward profile. However, the safety committee recommended that there were some safety signals and MRK should further evaluate these.
Hence Merck chose to delay the filing of odanacatib until there was clarity on the safety signals. They commenced a double blind placebo controlled trial involving 8000 patients. The data from this trial are likely to be available in-house in first half of this year. Whether or not Merck would do a NDA filing for odanacatib depend on the risk - benefit profile as observed from this 8000 patient data in conjunction with the previously reported Phase 3 trial data.
There is potential upside if odanacatib clears the safety hurdle!
Currently, consensus forecast assume a $1b peak sales for Odanacatib. Since the DSMB discontinued the trial early on account of a positive risk reward profile, I think the probability that we will see something very untoward on the safety front in the extension trial is unlikely. Odanacatib has a differentiated profile and is much needed treatment option in osteoporosis treatment paradigm.
Odanacatib presents a viable alternative for those who cannot tolerate bisphosphonates. Bisphosphonates when administered orally leads to irritation in the esophagi. Hence those patients who take oral bisphosphonates have to swallow it with glass full of plain water on arising in the morning and need to remain upright for at least 30 minutes after swallowing the tablet. Bisphosphonates are also associated with potential safety concerns like osteonecrosis of jaw and renal toxicity.
About 25 to 30 percent of osteoporosis patients are contraindicated bisphosphonates because of tolerability and safety concerns and odanacatib can be a viable alternative for such patients. If odanacatib is able to steer clear of any serious safety, I see a significant upside to the consensus sales estimate. Fosamax, which was the most widely used bisphosphonate garnered around $3.5b in peak sales and I am looking at a similar number for odanacatib.
Osteoporosis is a large market and majority of the patients remain undiagnosed or untreated as of now and Odanacatib can be the new standard of care for osteoporosis patients.
3) Phase 3 data on MK-3102 - A once weekly DPP-IV inhibitor
MK-3102, which is a once weekly DPP-IV inhibitor, will show Phase 3 data from several important studies. The Phase 3 data will be important to understand the safety profile and its relative efficacy when compared to existing once daily DPP-IVs on the market. Available Phase 2 data suggest efficacy and safety of MK-3102 is comparable to existing once daily DPP-IV inhibitors on the market.
With once weekly compliance, MK-3102 represents an important addition to the diabetes treatment armamentarium. This will significantly improve patient compliance. It is quite likely that we will see a large part of existing once daily DPP-IV use to be replaced by once weekly DPP-IV inhibitors. Assuming 30 percent of DPP-IV market is replaced by once weekly versions; MK-3102 with a 40 percent market share could garner around $2b in peak sales. Currently, consensus estimate sales of $550m for the drug.
4) Phase 3 data on Merck's biosimilar version of Lantus
Merck is developing a biosimilar of Lantus in collaboration with Samsung Bioepis. Trials evaluating safety and efficacy of Merck's biosimilar version (MK-1293) are ongoing and should report data early next year. If positive data is received, Merck will initiate an NDA filing for the same and a launch can be expected as early as 2016.
Lantus is an $8 billion drug and by the time biosimilars are launched, Lantus sales should expand to $10 billion. Assuming a 10 percent share by 2020 and a 30 percent price discount for MK-1293 compared to Lantus, we can expect incremental $1b sales. Currently, the consensus does not assume any sales from this opportunity.
5) Further data on Merck's HCV combo drug (MK-87422 and MK-5172)
At the International Liver Congress, Merck reported Phase 2 data on the combo drug MK-87422 and MK-5172. The combo reported a 98 percent cure rate in HCV genotype 1 patients. The data if not better is comparable to the most hyped combination of sofosbuvir and ledipasvir from Gilead. The combination of sofosbuvir and ledipasvir is expected to be approved in October this year.
Although Merck would be a late entrant in the market but with a near 100 percent cure rate it should be able to capture a fair share. Assuming a 25 percent market share, the combo can still garner about $2b in peak sales. Consensus estimate $400m in peak sales from this combination drug. Phase 3 data on the combination drug is expected around mid-year 2015.
6) Interim analysis on anacetrapib - Early 2015
The drug has been written off by most analysts now because of a poor history of CETP inhibitors in Phase 3 trials. We have already seen two CETP inhibitors (Dalcetrapib and Torcetrapib) failing in large Phase 3 trials. But I am not so pessimistic about anacetrapib and I hope there is a good chance that we could see a positive bias in the interim analysis.
Unlike dalcetrapib, anacetrapib is much more potent. While dalcetrapib only moderately increased HDL (30%), anacetrapib raises HDL by a whopping 140 percent. Dalcetrapib had no impact on LDL or triglycerides, but anacetrapib significantly cuts LDL and triglycerides too. Thus, with a broad effect on all the lipid parameters it makes sense to believe in anacetrapib. Besides, anacetrapib has already demonstrated an acceptable safety profile in the DEFINE trial which reduces the risk of any untoward finding in the ongoing large outcome trial (REVEAL).
In early 2015, we should be able to see the first interim analysis on the 30,000 patient REVEAL outcome study that is going on right now. The Data Safety Monitoring Board had met earlier this year and recommended that the study be continued without any modification.
In case the interim analysis points to a positive outcome we would see the street building up sales estimate around anacetrapib and this will prompt a jump in the stock price.
7) CV outcome data from TECOS Study
TECOS Study is evaluating the impact of Merck's Januvia (sitagliptin) on cardiovascular outcome in the treatment of type 2 diabetes patients. The study is expected to report data later this year or early next year.
TECOS will be the third CV outcome study on a DPP-IV inhibitor to report data.
We have already seen CV outcome data on Takeda's alogliptin (EXAMINE trial) and AstraZeneca's saxagliptin (SAVOR-TIMI). Both Alogliptin and saxagliptin failed to demonstrate superiority over existing treatment options for type 2 diabetes as far as cardiovascular outcomes are concerned.
WHY WE STILL SHOULD BE HOPEFUL ABOUT TECOS
For two reasons, I believe we should be hopeful about seeing a superiority outcome from TECOS.
1) The median duration of follow-up in case of TECOS is expected to be about 4 years. In the EXAMINE trial and SAVOR-TIMI trial evaluating CV outcome benefit of alogliptin and saxagliptin, the median duration of follow up at study completion was just 3 years and 2.1 years respectively.
2) A meta-analysis of pooled data from 25 double blind studies (14,611 patients on and 12 -104 weeks in duration) hints that Januvia could have a better cardiovascular safety profile.
The meta-analysis found that exposure-adjusted incidence rate was 0.65 per 100 patient-years in the sitagliptin group and 0.74 in the non-exposed group.
The exposure adjusted incidence rate when comparing sitagliptin to sulphonylurea, was 0.00 per 100 patient-years with sitagliptin and 0.86 with sulphonylurea.
I see a major upside to consensus estimates for Januvia in case it demonstrates superiority in reducing CV events in TECOS study
It seems that there is a good chance that Januvia should at least be able to demonstrate statistically significant superiority over sulphonylurea if not all oral anti-diabetic drugs in the TECOS study.
If that really turns out true, Januvia should be able to carve a share from the sulphonylurea pie which is currently about 30 percent of the oral anti-diabetes market. Even if Januvia is able to get 15 percent share from sulphonylurea pie, this would imply a 40 -50 percent sales upside from current levels ($6 billion).
Januvia whose growth has recently been stalled on account of saturation of the DPP-IV class should start growing in double digits. Januvia could in fact even become larger than Lipitor. Thus, after accounting for the price / volume increase, we can look forward to a peak sale of $11b. Currently, consensus sales forecast for Januvia franchise (Januvia/Janumet) for 2020 is just $7.5 billion.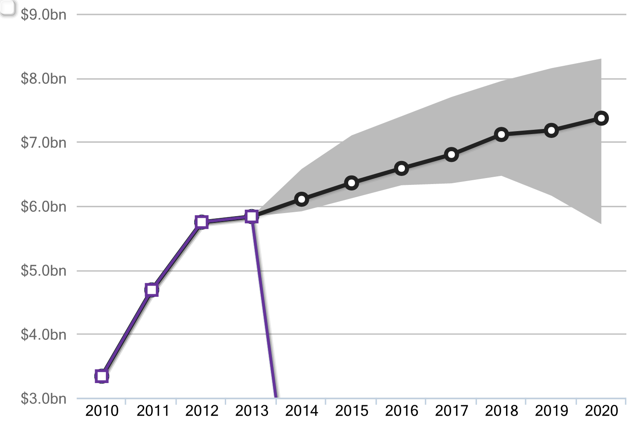 Source - druganalyst.com
Conclusion - In nutshell, a positive outcome from these events will trigger changes in consensus sales estimate and this in turn will lead to an upgrade in price targets by most sell side analysts. I am expecting consensus sales estimate to go up by $12.5b which should help the price target by almost 15 to 20 percent.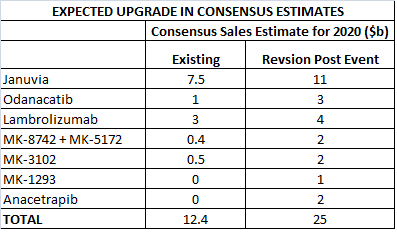 Disclosure: I have no positions in any stocks mentioned, and no plans to initiate any positions within the next 72 hours. I wrote this article myself, and it expresses my own opinions. I am not receiving compensation for it (other than from Seeking Alpha). I have no business relationship with any company whose stock is mentioned in this article.