Things are really heating up in the life science sector and I'm now kicking myself for not making a move late last year. Since January 1, the two "pure play" life science REITs, Alexandria Real Estate Equities (NYSE:ARE) and BioMed Realty (NYSE:BMR), have returned around 18%.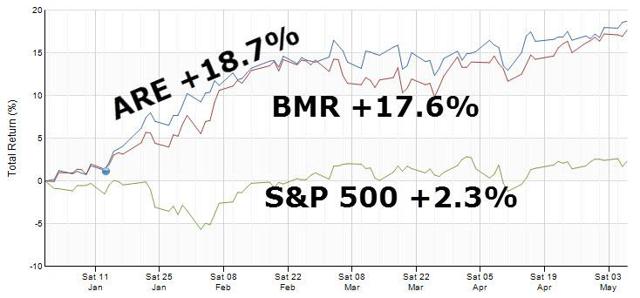 Since my last article on BioMed (January 14) shares have climbed by over 14%, from $18.32 to $21.05.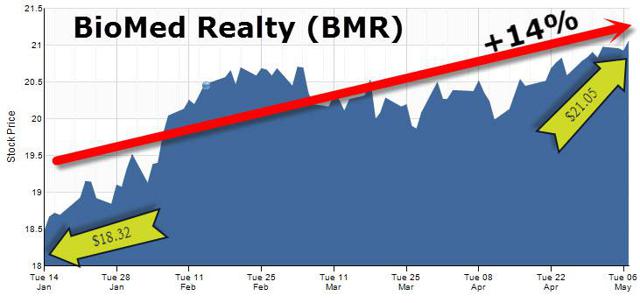 Given the valuation of BioMed shares and solid operating fundamentals, I initiated a BUY on the shares and I added the REIT to my SWAN, or "Sleep Well at Night," portfolio. As illustrated below, there was a quantifiable margin of safety that drove me to this recommendation.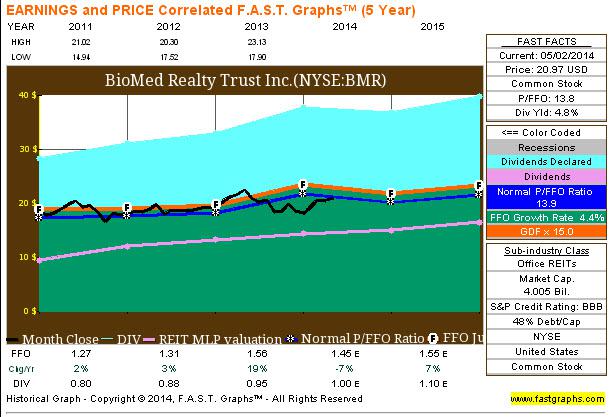 Let's Take a Closer Look
As evidenced by the snapshot below, the life science industry is growing at strong pace: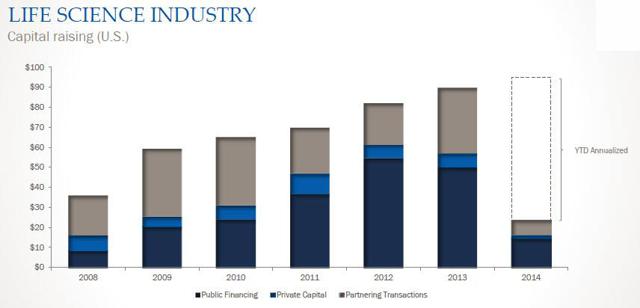 On the company's recent (Q1-14) earnings call, Alan Gold, CEO of BioMed, explains the life science industry:
…capital raising was spectacular in the first quarter with more than $23 billion of biotech financing and partnering transactions, again ahead of what was a very strong 2013 level. The IPO environment was especially notable with 34 new public life science companies raising approximately $2.3 billion during the first quarter, one of the best periods ever. In March alone, U.S. life science companies completed 12 IPO's including Revance Therapeutics at our Pacific Research Center and IGNITE at our Coast 9 Campus in San Diego.
The majority of BioMed's rental income is derived from research institutions (e.g. Harvard, UPenn, Wake Forest, etc.) or public companies (e.g. Merck, Pfizer, Sanofi, Roche, Bristol-Myers Squib or say Regeneron). Alternatively, less than 4% of BMR's rents come from early stage venture backed companies. Seven of BMR's top ten tenants have an A-rating, and the other three tenants are public (aggregate market cap north of $30 billion).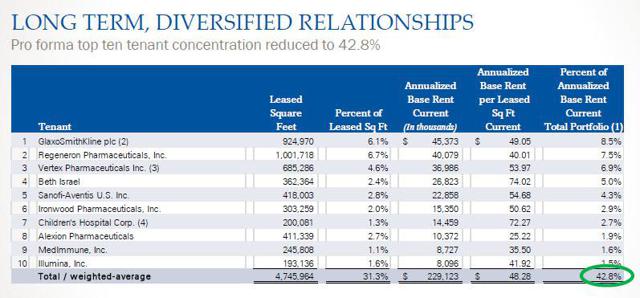 The largest life science markets, Boston and Cambridge (in the San Francisco Bay Area), have garnered the most attention. In addition, BioMed owns other locations in San Diego, North Carolina, Seattle and Baltimore which are anchored by world-class medical, academic and research institutions. These unique locations contain the juncture of academia and private enterprise, are hot beds of new talent and are attracting big pharma and others seeking to develop and commercialize groundbreaking life science discoveries.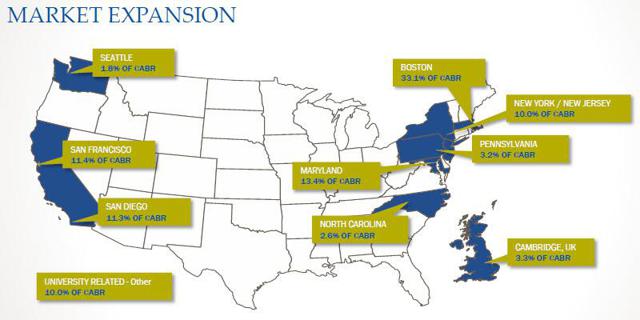 Since going public almost ten years ago (August 4, 2004), BioMed has been able to carve out a growing niche and now the company has evolved into a highly innovative landlord. Alan Gold explains the path to his company's success (source: earnings call):
At its origins, the success of the life science industry comes from innovation and collaboration and its close proximity to the universities that are the core creators of new therapies and technologies. The successful sustained pursuit of this strategy of focusing on the life science industry in order to provide our stakeholders with consistent stable and growing cash flows is continuing to bear fruit, as evidenced by our strong first quarter results.
The Latest Quarter
Funds from operations (or FFO) and core FFO per diluted share were $0.40 and $0.41, respectively. Adjusted funds from operations (or AFFO) per share was $0.38 per diluted share in the first quarter while net income was $0.10 per diluted share. Year-over-year same-property net operating income on a cash basis increased 6.8% in the first quarter.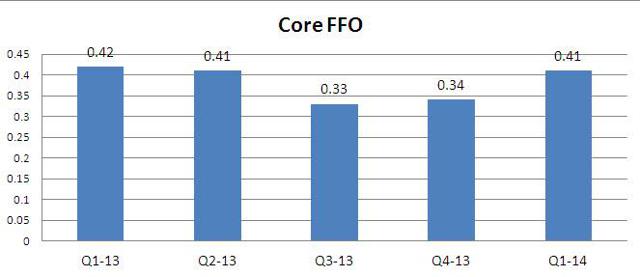 At the end of the latest quarter, BioMed's operating portfolio occupancy was 91.5%, up 10 bps. The development portfolio was 81.7% leased. BioMed's leasing momentum was strong in Q1, driven by 59 leases totaling 480,000 square feet (49 new leases and 10 renewals).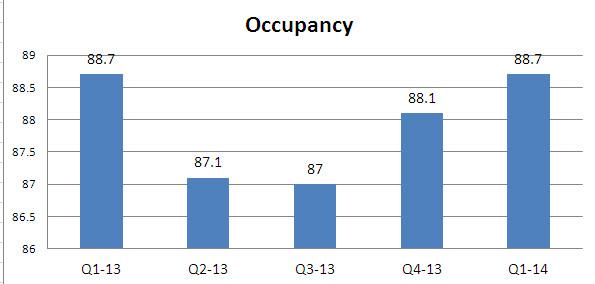 BioMed raised 2014 core FFO per share guidance to $1.46-$1.54 from $1.37-$1.47 (up 8% at midpoint).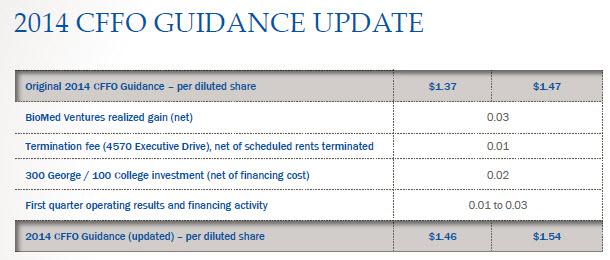 This increased guidance is a pass-through of the Q1-14 beat and strong balance sheet initiatives (see below).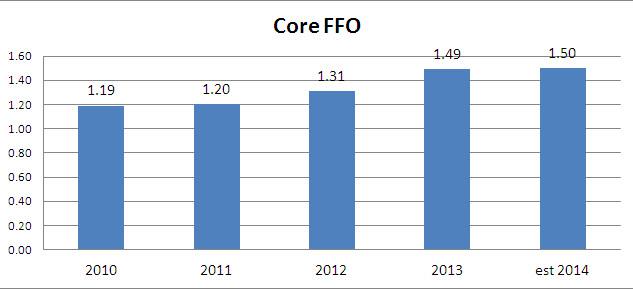 The healthy quarter for BioMed also translates into healthy dividends. BioMed's quarterly dividend is $0.25, boosting the payout by 14% in 2014.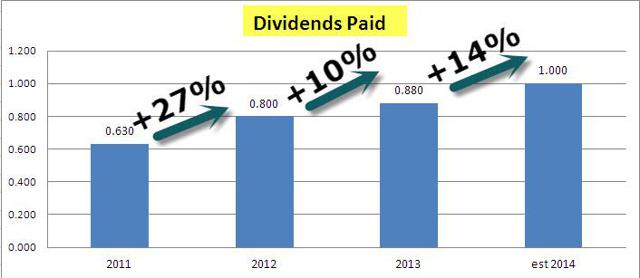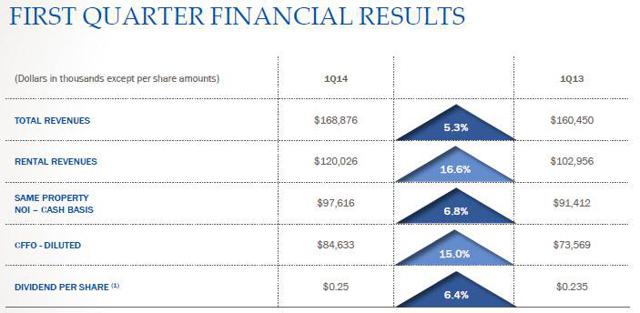 A Healthy Balance Sheet
At the end of March, Moody's Investor Service raised BioMed's outlook to positive and in mid-April Standard & Poor's Rating Services upgraded the company from BBB- to BBB.
BioMed's debt as a percentage of total gross assets is 40% but applying the conversion of the exchangeable notes, on a pro forma basis, reduces this to 37%. Net debt to adjusted EBITDA is 6.8x but applying the conversion of the exchangeable notes, on a pro forma basis, reduces this to 6.4x. Secured debt to total gross assets is 6.4%, unencumbered rents are 83.1%, unhedged variable rate debt is 10.4% of total debt and 4.2% of total assets. In addition, BioMed has over $800 million of capacity on its unsecured line of credit.
In April BioMed completed a $400 million public offering of unsecured notes which were priced to yield 2.752% to maturity. Oversubscribed more than seven times the initially announced offering size, this bond transaction was one of the most efficient and successful bond offerings in BioMed's history and allowed the company to pay down its revolver. BioMed's balance sheet remains strong and flexible thereby allowing the company to continue pursuing strategic growth opportunities to create value.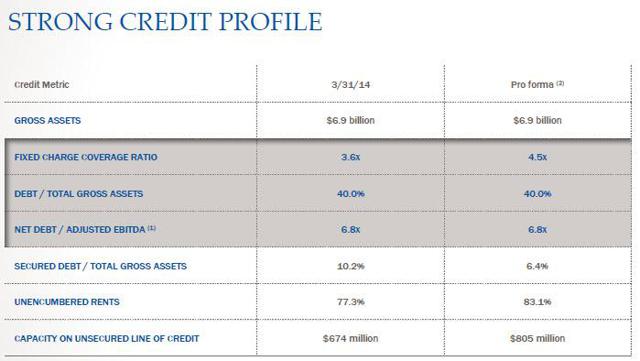 Is BioMed Still a Buy?
Mr. Market has become attracted to the life science REITs. BioMed shares are currently priced at $21.05 with a P/FFO multiple of 14.4x. As compared with its broader peer group, BioMed appears fairly priced:
However, when we examine BioMed's dividend yield of 4.75%, we can see that the value is a shade pricey, especially when you compare the yield with American Realty Capital Properties (ARCP) or Chambers Street (NYSE:CSG).

I like BioMed's strong dividend growth over the last 3 years; however, I'm not satisfied with a 4.75% dividend yield, especially given the alternatives in the triple net sector. I do recognize that the life science properties are very specialized and there appears to be strong tenant demand but, in order for me to get excited, I must see a 5% dividend handle. My "SWAN" target is $21.25 but I will wait on an entry price under $20.00.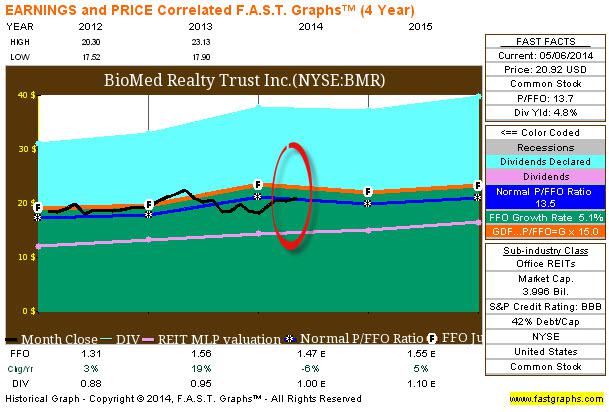 Alternatively, I did initiate a new trade late yesterday. As a result of a selloff in shares of Physicians Realty (NYSE:DOC), I was able to purchase shares at $12.98. I moved out of all of my shares in Medical Properties Trust (NYSE:MPW) due to under performance and increased competition in the hospital sector. I replaced MPW (dividend yield of 6.32%) with DOC (yielding 6.93%).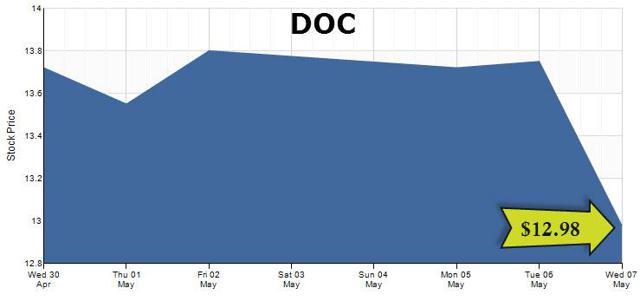 For more information on REITs, check out my monthly newsletter HERE.
Source: SNL Financial and BioMed Investor Presentation.
REITs mentioned:(NYSE:HTA), (NYSE:HR), (NYSE:HCP), (NYSE:O) and (NYSE:WPC).
Disclaimer: This article is intended to provide information to interested parties. As I have no knowledge of individual investor circumstances, goals, and/or portfolio concentration or diversification, readers are expected to complete their own due diligence before purchasing any stocks mentioned or recommended.
Disclosure: I am long O, DLR, VTR, HTA, STAG, UMH, CSG, GPT, ARCP, ROIC, HCN, OHI, LXP, KIM, WPC, DOC. I wrote this article myself, and it expresses my own opinions. I am not receiving compensation for it (other than from Seeking Alpha). I have no business relationship with any company whose stock is mentioned in this article.