In my previous article on Whole Foods Market (NASDAQ:WFM) pre-earnings, I had argued that WFM was susceptible to a crash following an earnings disappointment. Here is my exact quote:
The company executes very well on its promise and has years of growth ahead. However, it is priced at a premium as well, and needs to keep performing to a very high bar in order to justify its share price. Buying at current prices would be overpaying.
WFM declined 19% post-earnings today, justifying my prognosis. Management cited increased competition and focus on value as reasons for taking down guidance, but reiterated the long-term health and growth prospects of the business.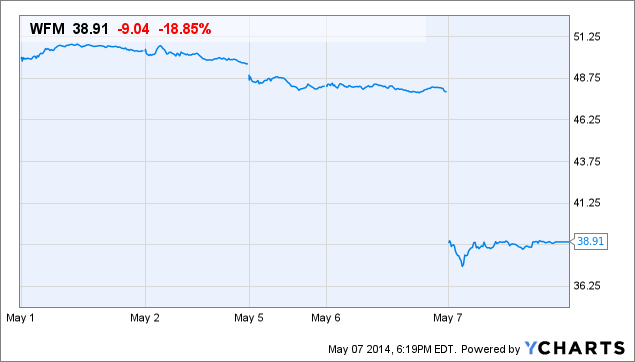 With updated quarterly earnings, I re-ran my financial model to understand if WFM was an attractive buy at these prices. My previous financial model forecast a fair market value (FMV) of $44 for WFM, which was a discount of 12% to the pre-earnings share price. After updating the model, I discovered that my store growth assumptions were pretty much in line with management guidance, but my comp assumptions as well as gross margin assumptions were too high. Updating these yields an FMV of $33, which is a 15% downside from today's prices. Hence, I would not recommend buying on the dip right now - WFM has to prove that it can execute on its strategy before it can regain investor confidence.
Store growth and comp assumptions
In my earlier model, I had assumed net new openings of 36 to 41 stores each year through 2020. These assumptions yielded a store count of 398 at the end of FY14 and 509 by the end of FY17. Management disclosed that it expects to exit 2014 with around 400 stores and grow to 500 by 2017 - accordingly, I believe my store growth assumptions are right in line with estimates, and have not updated them.
I see WFM facing a significant decline in YoY comp growth, given its own management guidance of reaching $25B in revenue in five years. This seems impressive, but accounting for the aggressive store growth represents only 5% comp growth in FY14 and 3% thereafter. This is quite a way below historical levels, as well as the 5-6% comp growth I had assumed in my model.
Gross margin and operating expense assumptions
In my prior model, I had assumed gross margins of 35.5% going forward, which I have revised down to 34% in accordance with management guidance at the earnings call. They have indicated long-term gross margins of between 34% and 35%, but I am inclined to go with the lower number to understand what it means from a valuation standpoint.
WFM has indicated that it will attempt to compensate for reduced gross margins by lowering its direct store and G&A expenses. I am modeling a slight decrease in these as a percentage of sales. The impact of these result in operating margins declining from 6.1% in FY14 to 5.5% in FY15, before increasing slowly to 6.3% by 2020.
Valuation model
Using these assumptions, I get to an FMV of $33 for WFM shares, which indicates a potential downside of 15% on top of today's decline. I would strongly recommend against buying into the dip at these prices, as there is further to fall. I do believe that WFM becomes too cheap to ignore at some point, and to that end, I have sold some $30, $25 and $22.5 put options to pick up shares, if they decline to that point. More aggressive investors may consider a short position. The complete valuation model is below: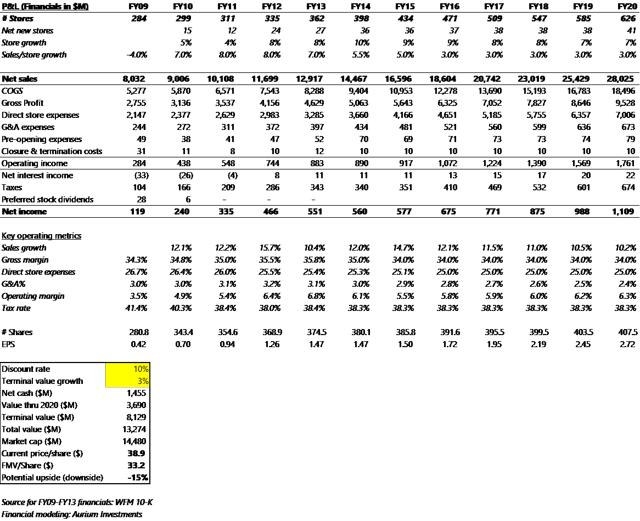 Summary
WFM is still a well-run company that is executing strongly, however, it is facing increased competition and needs to prove that it can execute on its "premium value strategy". The sell-off following earnings is justified, and does not, in my opinion, account for all the challenges facing the company. Management's own assessment of growth leads to an FMV of $33 for the shares, which is a substantial discount to the share price. Investors should stay away for now.
Disclosure: I am short WFM 22.5, 25 and 30 puts. I wrote this article myself, and it expresses my own opinions. I am not receiving compensation for it (other than from Seeking Alpha). I have no business relationship with any company whose stock is mentioned in this article.