By Steven Carroll, Independent Commentator
It wasn't too long ago that hedge funds were the new masters of the universe. Warren Buffett famously referred to them as a compensation scheme masquerading as an asset class. Man Group (OTC:MNGPF) has suffered a long streak of underperformance in its flagship AHL fund, unfortunately also the fund with the highest fees, so outflows as a result of this underperformance have had a disproportionate effect on profitability.
As a result, the company's share price has failed to participate in the bull market. Recent quarters have been significantly more encouraging, and investors find themselves attempting to divine whether a recent spike in the share price is sustainable.

Fund outflows: a hole in the vat
While the FTSE has ground higher since the end of the bear market, Man has continued to underperform, driven by poor performance and outflows, having lost over almost $11B in AUM in FY12 and 13. Recent positive news has investors wondering whether that streak of underperformance is finally coming to an end, driven both by positive asset flows, as well as the company executing ahead of expectations on its cost reduction program. Improving profitability, of course, only gets you so far - eventually, you have to return to the sales side of the business and start to deliver revenue growth.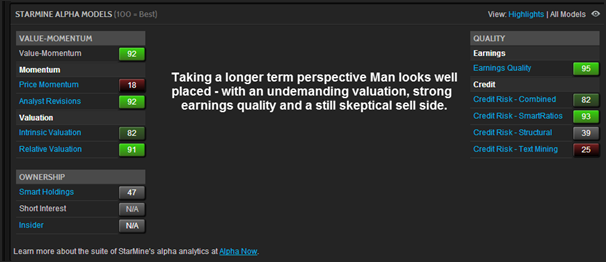 A cask of assets on sale
Man has 3 different types of hedge fund businesses - GLG - its discretionary hedge fund business, AHL - its quantitative business (and the source of most recent outflows) and then FRM - its fund of hedge fund business. With such a diversified range of assets, it's an interesting stock with a range of high-quality assets. These assets are effectively on sale at the moment, with the current share price implying an annual return of -3.1% EPS growth over the next 5 years (compared to StarMine's own projections for +4.9% and the sell-side long-term growth projections of 8.5%.)
The sell side seems to be in agreement that some kind of inflection point has occurred - the stock has an ARM score of 92 - putting it in the top 8% for developed Europe. It's important to understand that the score measures change in analyst sentiment rather than absolute levels of sentiment - and with 7 buys, 8 holds and 5 sells - I think it's fair to say we're early in the upgrade cycle.
In general, EPS upgrades that are accompanied by revisions higher up the income statement tend to have more of an impact on the market. These upgrades are the result of cost-cutting being done ahead of plan - so it will be positive news on flows that will drive real stock price movement. Keep an eye out for commentary at the AGM, scheduled for May 9 at 10 a.m. London time.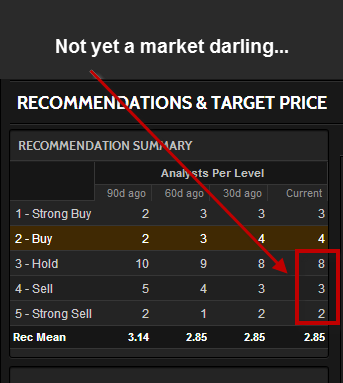 A small keg of expectations
To be fair to the analysts - I think there still remains a massive amount of uncertainty as to how asset flows for the firm will perform throughout 2014, but as any positive news seems to see a surge in the share price, it's clear that the baseline expectations for Man remain extremely low.
For those with a belief in the medium-term sustainability of the industry (the ones not scarred by the hedge fund mirage), Man is the largest pure play hedge fund exposure in the world, offers a dividend yield of 5.4%, based on StarMine's smart estimate, and offers significant upside if fund performance really has turned the corner. For those worried about a repeat of the last few years -- write this saying around the tub: "Past performance is no guarantee of future results."
Disclosure: I have no positions in any stocks mentioned, and no plans to initiate any positions within the next 72 hours.
Business relationship disclosure: Alpha Now at Thomson Reuters is a team of expert analysts that are constantly looking at the financial landscape in order to keep you up to date on the latest movements. This article was written by Steven Carroll, independent commentator and analyst. We did not receive compensation for this article, and we have no business relationship with any company whose stock is mentioned in this article.
Editor's Note: This article discusses one or more securities that do not trade on a major U.S. exchange. Please be aware of the risks associated with these stocks.