Today, I want to provide a breakdown of two media companies showing Wall Street and the world that an ad recovery is evident in two blue chip earnings reports, CBS and News Corp (NASDAQ:NWSA). Here's your Cheat Sheet to CBS and NWSA's latest numbers:
CBS: Double Digit Top-Line Growth Ain't So Bad

Earnings: Q2 profits of $.22 vs. $.21 consensus and a gain of $.02 in Q2 last year, a big rise in profits Year-over Year. [see call transcript]
Revenue: Increased 11% Year-over-Year at $3.3 Billion.
When looking out to the second half of 2010, CBS CEO Les Moonves said, "all signs point to ongoing growth and profitability." He expects political advertising to continue to pick up and give a boost to the recovery ad sales segment for CBS. Moonves also added, "With top-line gains in all of our businesses, and a continued vigilance on cost containment, revenues are translating more efficiently into profits. Meanwhile, our content is thriving: The network finished another television season in first place, which helped us sell next year's schedule in a very strong upfront marketplace at attractive rates."
Comment: Shares of CBS are trading down following the company's earnings release on Tuesday, August 3rd, trading at $14.47 per share.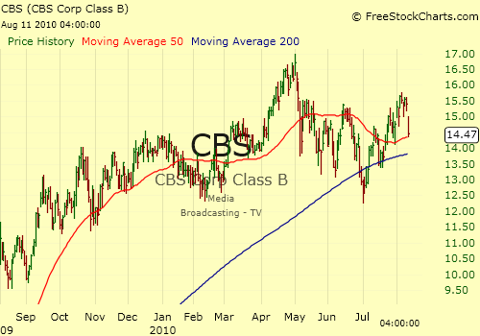 In the chart above, CBS shares have pulled back to the 50 day moving average and still remain above the 200 day moving average. Based on today's weakness in the overall financial markets, CBS's share may become more attractive to the average investor, taking into account a strong 2nd quarter report and very positive guidance for a recovery. Since May, CBS shares have been in a tight 'chop zone' price range of $12.50 – $15.50. Look at the major moving averages as benchmarks for future investment in CBS stock. The company earns over $19 per share in revenue and sports a book value above $13, but also a heavily debt structured balance sheet. CBS also pays a 1.3% dividend to loyal shareholders. 'Survivor' and '60 Minutes' are still favorites among viewers, but what does CBS have in-store for establishing the next big show on its network?
News Corp.: Murdoch is Hopeful About the Future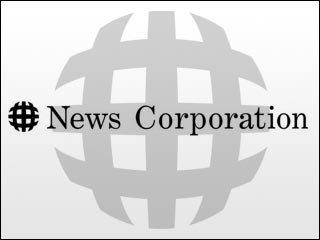 Earnings: Fiscal Q4 profits of $.33 vs. $.20 consensus and a loss of $.08 in Q4 last year. As a result, profits were way higher Year-over-Year. [see call transcript]
Revenue: Increased 6% Year-over-Year at $8.11 Billion vs. a consensus of $7.87 Billion, easily surpassing the Street's expectations.
Chairman Rupert Murdoch agrees with us at Wall St. Cheat Sheet and reiterated that the iPad is "a game changer" on his latest conference call. He expects to see major NWSA mobile monetization in the future from the brand new device. Murdoch said he was more "confident" about the 2nd half of the year for News Corp. and the media industry as a whole.
Comment: Shares of News Corp are trading down following the company's earnings release last week, closing the trading day $13.38.
Based on News Corp.'s technical chart, the NWSA share price action has been choppy throughout 2010. The share price barely trades above the 50 day moving average and 200 day moving averages. Whether you think there is false hope or real conviction in Rupert Murdoch's latest words about News Corp.'s next 6 months, the stock has performed to the upside following the strong report and is not 'cooling' back to a level support. The initial move of positive upward inertia was pulled back by today's 'worrisome' economy. However, if you stick to the conviction behind Murdoch's guidance, you may digest the fact that the executives at the top are gesturing a more optimistic tone that eventually trickles down to the bottom-line as advertising revenue continues to be booked and the possibility of hiring and expansion becomes likelier. News Corp.'s famed property, FOX, continues to be a top bread-winner for the company.
We'll let you decide which company, CBS or News Corp, you want to own for your portfolio. As drawn out above, both companies' 2nd quarter blueprints lend an upward hand to a better and brighter future ahead for both of them.
Disclosure: None.