Ikanos Communications Inc. (NASDAQ:IKAN), is a bargain-priced broadband semiconductor company. It is trading at just $1.10 a share and I have been accumulating a sizable long position while taking advantage of the current price drop.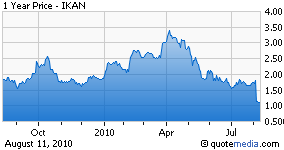 Technicals
My chart program alerted a new buy trend on Ikanos with
money flow
moving in. This suggests a future upward move. I expect Ikanos to test the 50 day moving average of $1.62 area over the next 3 months. Ikanos should test the 200 day moving average of $2.29 over the next 6 to 12 months, which represents over 100% upside reward for new investors.
Restructuring
Ikanos stock has dropped from a $1.80 close on August 4th prior to the
quarterly earnings report
. I believe this sell-off is extremely over done, given the fact Ikanos missed its revenue estimate by only $400k and the changes that are taking place. The company is set to rebound given the benefits to be realized from last year's merger and increasing focus on high-margin business with fewer future write-downs of de-emphasized product lines.

Fundamantals
CFO Dennis Bencala:
Ikanos' revenue for the second quarter of 2010 was just below our guidance. Overall, Ikanos' revenue continued to be well diversified by region. Our core VDSL business also saw double digit sequential revenue growth from first quarter to second quarter 2010....Ikanos is debt free and has a book value of $1.73. Institutions are holding 30% and insiders hold 44.5%, which indicate the company is very closely-held. Ikanos is trading at a price to sales ratio of only 0.3 and trades with a forward P/E ratio of 7. I expect the stock price will rebound to the $1.40 area in the very near term and $1.62 in the next 3 months. Investors buying now have very limited downside risk with decent upside reward.
Disclosure: Long IKAN