J.C. Penney (NYSE:JCP) is set to release first-quarter 2014 results next week on May 15, 2014. Naturally, investors and speculators ask themselves whether a position in the ailing department store chain could prove lucrative before the company presents earnings -- especially considering that J.C. Penney's stock experienced a few days of large intraday swings lately: 5% plus or minus days are nothing new to JCP investors anymore.
Basically, I think investors need to consider two things when deciding about a J.C. Penney retail investment: First, what are the odds that J.C. Penney will be able to sustain sales momentum and deliver a positive comp next week? Secondly, what is the impact of traders and the relevance of the yawning gap in J.C. Penney's share chart?
Regarding the first point, it is my personal opinion that J.C. Penney will surprise to the upside and deliver a positive comp -- I don't know to what extent, of course, however, news out of the retail sector have been encouraging lately.
Sell-side slowly changing course?
Just two month ago, on March 11, 2014, I have argued that Citigroup's update of J.C. Penney's outlook could trigger a profound reevaluation of the department store chain. I wrote:
A major J.C. Penney (JCP) catalyst is unfolding in today's pre-market trading session: The research guys from Citigroup, believe it or not, have upgraded the embattled department store chain to BUY arguing that they believe J.C. Penney has another 30% upside potential based on positive comparable store sales growth (I think J.C. Penney has an intrinsic value of around $18 per share).
I pointed out at the time, that J.C. Penney is busy working on redefining investor perceptions. News headlines about the demise of J.C. Penney were the standard just a few month ago. In February 2014, J.C. Penney reported solid fourth-quarter 2013 results and achieved a long-awaited turnaround in comparable store sales growth -- a primary key performance indicator for retail businesses.
While the Citigroup update certainly invalidated a good amount of Bear arguments (liquidity issues, anyone?), I think broker opinions about J.C. Penney will slowly shift towards more favorable research pieces in the coming month -- especially if J.C. Penney can sustain sales momentum and deliver a positive comp next week. Yesterday, UBS upgraded J.C. Penney from Sell to Neutral while the analyst upgraded JCP's price target from $4 to $9.
In our view, [JC Penney] has less "miss & lower" risk on [same-store sales/gross margins] in 1H14 while lapping significant one-time drags from extremely high clearance levels-and having 19% of total sq. footage under construction-in 1H13. In our view, the stock debate shifts to 2H14, when these one-time tailwinds abate and [JC Penney] will once again be tested on whether it can drive significant traffic back to stores as YOY comparisons normalize. With many of the concerns from our Jan-13 downgrade having played out already, and less downside [same-store sales/gross margin] risk in the near-term, we're upgrading to Neutral from Sell.
What I find most noteworthy about J.C. Penney's upgrade is not even the explanation as reproduced above. What's truly telling is the swift upgrade in J.C. Penney's target price: From $4 to $9 -- that's an increase of 125%.
Investors who regularly follow my articles know that I am very skeptical with respect to Wall Street analysts. In fact, I believe investment recommendations of research institutions are often driven by hidden agendas, most notably, self-serving ones. Imagine a major investment house recommending a high-volatility stock with a 10-20% probability of bankruptcy to its client base and the stock drops another 50% -- that is not a good strategy for building reputation and earning commission income.
Sell-side analysts probably play it safe more often than they should, which, of course, raises the question of how seriously investors should take Wall Street's target prices. In my opinion, not much.
Technical picture
J.C. Penney is likely to stay volatile until first-quarter results are released on March 15, 2014.
Investors who are chart-driven will be aware of the yawning gap in J.C. Penney's share chart: And that clearly isn't a good sign. Should J.C. Penney's results disappoint next week, J.C. Penney stock could quickly fall back and test the $6 level.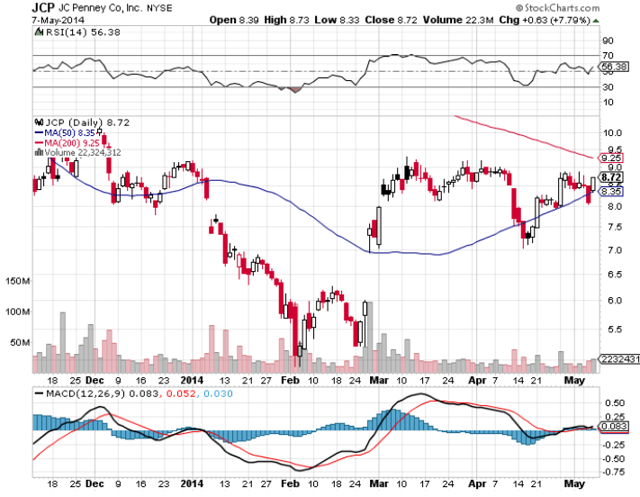 (Source: StockCharts.com)
Conclusion
For the time being, J.C. Penney remains a highly controversial, yet extremely asymmetric, equity investment. Fourth-quarter results have shown a long-awaited turnaround in terms of comps. It is now up to J.C. Penney to deliver sequential and y-o-y sales growth. Investors will surely put J.C. Penney's quarterly results under the microscope.
It is noteworthy that some leading research institutions have materially changed their outlook on J.C. Penney and updated their target prices, which suggests that brokerages are willing to take more risk with their J.C. Penney coverage. I personally think there is a 60-70% chance that J.C. Penney will surprise investors and deliver a positive comparable store sales growth rate next week, probably accompanied by a positive outlook for the remainder of the year. Investors who are looking for a retail investment with an asymmetric return profile and higher-than-average volatility, could consider J.C. Penney before the company releases first-quarter results. Strong BUY.
Disclosure: I am long JCP. I wrote this article myself, and it expresses my own opinions. I am not receiving compensation for it (other than from Seeking Alpha). I have no business relationship with any company whose stock is mentioned in this article.