It's been a LONG since TINY has had one of its major portfolio holding go public. It looks like the long dry spell is soon to be over as one of Harris & Harris's larger portfolio holdings has filed for an IPO and likely to make it publicly known in the next few weeks/months per the Wall Street Journal.
Metabolon May Launch IPO in Next Couple of Months
Wall Street Journal is reporting that Metabolon which is 15% owned by Harris & Harris (NASDAQ:TINY) has already filed for an IPO under the JOBS Act.
"The company is already confidentially filed for an IPO with the Securities and Exchange Commission under the JOBS Act and is aiming to make its filing public and potentially complete the deal in the next couple of months, the people added."
TINY owns about 15% stake in Metabolon based on their 10K which was released 2 months ago.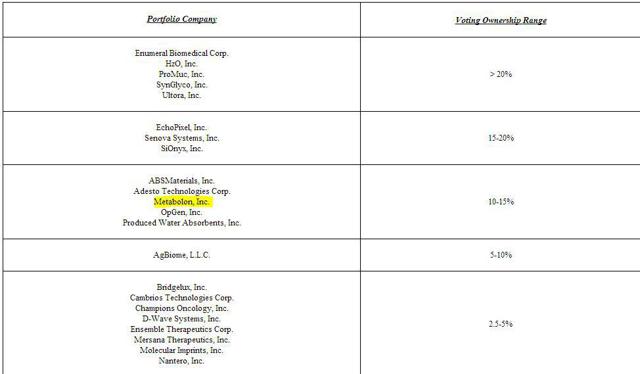 This information hasn't been publicly announced due to the JOBS Act which allows small companies to file confidentially.
"The JOBS Act, enacted in April 2012, grants certain perks to companies with less than $1 billion in revenue. They include relaxed accounting standards and financial reporting rules, including a provision that allows companies to file their initial IPO paperwork confidentially."
Metabolon IPO should give TINY and their portfolio some much needed exposure and also get investors and speculators looking at some of the 2 other IPO candidates - namely D-Wave, Nanosys. TINY management hinted at this on their March quarterly conference call.
"I think of the Metabolon, I mean Metabolon if you following the events, it's done everyone, its set itself up, it did a mezzanine round the financing this previous year. Clearly D-Wave is you see the progress D-Wave. I've seen people who have seen some other progress Nanosys has made with its adoption into the Kindle Fire HDX so again this company is our all progressive in seeing what one would expect to see ahead of one being successful companies and two potentially future liquidity events as well."
TINY has just over 30 mil shares outstanding so with a 15% ownership stake in Metabolon every $100m valuation is worth just under $0.50 a share for TINY. TINY is currently valuing Metabolon stake @ $10.7m as of 12/31/13 10K.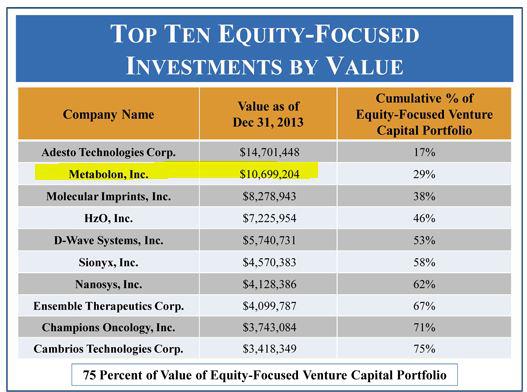 This leaves quite a lot of value that will be created when the IPO values Metabolon. Current valuation of Metabolon @ $10.7m is about $0.30 a share to TINY.
I haven't been able to find any good sources of valuation for Metabolon IPO but I don't think a $400m - $600m valuation would not be unreasonable given their revenue growth and this being nascent industry and a hot topic in biotechnology. I'd love to hear any opinions of potential valuations from anyone with better knowledge and/or information. If you give Metabolon low end valuation of $400m you're looking at Harris & Harris' stake being worth $60m +/- or about $1.90 a share vs. current valuation of $0.30
Current NAV of TINY's portfolio is about $3.94 and trading at $3.39 offers a 20% discount to a NAV which is likely understated. Given this new event along with their other portfolio holding Nanosys' soon-to-be-announced deal with Apple (NASDAQ:AAPL) for iPhone 6 and the excitement and possible IPO potential for D-Wave, there's a number of events which could generate extreme buying interest in TINY and their portfolio companies upon announcement of these events.
Disclosure: I am long TINY. I wrote this article myself, and it expresses my own opinions. I am not receiving compensation for it. I have no business relationship with any company whose stock is mentioned in this article.