For the last couple of months, I've been bewildered by Ford's (NYSE:F) stock price. The company was seemingly exiting the winter with some momentum overseas, despite the horrible winter we had here in the U.S. Things were going the automakers' way, but the stock price was caught in some type of technical quicksand between $15-$17. In the absence of poor news, the stock seemed like it had trouble moving to the upside. In the absence of good news, the stock seemed like it had trouble moving to the downside. It's the kind of trading that option traders hate - the company just whittles away at your theta, day by day.
Last week, on the news of the accelerated CEO transition and Ford not quite meeting its sales estimates for April, the stock also did little to move.
No doubt, Ford stock has been trading like a stick in the mud.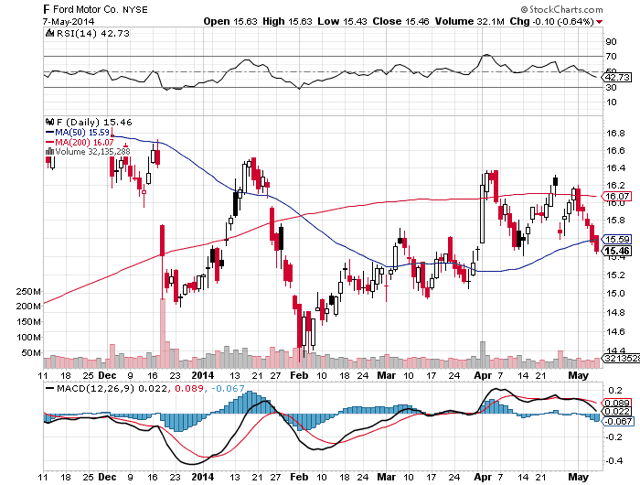 But yesterday, Ford did something to potentially jar itself out of the rut that it's been in, announcing a $1.8 billion share repurchase program that the company said will help offset share dilution.
Seeking Alpha reported yesterday:
Ford says it will buy back up to 116M shares worth ~$1.8B to offset the dilutive impact of some of its convertible debt.
The share repurchases will offset the dilutive effect of potential conversions of Ford's 4.25% Senior Convertible Notes due Nov. 15, 2016, and share-based employee compensation granted in 2014.
Ford says the action will reduce its diluted shares by ~3%.
The company has automotive debt of around $15.7 billion, and the company plans on working to reduce that debt in the coming 8-12 quarters. 116 million shares could be repurchased under the program, with 103 million of those set to offset conversion of notes due in 2016.
Itay Michaeli of Citigroup commented:
Our $2.00 2015E EPS (vs. $1.85 street) has already contemplated share buybacks necessary to offset the converts (worth about $0.05). It's unclear if the street has also modeled this in. Our 2015 estimated share count stands 2.4% below 2014; Ford's comments today suggest a ~3% reduction so slightly more than our model. The activity will also reduce Ford's automotive debt by $0.8 billion (converts). Overall, the announcement is positive though not entirely unexpected, and in our view supports our above consensus 2015 EPS.
Ford stock ticked about 1% higher at the end of Wednesday's trading. So far in pre-market trading on Thursday morning, the stock has yet to change hands.
I continue to be bullish on Ford, despite its recent sales news.
Last week, we got a look at Ford's April sales, which fell short of some estimates, but impressed with F-150 volume.
Seeking Alpha reported:
Ford (-0.2%) reports a 9.1% drop in cars sold during April, a mark which was offset to a large degree by the 8% increase in truck sales.
The automaker saw sales for the Ford brand slip 0.3% to 204,323 during the month, while Lincoln sales were off 10.7% to 6,803.
Sales by model: Ford Fusion -1.1% to 26,435; Ford Taurus -2.8% to 5,725; Ford Focus -15.3% to 19,104; Ford F-Series +7.4% to 63,387; Ford Explorer +17.1% to 16,629; Lincoln -23.9% to 3,054; Lincoln MKX +5.1% to 1,828.
The EcoBoost engine accounted for 42% of F-Series truck sales during the month.
As I noted in my last article, this sales slip came during the midst of a boarder market shift from cars to trucks. The Explorer, for instance, had an increase of sales of 17% year-over-year.
Despite these numbers, and now especially that the company has instituted this buyback, I continue to be bullish on Ford for the longer term.
Additionally, I'm content that the CEO transition is going to be quick, smooth, and professional. I know Mr. Fields is intimately familiar with the business, and predict a smooth transition into top spot as the rest of the company continues to play their roles in Ford's success.
We are looking at a company that is aggressively growing overseas, is producing its best-looking vehicles ever, and has brand recognition that it arguably hasn't ever had before. Ford's buyback program could be the catalyst the stock needs to jar itself "out of the mud" and push Ford towards the elusive $20 number that I've predicted for the automaker for the last couple of quarters.
I'll be holding to my Ford long position, adding on dips.
Best of luck to all investors.
Disclosure: I am long F. I wrote this article myself, and it expresses my own opinions. I am not receiving compensation for it (other than from Seeking Alpha). I have no business relationship with any company whose stock is mentioned in this article.