As of May 5, 2014, BlackBerry (NASDAQ:BBRY) still qualified for a Hold rating from Alpha Omega Mathematica (AOM). The quantitative market-based valuation system of Alpha Omega Mathematica has an aggregate score of 50% for former smartphone champion, BlackBerry. This is enough reason for me not to liquidate my current BBRY shares.
The chart from AOM shows BlackBerry is not yet a zero value company. At first glance of income statement, BlackBerry deserves the Sell rating made by another contributor here at Seeking Alpha. Due to continuing losses suffered by the company, BlackBerry is a walking dead target. Even AOM's Momentum indicators show BBRY is headed for more downside.
The BlackBerry sell-side community is noisy because technical indicators are really priming BBRY for more beat down action.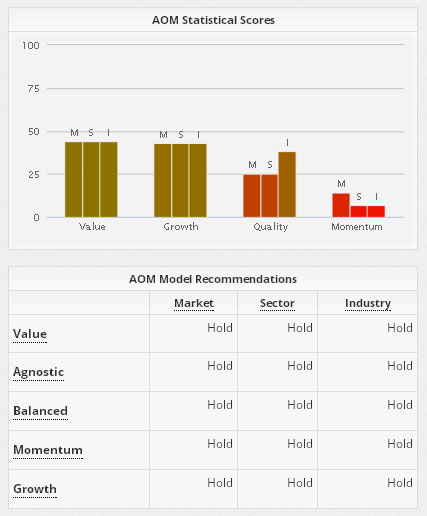 However, looking at the AOM model recommendations, BlackBerry scored a Hold on all investing strategies when compared to its Market, Sector, and Industry peers. This affirmation from Alpha Omega Mathematica means BlackBerry's chance to recover has not yet faded to the point of futility. It is still reasonable to hold on to the bets that we made on BBRY.
The Obvious Value of BlackBerry
The Hold rating from Alpha Omega Mathematica's valuation engine is anchored on BlackBerry's obvious underpricing compared to its brethren. Compared to its market, sector, industry peers, BBRY has very attractive P/S, P/B, P/Cash, and Price/Free Cash Flow ratios.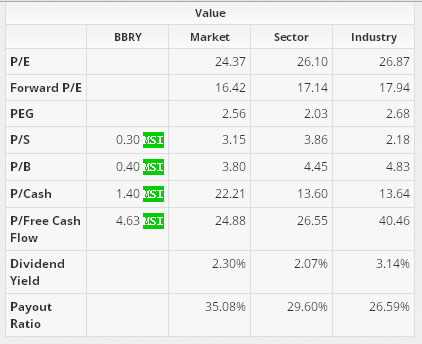 BlackBerry's rapid loss of smartphone market share has made it a pariah among many investors. BlackBerry's EV/Revenue is only 0.42 and EV/EBITDA is -1.28. This grossly pessimistic valuation of BBRY doesn't mean that the company is already in jeopardy of death. Looking at the loss/income chart of BBRY, it is easy to understand the overall cynicism.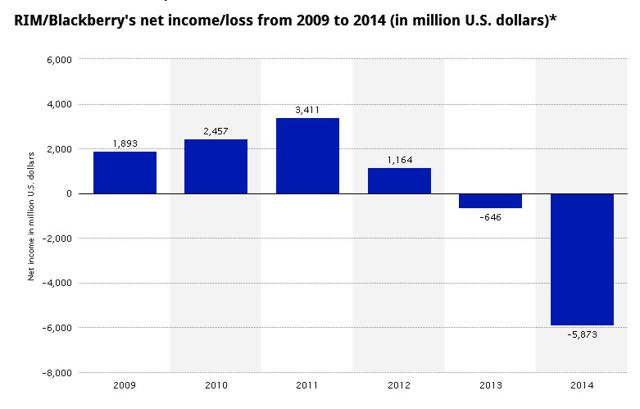 Click to enlarge
Source: Statista.com
Chen Holds The Fort
On the other hand, John Chen is not an amateur turnaround artist. He is rapidly curing the malaise over at BlackBerry. Chen has streamlined the operation, sold real estate, revamped the management, renewed focus on enterprise services, expanded into healthcare, and recruited Foxconn (OTC:FXCOF) to offset any more inventory write-offs.
The Hold rating from AOM's valuation algorithm is supported by 33 analysts at FT.com. Out of 86 polled analysts by FT.com, only 8 made a Sell Recommendation for BBRY. This is strong validation of Alpha Omega Mathematica's Hold recommendation for BlackBerry. Analysts still respect the power of mathematics.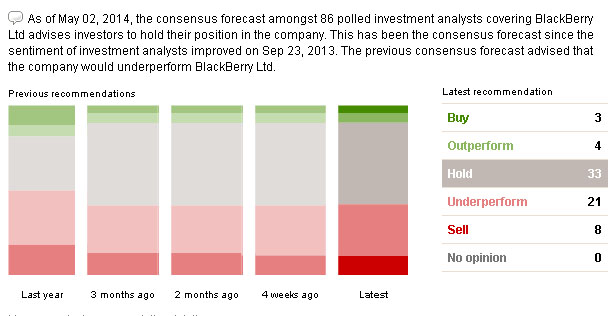 FT.com analysts are also enthusiastic with their BlackBerry's 12-month price target projection.

The high estimate for BBRY is $20, a huge +174.3% upside potential.
BarChart.com analysts are also in consensus that BlackBerry is a Hold, not a Sell.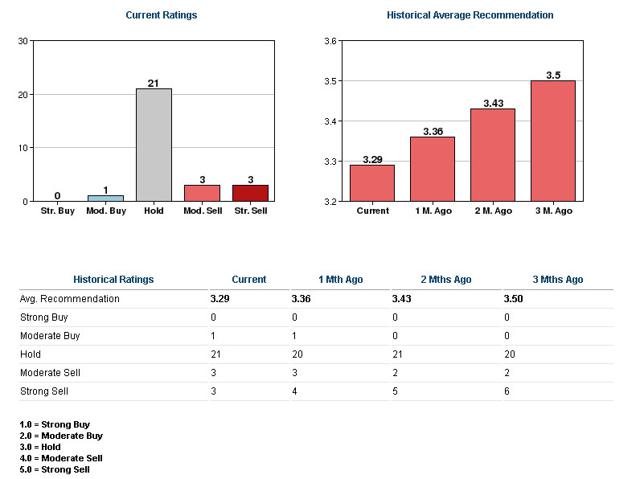 Click to enlarge
A check on NASDAQ revealed that a few institutional investors of BBRY have sold out their position this year.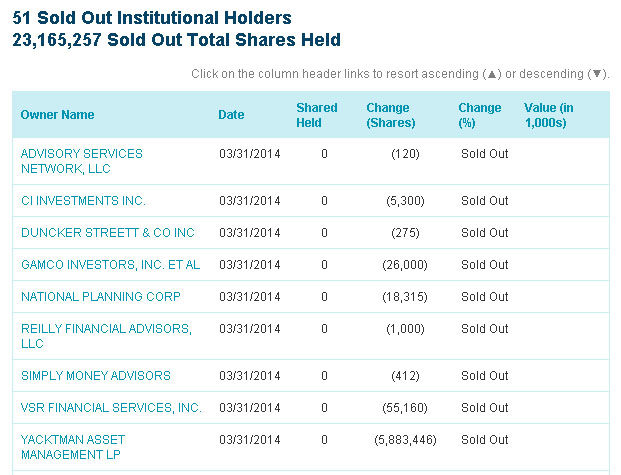 But it is more important to know that BlackBerry also attracted a lot of new institutional investors this year.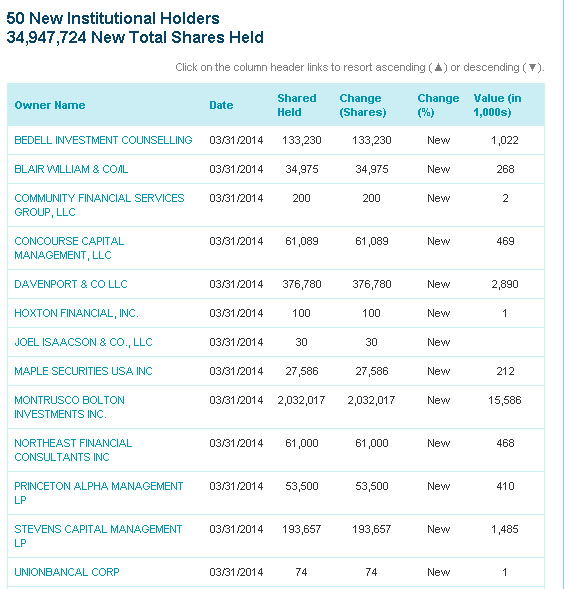 On a volume basis, the institutional investors who increased their BBRY holdings outweigh those who decreased their holdings.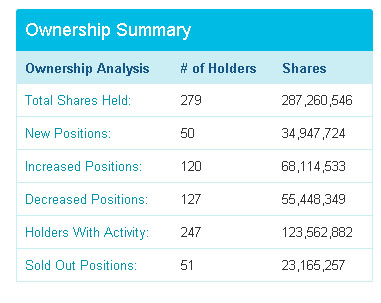 Small individual investors should follow where the big boys are going. Majority of analysts and big investors are still standing up for BlackBerry.
Conclusion
It is time for BlackBerry believers to hold the fort and keep the shorts at bay. BlackBerry is still scheduled for several quarters of bloodletting but Chen will ultimately revive the company. The mathematics of Alpha Omega Mathematica is supported by analysts who all agree that BlackBerry is worth holding on to. Institutional investors are not abandoning BlackBerry.
The BlackBerry brand still has got value and enough leg power to make a slow climb out of its current rut. BlackBerry recently increased its market share in March from 1.13% to 1.20%. A tiny improvement but it is still a positive gain that's worth noting because BlackBerry phone sales have been in decline.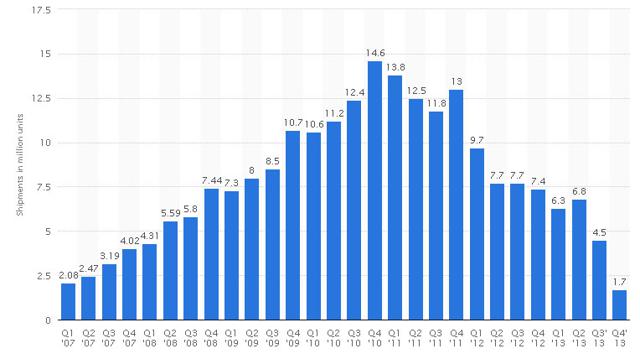 Click to enlarge
Source: Statista.com
The strong pre-order interest for the Z3 in Indonesia is another clue that John Chen maybe able to revive the BlackBerry handset business. If the Z3 becomes a hit in India this year, then BBRY might just hit the $15 price target given by Citron Research last January.
Disclosure: I am long BBRY. I wrote this article myself, and it expresses my own opinions. I am not receiving compensation for it (other than from Seeking Alpha). I have no business relationship with any company whose stock is mentioned in this article.