As anticipated by investors, Fannie Mae (OTCQB:FNMA) reported a significant profit of $5.3 Billion for the 1st Quarter of 2014. This amounted to approximately 93 cents in adjusted earnings per share, if one assumes that the government Senior Preferred Stock has been fully repaid, beating analyst estimates by 35 cents. Analysts had expected the company to earn 57 cents per share for the period.
The consistency of the government sponsored entities cash flows indicates that they will continue to report this type of profit in the future. Annualized earnings may approach approximately $20 billion, with certain one-time items excluded.
Freddie Mac (OTCQB:FMCC) reported net income of $4.0 billion. Adjusted pro forma EPS was $1.24 vs. expectations of 71 cents per share. Both companies are under direct government control.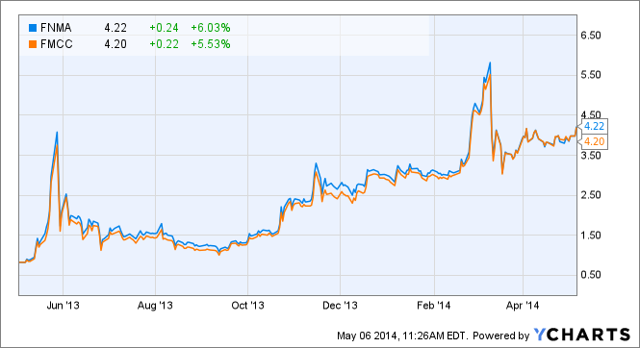 FNMA data by YCharts
Bill Ackman's Valuation
At the Sohn Investor Conference on May 5th, Bill Ackman or Pershing Square unveiled 111 slides that make a case for Fannie and Freddie being worth up to $47 per share. It's important to note that Ackman's model shows additional gains for taxpayers between $165 billion and $342 billion, to help offset the cost of the Treasury's support. This is after Treasury has already received more than $200 billion in payments on the original $187 billion sent to these companies. This expected future benefit comes from issuing the Treasury's warrants for 79.9% ownership of the common stock and allowing the companies to retain capital.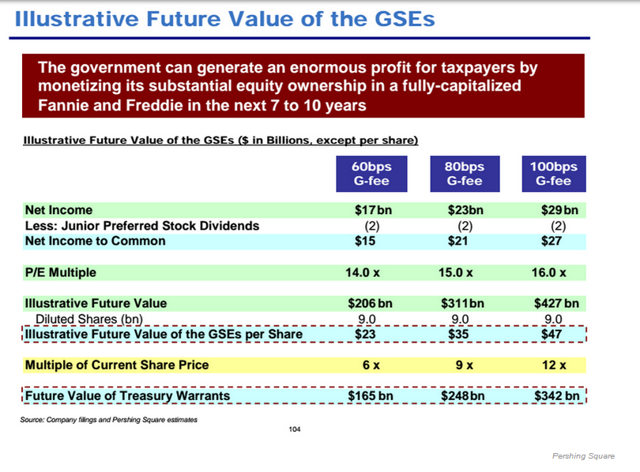 Ackman debunked the belief that Congress would be able to reform the housing market by replacing Fannie and Freddie with a system that has 10% capital, similar to the plan proposed under the Johnson-Crapo legislation. Essentially, Ackman stated that the private sector would not be able to scale up quickly enough to provide an adequate return on capital from the current guarantee fee structure. The result would be increased guarantee fees, approaching 301 basis points to reach a 15% return on equity target. This cost is three times the required guarantee fee from using the existing system. This would add an additional 200 basis points to each and every new home loan, or 2% additional loan costs. For a typical $200,000 home loan originated from a purchase acquisition, this would be an added cost of $250 per monthly mortgage payment. The only way to preserve the 30 year fixed rate mortgage is to preserve Fannie and Freddie.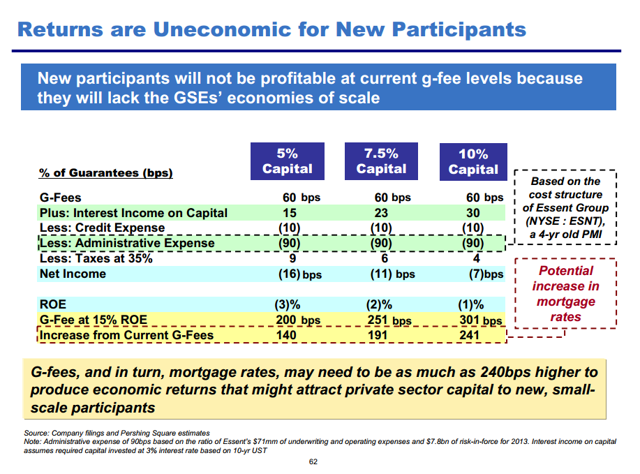 Back in September 2010, Bill Gross of PIMCO stated a similar private market cost for replacing Fannie and Freddie, which adds credence to what Ackman is using for his cost comparison.
As the Treasury contemplates the "transition" from Agency conservatorship to either public or private hands, how could private market advocates reasonably assume that pension, insurance, bank, and PIMCO-type monies would willingly add nearly $5 trillion of non-guaranteed, in many cases junk-rated mortgages to their portfolio? They would not... The cost would be enormous in terms of yields - 300-400 basis points higher than currently offered, crippling any hopes of a housing-led revival to the economy.

And why do I and PIMCO support this view? Is it some self-interested, money-making plot to allow us to dominate the bond market? Hardly. Any investor would recognize that it's better to have a 6 or 7% yield instead of 3-4%, so it would be better for PIMCO to let the Administration flood the private market with non-guaranteed, private mortgage product and let us vultures feast on the pickins.
This should clearly show that the only supporters of the 10% capital thresholds proposed by Congress are the nation's largest banks. Mr. Gross of PIMCO had every reason to support full privatization of the mortgage market in 2010, as a manager at one of the world's largest fixed income investment funds. But his conscious knew better, which is why he supported retaining some of the old system.
Whitney Tilson Chimes In
Whitney Tilson, managing director at T2 Partners Management LP, interviewing with Bloomberg, said Fannie Mae is one of his largest positions and that they are "good for America." He says the only downside is that they blew up and taxpayers were on the hook for billions. So, the question is how do we preserve them and ensure that they don't fail in the future? When answering the question of why they should remain quasi-private? The answer is practicality. The two entities function extremely well to provide Americans with benefits, including affordable fixed rate mortgages. Additionally, taxpayers own 79.9% of the companies' equity through warrants.
Mr. Ackman's recapitalization plan should be taken seriously by policy-makers and regulators because they fit the economic requirements of being both pragmatic and simple to implement.
Disclosure: I am long FNMA, FMCC. I wrote this article myself, and it expresses my own opinions. I am not receiving compensation for it (other than from Seeking Alpha). I have no business relationship with any company whose stock is mentioned in this article.