Weather headlines these past few weeks include 100% of the State of California in a full drought ( the first time since the last in the 1800s); the Plains drought helping wheat prices; cattle ranchers in the Plains continue to suffer; corn planting in Iowa, Minnesota and the Dakotas behind normal and El Nino is showing stronger signs of forming as equatorial ocean temps warm.
Below we give a very basic, generic overview of what El Nino portends for some crop growing areas and commodity prices and where present moisture stress versus good growing conditions, exist.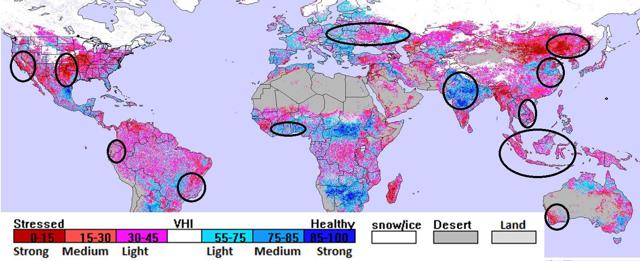 Click to enlarge
Source: FAS
The Map above shows areas of global crop stress and generally favorable conditions
U.S.A --The drought in the Plains wheat areas is one of the worst since 1936 and 1996 and in California, from the late 1800's. Climate change and other factors are partly to blame and the wheat crop has suffered helping wheat prices (especially KC wheat) rally sharply. The ETF (NYSEARCA:WEAT) is up only about 12%, while KC prices have soared more. Nevertheless global conditions for wheat are improving enough that typical harvest pressure, that may begin 2 weeks later than normal due to the cold winter, will probably mean lower summer wheat prices. Typically moderate El Nino's bring cool summer weather to the Midwest that may pressure natural gas (NYSEARCA:UNG). However, natural gas stocks are tight enough currently that any major fall in prices is unlikely for now.
If El Nino is strong enough by winter, the drought in California will begin to ease somewhat. However, major concerns will exist through the summer from western brush fires and billions of dollars of losses in agriculture to the California economy. This means higher retail prices for lettuce, fruit, etc. Beef prices have soared the last 2 years, partly in response to the drought forcing ranchers to liquidate herds. Cattle prices will likely stay strong until the drought breaks. We need a strong El Nino to break the drought. If so, a year or so from now, cattle prices could collapse. However, again, due to climate change, etc., it remains to be seen if this will happen just yet until we get closer to the fall and winter. For an interesting updated report on Climate Change, see this.
The cotton market (BAL) will pay close attention to the Texas drought in coming months.
South America -- While we discussed the coffee crop would be worse than others felt and they have come around, the market is waiting for new confirmation of this. You can see that some of the coffee areas are still very dry, but decent April rains have helped things just a bit. It may take a very wet summer or freeze to further compromise the crop, something we do not see happening right now and in our report a week ago when we updated for a bit drier harvest weather. Longer term will depend on El Nino and whether the fall could see problems again -- something that right now, is too early to tell. Presently, I am neutral to bearish coffee (JO) on technical price action and some improved world weather with possibly higher prices this summer or later this Fall, if El Nino dryness affects global production. There is a chance that later in 2014 or next year coffee prices could surge to over $2.50 lb, but much of the recent price action has been built into prices for now.
West Africa -- After my bullish stance most of last year on increased world demand and lower west African crops due to dry weather last summer, I am a bit bearish cocoa right now (NYSEARCA:NIB) as the market shifts from a demand market to a partial weather market brought on but absolutely the best possible weather for the cocoa crop this time of the year and a healthy mid-crop that will hit the market. Globally, world cocoa production falls between 3-6% during El Ninos, but the market may have to correct modestly this spring and summer before there is any hope of this happening, later this year and in 2015. You can see the map on the top of the page, the generally favorable moisture conditions for West Africa, which produces 50% of the world's chocolate.
China -- Crop areas in the north will need more rain for planting of corn and soybeans as denoted by the red area. However, around Shangdong and the Yellow and Yangtze River regions, it appears that recent moisture has improved conditions somewhat. There is only a slight correlation with El Nino and China weather.
Vietnam and Thailand-Something to watch for Vietnam coffee and some dryness in a few areas (red) as the onset of El Nino can sometimes lower Robusta coffee production. But contrary to some analyst, the correlation with production here is weak except with strong El Ninos. Nevertheless sugar cane (NYSEARCA:CANE) and Robusta coffee areas need to be watched.
Indonesia -- has the highest correlation in Asia for below normal rainfall where Palm Oil and Cocoa production could fall
Europe and Russia -- While we can see dry weather issues for Ukraine, recent rains and upcoming good moisture should insure good wheat crops going into summer.
The correlation with El Nino is for improved weather in some of the key grain areas in Europe and Russia.
1) INDIA -- A lot of people are talking about possibly a weaker El Nino type monsoon and problems for cotton and sugar this year. However, this is premature to speculate on and incredible winter moisture (see blue areas on the top map) will allow for irrigation supplies to be well above normal for crops. It may take big problems in India, Thailand and/or Brazil to get a major bull market in sugar. Historically sugar prices rally during El Nino, but there is no indication that this will happen just yet.
Australia -- Recent rains have improved soils as the wheat crop is now planted and goes into dormancy. But the western areas are dry. El Nino is highly correlated with fall and winter weather problems, in which if the wheat crop is compromised later this year and the U.S. drought has not eased in the Plains, would cause an explosion in wheat prices by fall and winter.
Disclosure: I have no positions in any stocks mentioned, and no plans to initiate any positions within the next 72 hours. I wrote this article myself, and it expresses my own opinions. I am not receiving compensation for it (other than from Seeking Alpha). I have no business relationship with any company whose stock is mentioned in this article.