Yes, I was disappointed in the earnings report for Annaly Capital (NYSE:NLY) yesterday. I must admit that I expected the turnaround I anticipated to occur sooner than later. What I failed to recognize was that this last quarter was a peek in the rear view mirror and were the results of the tumultuous interest rate environment of the previous months, not the months ahead.
It is my opinion that the months ahead will turn out to be much better for NLY. The share price as well as dividends paid out should reflect my opinion.
An Opportunity Today?
While NLY missed estimates by $.06 for earnings per share, and revenues dropped around 4.5% I will look ahead, just as the stock price has done since December, and base my opinion on the following situations.
Pre-payments are down significantly due to higher mortgage rates, less refinancing, and fewer foreclosures.
The Fed is still being accommodative in its policy by continuing ZIRP (zero interest rate policy) for the short end of interest rates.
While the Fed has been tapering QE each month, the 10 year Treasury rate has NOT spiked as feared and has been in a very tight range below 3%.
Having a stable interest rate environment, with somewhat reduced risks of prepayments allows NLY (and other mREITs) to keep a more focused approach to increase revenues and profits over the longer term.
Today might be a day where the share price pulls back to a point where investors might want to consider adding to an existing position to fill an allocation, or to open a position to begin one.
Short term investors will likely trade the stock today and if the opportunity is good enough, think about taking it. I myself have a full position right now, but if the dip is steep enough I might even add a few more shares, for the reasons noted above.
Dividend Opportunity Stocks Need To Be Monitored More Closely
As prudent investors, we know that by owning Johnson and Johnson (NYSE:JNJ), or Exxon Mobil (NYSE:XOM), we can tune out the noise virtually forever. That is not the case with a stock like NLY which offers higher rewards for greater risks. Keep an eye on the following headwinds:
A sharp spike in the 10 year interest rates.
Another round of unanticipated foreclosures and/or refinancing that will make navigating the interest rate environment more difficult for NLY.
If the Fed even hints at RAISING short term rates, there will be a rush to exit this sector in the short term...be very aware of that.
All of this being said, it is my opinion that the current sanguine interest rate environment will be with us for a few more years. As a result, NLY should benefit going forward and shareholders will be rewarded with both higher share prices, and greater dividends.
NLY Is Still Selling At A Discount To Book Value
The business model for NLY is all about money movement, and while mortgage backed securities are inventory, the main objective for the company is to turn over lower income producing inventory into higher income producing inventory.
If the share price is below book value, then I believe it is a good time to pick up shares.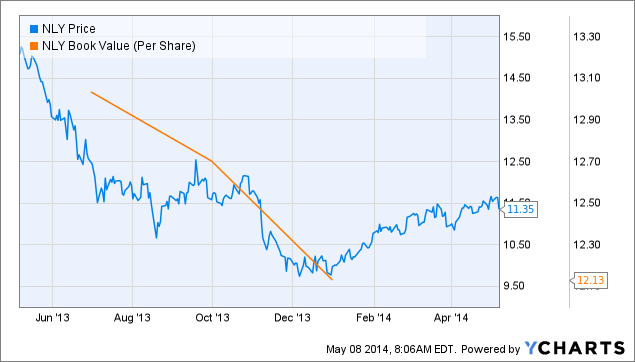 Annaly announced that book value ticked up a bit (after dividends were paid by the way) to $12.30 per share. That reverses a trend of declining book value and at the pre market price of $11.35/share, offers a discount to book of about 8%.
I believe that the quarters ahead will show increased book value, based on the thesis I offered above, and if and when the dividends are increased, the gap will close, more shares will likely be issued and more money raised in a positive environment for further growth, including that of the commercial business from the acquisition of CreXus.
The Positive Takeaways From The Earnings Report
Core earnings of $239.7 million, $0.23 earnings per common share.
Strong capital position with capital ratio of 15.2%, net capital ratio of 15.4%, and leverage of 5.2:1.
Book value of $12.30, up from $12.13 as of prior quarter (after dividends)
Completed first securitization of commercial real estate loans.
I particularly liked that during the last quarter, NLY chose to reduce leverage a bit (from 5.4 to 5.2) rather than extend it for a temporary pop. To me that shows the conservative approach which I happen to appreciate for the longer term.
This will give NLY management more flexibility going forward as well. A simple statement such as the one made by the CEO says it all for me:
Wellington J. Denahan, Chairman and Chief Executive Officer of Annaly, commented on the Company's results. "We remain optimistic about the investment landscape in light of the market's reaction to the Federal Reserve's ongoing reduction of bond purchases. We continue to be flexible with our capital deployment and feel comfortable in our ability to sustain attractive risk-adjusted returns in the quarters ahead".
I happen to agree completely and my opinion is that NLY will remain a buy and reach new highs in share price over the course of the intermediate term as well as return higher dividends to shareholders.
Disclaimer: The opinions of the author is not a recommendation to either buy or sell any security. Please remember to do your own research prior to making any investment decision.
Disclosure: I am long NLY, JNJ, XOM. I wrote this article myself, and it expresses my own opinions. I am not receiving compensation for it (other than from Seeking Alpha). I have no business relationship with any company whose stock is mentioned in this article.