I'm going to give a brief summary on this international aerospace and defense company from a dividend growth perspective -- looking at the major issues investors look for when screening for stocks and giving a conclusion on whether it is a company worth having in our portfolio.
Raytheon (NYSE:RTN) is a major American defense contractor and industrial corporation, with manufacturing concentrated in weapons and military and commercial electronics. It's currently the world's largest producer of guided missiles, and currently 4th in the world for arms sales. Raytheon's rivals are none other than Lockheed Martin (NYSE:LMT), Boeing (NYSE:BA) and BAE Systems (OTCPK:BAESF).
Raytheon focuses on four businesses to craft solutions for both government and commercial partners. These are as follows:
Integrated Defense Systems
Intelligence, Information and Services
Missile Systems
Space and Airborne Systems
Recent Events
Raytheon recently announced its Q1 results on April 24th, 2014. These were mainly in line with expectations from senior management. Net sales were down -6%, from $5,879m to $5,508m. Adjusted operating margins though down ever slightly, remain consistent at 12.7%, down from 13.2%. EPS growth is looking great compared to the same quarter last year, $1.49 to $1.87 is an increase of 25.50%. All of these statistics were provided in the Quarterly Report.
CEO Thomas A. Kennedy announced 2 key international bookings for the quarter. It is going to provide Kuwait with 2 further Patriot fire units for $515 million. Kuwait already has 5 fire units existing, which shows continued demand for the air and missile defense system. The other booking was $195 million for an international cyber program for an undisclosed source.
Quarterly dividends have been raised to $0.61 from $0.55, for a 10.91% increase, along with $200 million worth of stock being repurchased. This makes Raytheon a "dividend contender" at 10 straight years of dividend increases, an upgrade from the "challenger" title used in David Fish's spreadsheet found here.
Dividends
As previously mentioned, distributions from the company have been uninterrupted since 1958, giving great value to shareholders. The dividend yield of 2.52% is average, but what is impressive is the growth rate, currently at 15.40% over the past 5 years. This will give a yield on cost of 4.71% over that same 5-year period going forward, if the growth can be maintained. With an EPS of $6.56 and a DPS of $2.26 for 2014, we have a low payout ratio of 34.45%. This is music to the ears of dividend growth investors, as it will ensure the dividend increases going forward (anything below 60% is great, in my opinion!)
Analysts over at Yahoo Finance have given an average EPS target of $6.93 for FY 2014, not only decreasing the payout ratio, but this will be a growth rate of 12.5% if hit by Raytheon.
At an average price of $100 per share, we can guess that 2 million shares are going to be repurchased each quarter out of the 312 million shares currently outstanding. This accounts for just over 2.5% for the year. If we take this percentage on top of a dividend yield of 2.5% and an estimated growth rate of 8% (I consider this to be quite conservative, based on what I've provided), this stock should easily be able to give a compound annual growth rate of 13% on your initial investment.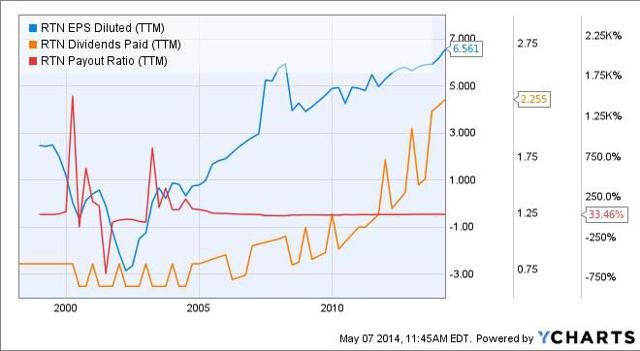 Valuation
There are 3 metrics I focus on the most as a value dividend growth investor, and these are the P/E ratio, P/B ratio and the P/CF ratio influence by Benjamin Graham. The P/E ratio is currently at 15.18, with a forward P/E of 14. Any mega cap defensive stock below a P/E of 20 I consider to be attractively valued. For the P/B ratio, we have a figure of 2.63; I usually look for less than 1.5, so this is coming at somewhat of a premium. Last but not least, P/CF is currently at 11.7, which is also attractively valued.
Margins
I compiled the 4 margins on average over a 5-year period, and entered them onto a spreadsheet to generate a bar chart.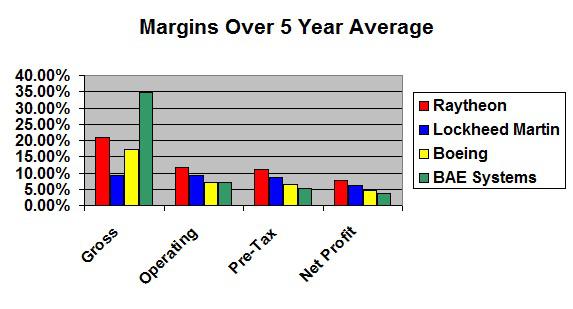 Raytheon's average net profit of 7.77% is better than its 3 rivals, which is a great sign in this fiercely competitive industry. Raytheon is able to generate cash flow efficiently, further demonstrating the skills of the management team and how they are handling operations.
Technicals
I won't push technicals too much, but at the moment, we have a current price of $96.73 after a drop from $102.33 2 weeks ago. This represent a discount of 5.47% from the 52-week high.
Based on the 20- and 50-day simple moving average, the price has consolidated, giving a buying opportunity, as it is comfortably 12.48% above the 200-day, signaling a strong up-trend in momentum.
The major support I'm seeing at $88 is based on volume giving a strong demand area, however, I don't see Raytheon reaching that price without a stock market correction pushing everything lower.
The chart below is provided by Finviz.com
Though I haven't gone into drastic detail over the company, Raytheon is in a prime position to carry on delivering growth for the foreseeable future. It's attractively valued on several metrics and has strong fundamentals, as a company of its stature should have. A small payout ratio means dividend growth investors will be happy with a pay rise of, I expect, 7-12% a year over the long term.
Raytheon is a company that is committed to giving the shareholder a rising income every year through dividend increases and also capital appreciation, for a double whammy!
They say the best defense is offense, but with a stock like this, I don't think that logic applies! Play defensive, protect your assets and reap the benefits that Raytheon has to offer.
Disclosure: I have no positions in any stocks mentioned, and no plans to initiate any positions within the next 72 hours. I wrote this article myself, and it expresses my own opinions. I am not receiving compensation for it (other than from Seeking Alpha). I have no business relationship with any company whose stock is mentioned in this article. I'm currently building a position in Unilever at the moment as it is the cheapest stock in my screen. Doesn't mean I won't add RTN in the future though! All information can be found on Raytheon's Investor Relations page, Raytheon's First Quarter Transcript on Seeking Alpha, statistics found on Yahoo Finance / Morningstar / Reuters / Finviz.