Before I write any more, I must confess: I am a recovering gold bug.
My investing career was starting just as the 1990s tech bubble was collapsing, and gold seemed like a better alternative than stocks at the time. It helped that gold had been in a 20-year bear market and that it was selling for less than $300 per ounce. No one wanted anything to do with gold, which made it all the more appealing to the deviant little contrarian in me. Starting with the limited capital that I had at the time, I started accumulating one-ounce American eagle coins, and as the bull market in gold started to build steam, Keynes's "barbarous relic" quickly became a decent chunk of my net worth.
Of course, nothing makes you feel smarter than a bull market, and the higher the gold price rose the more arrogant and insufferable I became. My obsession with gold began to drift into the ideological, and I became a "true believer", convinced that gold "had" to rise in value due to Clinton's social spending and foreign wars…and then due to Bush's social spending and foreign wars…and then due to Alan Greenspan's loose hands on the printing presses…and then due to the fact that the Chinese would be dumping dollars any day now…
I even started reading Ayn Rand and then Murray Rothbard. I became convinced that the dollar was not only a poorly managed currency, it was also "immoral" because it wasn't backed by the "one true store of value," gold.
Sometime in the mid-2000s, I got burned out with ideology. I'm not sure if I got too old for it or if I simply got tired of hearing myself talk, but proselytizing on the virtues of gold and the vices of fiat money lost its appeal. Still, gold by this time was surging to new highs, so it hardly made sense to liquidate my holdings. I continued to hold my gold coins until 2009, when I sold into what appeared to be bullish euphoria. I sold too early, but frankly I was glad to be out of that trade.
In retrospect, I can say that my gains on gold were due mostly to luck. I was guilty of one of the cardinal sins of investing: the confirmation bias. I looked only for news, statistics and historical precedents that supported my belief in a gold bull market. Any evidence to the contrary—such as the fact that gold's historical returns are a pitiful 4.7% per annum since 1933 according to Global Financial Data or that investors who held gold throughout the 1980s and 90s saw most of their investment evaporate—were summarily ignored.
I bring all of this up not to tell you my life story but to offer a warning. It appears that I was not alone in my ideological journey with gold. I was just early, and I see people everywhere going through the same process today. The extreme, angry political views of my youth have alas gone mainstream. When investors mix their money with emotional ideology, the results are usually disastrous. And I see a major train wreck coming with respect to gold.
Many of the assumptions that the gold bugs use fail to survive a critical analysis. If inflation and dollar depreciation are such significant threats, then why are we not seeing higher yields in the bond market? If the Federal Reserve is somehow preventing yields from rising due to its open market operations, then why would they allow gold to rise when they could just as easily manipulate its price as well via the futures market?
But most fundamentally, the gold bugs fail to answer one important question: why is gold valuable? The gold bug answer is that it is protection from fiat currencies, but as Richard Wiggin's stated in a recent Barron's article, gold is a fiat currency.
Gold is valuable because we all agree it's valuable, and new supplies are mined daily. How is this fundamentally different from the dollar or the euro? More than calling it a fiat currency, Brett Arends goes so far as to call gold a "Ponzi scheme" in a recent Wall Street Journal article.
He makes a good point. Gold pays no dividends or interest and has no earnings. Unlike most other commodities, it has no intrinsic value to speak of as its industrial uses are in decline.
The only way to make money in gold is to find someone else to sell your gold to at a higher price. This works only so long as there are more and more new investors to sell your gold to. Come to think of it, that does sound a bit like a Ponzi scheme.
Most disturbingly, I see some major divergences in the buying patterns of investors and consumers of gold. In 2009, demand for gold as an investment exceeded demand for gold as jewelry for the first time since 1980—which happened to be the year that the last bull market in gold collapsed.
But perhaps more telling are the recent numbers out of India.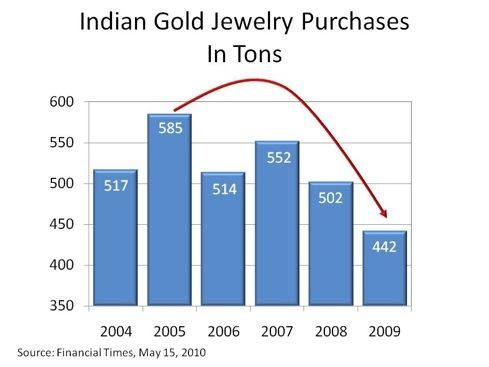 India has been the world's biggest consumer of gold since time immemorial. But Indian gold consumption has actually been in decline since 2005—this during a period in which India enjoyed an economic boom and incomes rose substantially among the middle and upper classes.
I had a personal experience that made me question the gold price as well. When shopping for my wife's engagement ring in 2007, I looked at both high-end and mass-market jewelers in order to get a feel for prices. What I saw in the mass-market mall stores shocked me.
With gold becoming unaffordable for many young couples, jewelers had started selling new "precious" metals such as tungsten and titanium for use as wedding rings.
Titanium? This is a metal that is used to make golf clubs, and it's being advertised as a precious metal because the average groom has now been priced out of the market for traditional precious metals like gold and platinum.
But perhaps the most absurd anecdote yet comes from the Middle East. In Abu Dhabi, you can now get one-ounce Krugerrand coins out of an ATM machine.
This is madness. Gold's traditional uses are all in decline, while the price surges due to new interest from retail investors ordering coins from late-night infomercials. It would appear that gold is being transferred from the informed "smart" money to the uninformed "dumb" money. (And speaking of smart money, billionaire investor George Soros has begun to trim back his fund's gold holding, according to recent SEC filings.)
It's impossible to know exactly when or how this bubble will end. Writing for the Financial Times, James Mackintosh suggests that gold is leaving the "boom" stage and is now entering the "euphoria" stage, that last surge before the inevitable bust. The natural course of action would be to sell gold short, but this is far easier said than done. As John Maynard Keynes famously said, "the market can stay irrational longer than you can stay solvent," and I can confirm this. In some of my more aggressive client accounts, I attempted to short gold and quickly lost 20% on the position before getting stopped out.
Mackintosh reckons that gold could double or even quadruple before eventually collapsing, if history is any guide. We shall certainly see. But in any event, gold should be viewed with skepticism at this point.
If you are an aggressive trader, it might make sense to hold on for one last "blow off" top. But if you are a more conservative, long-term investor, you should strongly consider selling your gold holdings at these prices. At the very least, use the recent strength as an opportunity to rebalance your portfolio, keeping gold and precious metals to a prudent minimum.
I believe that shorting gold is a sensible trade at current prices, though for now I will refrain from making a gold short an "official" Sizemore Investment Letter portfolio position. Getting into a short position too early can be devastating to a portfolio, and we want to avoid that at all costs. This is something I intend to keep an eye on, and if the conditions look right in the months ahead I may indeed recommend that we bet against gold. But for the time being, I'm simply recommending we avoid the yellow metal altogether.
I'll end this diatribe on gold with a little insight from Warren Buffett. The Oracle of Omaha once said "Gold gets dug out of the ground in Africa, or someplace. Then we melt it down, dig another hole, bury it again and pay people to stand around guarding it. It has no utility. Anyone watching from Mars would be scratching their head."
Well said, Mr. Buffett.
Disclosure: No positions in the stocks mentioned at this time