Smartphones have already disrupted industries like photography, gaming, music, navigation and email. The next smartphone takeover will be payment processing. Americans transact $2.5 trillion annually using physical credit cards, and smartphone developers are eager to capture a slice of this industry. Trailblazers like PayPal's Here have convinced consumers that smartphones are a secure terminal for monetary transactions, and laggards like Starbucks are now promoting smartphone-native payments to the masses.
This is not a prediction. As the facts presented below prove, consumers are already transacting billions of dollars on smartphones today and increasing at a parabolic rate of growth.
After considering the options for exposure to this industry, I decided to buy shares of New Media Insight Group (OTCQB:NMED). This company is the most attractive opportunity I could find from risk-adjusted standpoint. With a straightforward capital structure, slow cash burn rate, low risk of dilution and a delineated revenue forecast, I believe this company offers a worthwhile bet on a lucrative industry.
Business Overview
New Media Insight Group operates "in the area of mobile payments" with a mission "to help local merchants connect, communicate and transact with their customers in a more effective way." Specifically, it sells a smartphone payment and couponing system in Arizona, Colorado, Nevada, Oregon, Utah and Washington. In one sentence, New Media Insight Group allows customers to pay merchants using only their smartphone -- without cash, checks or plastic cards -- and also receive coupons for their participation. Merchants promote this app because it saves them an average 1.2% versus plastic card transaction fees, and customers enjoy this app because they receive coupons and no longer need to carry nor safeguard cash, checks and cards.
An electronic wallet from New Media Insight Group is the digital equivalent of a physical wallet; it holds money and plastic payment methods digitally. A customer creates an e-wallet using a smartphone, filling it with money from a traditional card or bank account. Then when a customer makes a purchase with a participating merchant, the customer simply transfers money into the merchant's e-wallet account. Rather than physically giving cash or swiping a card, e-wallet technology allows the money to digitally transfer from e-wallet to e-wallet.

Click to enlarge
Customers use existing smartphones and merchants use existing cashier terminals; New Media Insight Group's system requires no special hardware. Another article explains how to pay using an e-wallet: "Suppose the customer buys $40 of gas by transferring $40 from ewallet to ewallet. This transaction occurs through a temporary 16-digit Mastercard number that displays on the customer's smartphone and expires after 20 seconds. The cashier types the 16 digits manually into the gas station's traditional credit card terminal. The transaction occurs when the $40 is transferred from the customer's ewallet to the gas station's ewallet, and New Media Insight rakes 0.5% for its service. Although Mastercard does not earn anywhere close to its 1.7%, Mastercard does earn a small percentage of New Media Insight's 0.5% for providing the temporary 16 digit number."
The following picture shows a New Media Insight Group transaction, such as the quoted example above. Note that there is no device connected to the smartphone.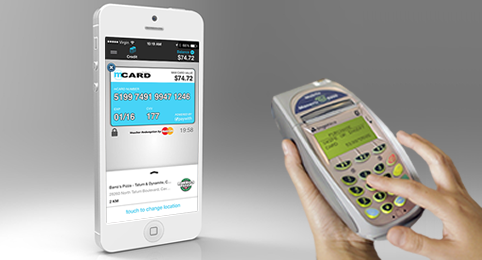 Readers might be wondering about Square and other mobile card readers at this point. To clarify, New Media Insight Group does not sell a credit card reader or anything that attaches to a smartphone. Physical card readers like PayPal's Here charge traditional processing fees (currently 2.75%). In contrast, e-wallet transactions occur virtually with no need for a physical swipe. As pictured above, e-wallets provide 20 second temporary authorization numbers for transactions for manual entry into existing cashier terminals. Again, New Media Insight Group's e-wallet system does not compete with any credit card reader or mobile payment platform that facilitates traditional card transactions, as e-wallet transactions are simply transfers between accounts.
Business Plan
New Media Insight Group has publicly forecasted that 10,000 merchants will sign up for its e-wallet service by April 2015. Extrapolating 100 app downloads by customers per merchant account calculates to one million customer app downloads by April 2015.
Earning roughly 0.5% from all transactions means that the company's outright revenue could be substantial. Perhaps more importantly, its residual income from existing e-wallet accounts will snowball as it incrementally adds new accounts. Assuming customers and merchants are satisfied with the service and use their e-wallets more often, New Media Insight Group's per-account revenue would increase. It is therefore possible for the company's revenue to increase even with no new account signups.
Addressable Market
Mobile payments are the fastest-growing threat to plastic cards. Just as credit cards displaced cash, so too will mobile payments displace credit cards. In 2012, Americans transacted $2.4 trillion using credit cards with $12 billion transacted on mobile phones. By 2017, Forrester forecasts transactions on mobile phones to reach $90 billion. Expressing this growth as a percentage, the mobile payment sector's compound annual growth rate is 49%.
The growth of New Media Insight Group's sector is strong, but how much revenue is available? In 2012, credit card companies earned an average swipe fee of 1.7% on total dollars transacted and thereby raked $41.2 billion in swipe fees from the total $2.4 trillion transacted. Of course, this $41.2 billion figure is too large to use as an addressable figure because mobile payment companies like New Media Insight Group charge just 0.5% versus traditional credit card companies' 1.7%. The maximum annual revenue of New Media Insight Group's addressable market is therefore $12 billion (0.5% of $2.4 trillion).
Reducing this even further, New Media Insight Group will obviously not capture the entire addressable market. New Media Insight Group only hopes to capture a fraction. Assuming 1% capture of the credit card fee market and 0% capture of the debit card fee market, the company's revenue could hit $120 million this year (1% of $12 billion).
Of course, transactions will increase every year as the general population increases, not to mention the enhanced growth rate for new payment methods like e-wallets. As mentioned above, Americans will transact $90 billion over their mobile phones by 2017. Assuming New Media Insight Group can maintain 1% of the credit card fee market, the company's annual revenue could hit $900 million by 2017.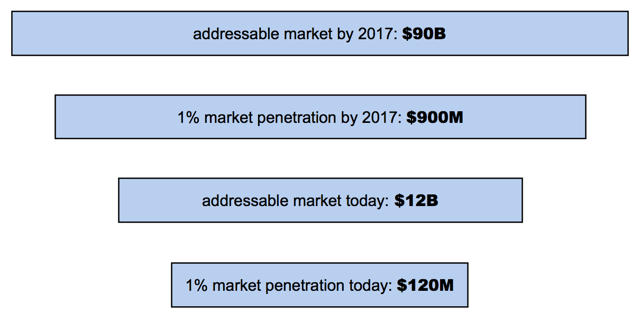 Click to enlarge
These estimates provide a rough outline of the opportunity, but the proof must always come in actual business execution. I will now analyze the risks and investment considerations specifically for common shareholders.
Fundamental Analysis for Common Shareholders
Although New Media Insight Group must work hard to capture 1% of the addressable market, and it has forecasted aggressive growth of 10,000 new merchant accounts by April 2015. On the downside, common shareholders risk total loss if the company fails to sign up enough merchants this year. Management must deliver on their promise of rapid account activations, otherwise there is little hope for the company. On the other hand, capturing even 1/10th of 1% of the market would deliver substantial gains to common shareholders.
Risk is best understood in the context of fully diluted value. As of May 5, 2014, New Media Insight Group has 29,768,750 common shares outstanding, giving the company a market capitalization of $34.2 million. Using this share count, if the company were to capture 1/10th of 1% of the $90 billion annual market, it would earn $90 million in annual revenue- almost three times its current market capitalization. Adding a P/E multiple or capturing more market share would further multiply shareholders' return.
The upside potential for common shareholders will not be diluted due to strong representation of the company's common shares in the fully diluted capital structure. Public companies often dilute common shareholders by hiding enormous tranches of warrants, preferreds or options underneath the outstanding share count. In the case of New Media Insight Group, the company has zero preferred shares outstanding and a fully diluted share count just 3.1 million shares higher than its 29,768,750 common shares outstanding: 2 million CEO options at $0.75 per share plus 1.1 million warrants at $1 per share.
The downside risk for shareholders in the event of failure of the company's smartphone app is total loss of the $34.2 million market capitalization. The options and warrants would expire out-of-the-money, and the company possesses very few assets that would remain in the event of liquidation.
Cash Outlook
CEO salary for the 2013 fiscal year was a reasonable $72,000. The CEO also owns the 2 million options mentioned earlier with an exercise price of $0.75 per share. Options vest after six months and expire after three years.
There is no institutional ownership of note, but the company does not have any immediate need to raise cash. The largest individual shareholder privately placed $500,000 cash on May 16, 2013 in exchange for 1.1 million common shares plus 1.1 million warrants. These warrants are non-transferable, are exercisable at $1 per share and expire May 16, 2015.
The company's cash burn rate is slow. Because e-wallets are virtual in nature, New Media Insight Group has no inventory, nominal office expenses and only one executive officer, its CEO Michael Palethorpe. The company's monthly operating loss averages just $17,785. All employees and contractors work remotely. Its latest quarterly report explains, "professional web designers, optimization technicians, and Google AdWord specialists are retained on a contractual basis and as demand requires.
As of January 31, 2014, New Media Insight Group had $256,162 in cash, $5,785 in liabilities, and $38,691 in revenue since inception. With this cash balance and its forecasted revenue from new account signups, the company publicly states that it "will not require additional funds to meet our working capital requirements" through January 2015. Although the company will have to accomplish its sales objectives to fulfill this promise, I am not expecting any dilutive events this year as a shareholder.
App Marketing
Because the success of New Media Insight Group hinges on its ability to promote its app, I wanted to discuss the company's marketing strategies. In order to sign up 10,000 merchants and convince hundreds of thousands of customers to download its app, the company will have to use a variety of marketing tactics.
First, I should state the obvious. Businesses that rely on viral or social marketing strategies cannot outline the exact way their product will grow. Social systems are inherently emergent, and although New Media Insight Group is confident that 10,000 merchants will sign up for its service by April 2015, this accomplishment will occur on a meandering path of trial-and-error. Contractors are currently marketing the app, and the company is judging new account growth on a weekly basis. New contractors or expert consultants can always be hired as the company analyzes growth progress. Each new merchant account and customer app download provides a stream of new data about how users are interfacing with the app: how often they open it, number of transactions, points of failure, reviews, suggestions, etc. The obvious point here is that New Media Insight Group will be adjusting its marketing strategy continually.
Second, the company has already proven its ability to market the platform to non-profits. A school organization decided to promote New Media Insight Group's app to teachers, administrators, parents and students so that the school could raise up to $20,000 while participants simply made everyday purchases through the app. Non-profits looking for alternatives to conventional fund raising are natural prospects for New Media Insight Group's marketing efforts.
Third, increasing app downloads has become a standard service for hire within the app development industry, and New Media Insight Group is already paying contractors to promote its app. Indeed, there are over 2,000 freelancers standing by on Elance to promote any app. App promotion marketplaces like Handster, Butterscotch, AppsLib, Camangi Market and Phoload are available to the company's marketers, and dozens of free promotion strategies are also available. Indeed, app developers in Silicon Valley often have no need to think about how to advertise their apps anymore; new career fields like "growth hacking" have spawned numerous professionals who take finished apps and promote them for modest budgets.
In summary, although New Media Insight Group has provided some clues about its multi-pronged marketing strategy, it has not and perhaps cannot explicitly outline a plan. However, because promoting apps has become such a popular career in the past few years, I am not particularly concerned about the company finding competent contractors who can handle this task. The most important part of the equation to me is the payment platform itself -- the app and its future versions -- which is the core asset of New Media Insight Group and on which investors must be willing to bet if they are considering buying common shares.
Conclusion
Many readers recall the 1990s when plastic cards began overtaking cash as a preferred payment method. The power of plastic cards was unmistakable at the time. Equally unmistakable today is the growth of mobile phone payments. Modern consumers are simply answering a basic question: Why carry and safeguard physical cards when a virtual wallet can be accessed just as easily from a smartphone?
The 48% annual growth rate mentioned earlier is the irrefutable confirmation of this trend. E-wallets are the most convenient, fashionable and card-free way to pay merchants and receive coupons. Security-conscious consumers also appreciate the added security layer provided by 20 second temporary authorization numbers instead of actual account numbers. On the receiving side, merchants are happy to incentivize with coupons since they are saving 1.2% in fees anyway, not to mention gaining customer loyalty.
The market is flourishing. Consumer adoption is unassailable. The only risk for New Media Insight Group is execution risk: accomplishing the stated business plan. New Media Insight Group must aggressively advertise its app to consumers and sign new merchant accounts within the next 12 months. If it delivers on its promises, shareholders will be rewarded handsomely. If it fails or delays, another competitor in the fast-moving mobile payment space will capitalize on the lost opportunity.
Disclosure: I am long NMED. I wrote this article myself, and it expresses my own opinions. I am not receiving compensation for it. I have no business relationship with any company whose stock is mentioned in this article.