While on ShopBlackBerry.com, I noticed the black Z30 posted an "Out of Stock" notice. It was selling for $499.99 CAD. Curious as to whether the phenomenon was localized to the Canadian store, I fooled my browser into thinking I was from the US and tried the site again. When the store thought I was from the US, it also displayed a sold-out notice. Turns out the pricing was also the same in the US, $499.99. This begs the question: Is mass media again wrong about BlackBerry (NASDAQ:BBRY)? The BlackBerry flagship phone is selling, mobile traffic on a BB device is up, pre-orders are sold out, and yet the pessimism continues?
Here is the screen shot of the Canadian version of ShopBlackBerry.com: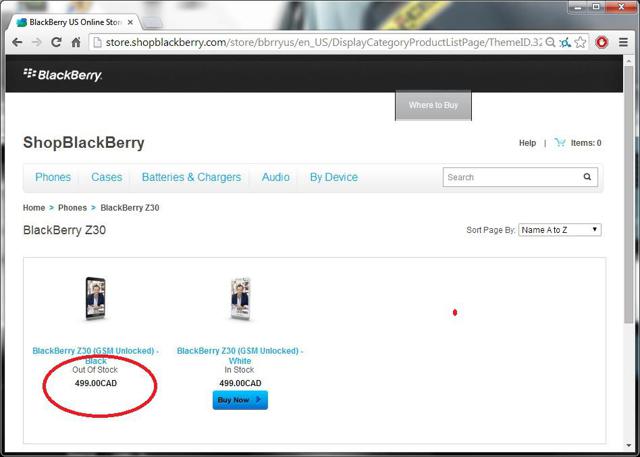 Now for the US store: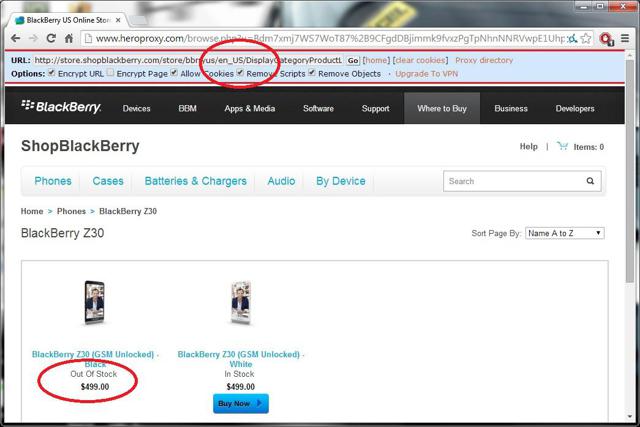 Still not satisfied with my sleuthing, I went for the UK and EU versions of the website. Here, I find the stock is still available: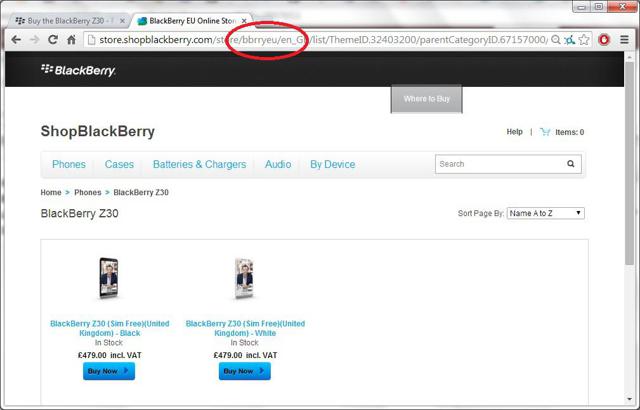 Yesterday, Motley Fool published an article saying that BlackBerry's mobile traffic is down in the US. I caution against making this judgment, as the data is 3 months old and as of March 2014. Also, it originates from comScore, which I have found to be unreliable for judging enterprise activities. As detailed in my article on Enterprise Surprise:
comScore and other web analytics should carry a disclaimer on reports. Their data is unreliable as true enterprise traffic is unknowable. Predictions of BBRY's demise is based on questionable research.
The most glaring problem with comScore is that it pays consumers to allow them to track their activities. With enterprise, security is important, and data access and transmittal is controlled. The concern over security will only increase over time as more high-profile cases come to light. Below is a chronological listing of high-profile cases, with the most recent on top:
As more people in management positions are forced to consider the repercussions of a data breach, security will become the focus. BlackBerry has been in the business of providing security for 30 years, and it stands to gain renewed attention from the slew of bad press surrounding hacking.
The Black Swan Theory
First, it is an outlier, as it lies outside the realm of regular expectations, because nothing in the past can convincingly point to its possibility. Second, it carries an extreme 'impact'. Third, in spite of its outlier status, human nature makes us concoct explanations for its occurrence after the fact, making it explainable and predictable. - Wikipedia, Black Swan Theory
Reports that BlackBerry is going out of business have been ongoing for over 5 years. Yet, BlackBerry is still around, and seems to be regaining interest. Are people wrong about BlackBerry?
Headlines are becoming more positive:
The Black Swan Theory, as written about by Nassim Nicholas Taleb, is a favorite of value investors and trend spotters, who make it their job to hunt for stocks and businesses that are overlooked. Hunting for the diamond in the rough provides the best returns for people who spot the changes as they are first developing. The next earnings report and conference call is just around the corner. The world will be waiting for John Chen's update on the turnaround progress on June 19. It will provide coverage for the quarter ending May 31, 2014. Mark your calendars.
Disclosure: I am long BBRY. I wrote this article myself, and it expresses my own opinions. I am not receiving compensation for it (other than from Seeking Alpha). I have no business relationship with any company whose stock is mentioned in this article.