The second wave of selling in high price earnings ratio stocks and momentum sectors seems to be underway. After a big sell-off in these names for around six weeks starting at the beginning of March, it appeared these sectors were stabilizing somewhat.
However, this pullback seems to have accelerated this week, driven by poor guidance from the likes of Whole Food Markets (NASDAQ:WFM) and FireEye (NASDAQ:FEYE), which put those stocks in freefall. In addition, Twitter (NYSE:TWTR) is off more than 20% this week, and its decline has hit the entire social media space hard, judging by the continued sell-offs in Yelp Inc. (NYSE:YELP), LinkedIn (NYSE:LNKD) and Groupon (NASDAQ:GRPN).
Some of the previous high momentum tech names like Splunk (NASDAQ:SPLK), Rackspace (NYSE:RAX) and the aforementioned FireEye and Twitter look eerily similar to the first month of the internet bust that commenced in March 2000. The descent has become just plain ugly (See Chart).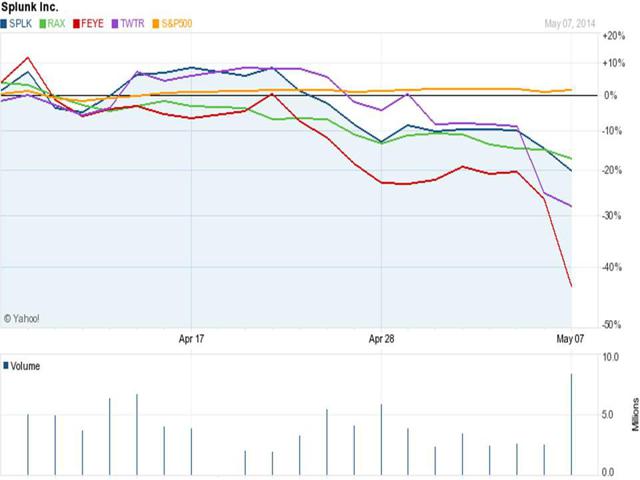 One tech stock that has sold off in a way that looks unwarranted is Yahoo (NASDAQ:YHOO). The shares are now down ~15% from its highs in early March. I picked up an initial stake in this tech play yesterday as buying the stock at these levels seems like a "no-brainer."
The company owns ~24% of Alibaba, which filed for one of the largest IPOs in history the other day. Estimates of what this huge Chinese online tech giant could be valued at from a market capitalization perspective are all over the map. TheStreet put out a good piece the other day showing some good work to calculate the value of Alibaba as between $115B and $245B.
This is a wide range but here is the thing. At the midpoint of that range of $180B; Yahoo's stake would be worth something like $43B. At the low end of the range and the stake would be worth north of $27B. Yahoo's entire market capitalization currently is just $35B. Taking out the net cash gets it to an approximate market cap of $33B, $10B below what its Alibaba stake could be worth at its midpoint according to TheStreet. This is not an outlier judging by other analyst estimates out there on Alibaba's market capitalization.
Yes, the company will have to pay taxes on the sale but this seems to be a huge opportunity to buy some Yahoo significantly under what the company's assets are worth. After the sale, Yahoo will have a huge amount of "dry powder" to make strategic acquisitions and/or return capital to shareholders either through stock repurchases and/or dividend payouts.
In addition, the company is solidly profitable with earnings expected to come in around $1.65 a share on some $4.5B in revenues for FY2014. The stocks goes for ~$34 a share after a recent pullback which is substantially below the $43 a share median price target held by the 27 analysts that follow the stock. Given its Alibaba stake and solid fundamentals, this equity seems like it is offering a great entry point after its recent decline. BUY
Disclosure: I am long YHOO. I wrote this article myself, and it expresses my own opinions. I am not receiving compensation for it (other than from Seeking Alpha). I have no business relationship with any company whose stock is mentioned in this article.