Recent weakening of property activities in China was expected after the strong pick-up between mid-2012 and 2013. Both price and volume fell across the country, especially in 3rd and 4th tier cities.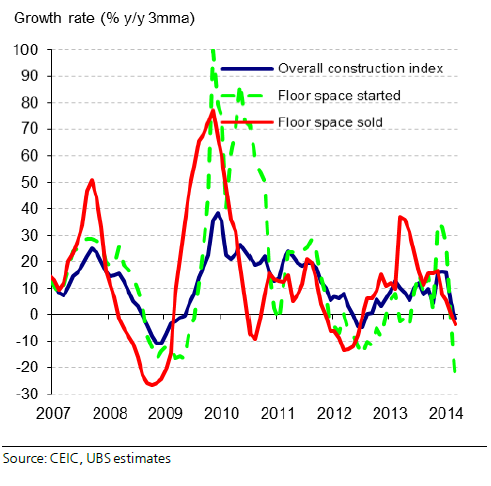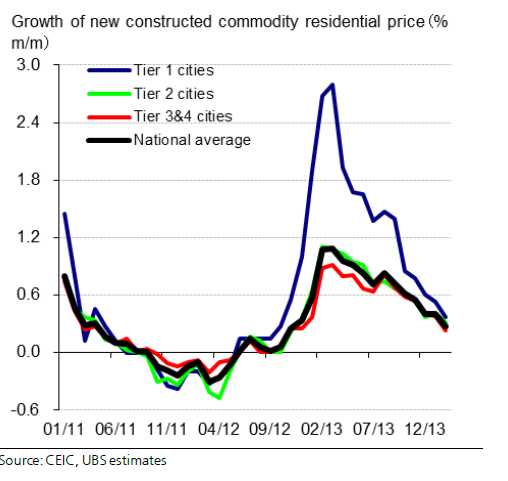 Source:UBS
Amid such weakness, local governments in Tier 3 and 4 cities have already taken action to bolster the housing market by loosening previously imposed restrictions on additional property ownership.
No bolstering measures have been implemented in Tier 1 cities such as Beijing. As the most abundant regions in the nation, these cities have gotten used to buyers lining up outside sales centers. This time, however, transaction volume speaks for itself.
The Chinese Labor day holiday (5.1-5.3) has traditionally been a good time for the property market. Yet, during the 2014 labor day holiday, Beijing, China's capital and the most prosperous real estate market, saw only 200 suites (new and resale) transacted, a 82% decline from 975 for the same period last year.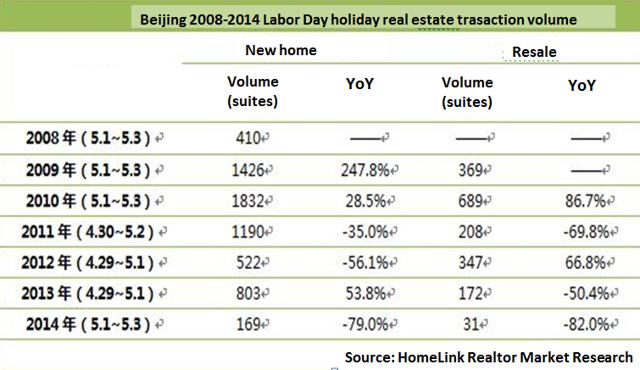 There may be many factors contributing to the recent property sector weakness and they together form a vicious circle:
Construction outpaced sales and caused high inventories in tier 2 and tier 3 cities.
Land prices skyrocketed and the de-stocking process causes earnings to shrink and cash flows to deteriorate.
Credit conditions tightening both domestically and overseas.
Shift in home buyers' psychology makes a buyer reluctant to enter the market and thus completes this vicious circle.
High inventory that would take years to digest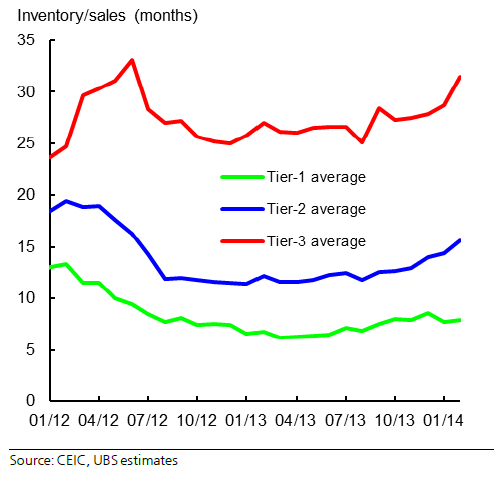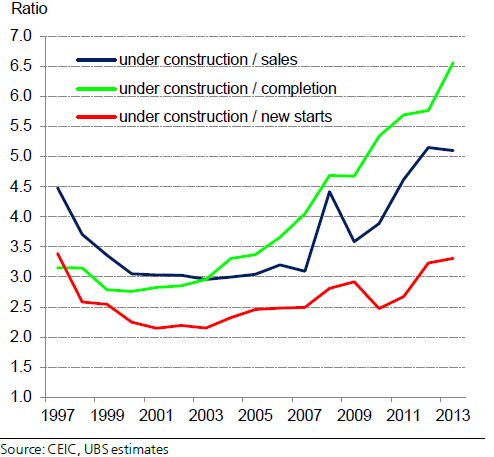 Source: UBS
Rental return continues to decline, and Tier 1 city residents choose renting over owning. Property investors are discouraged and shift to alternative investment opportunities and the demand side has been further suppressed.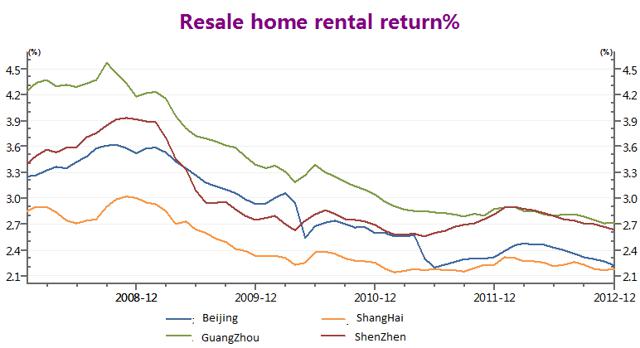 Source: Wind
Deteriorating of developer financial situation
As urban land supply becomes more scarce and local government's addiction on land sales proceeds, the pre-construction floor price has reached an unprecedented and unsustainable level. The spending spree in acquiring land at huge premiums in the past few years has subsequently caused huge cash flow problems.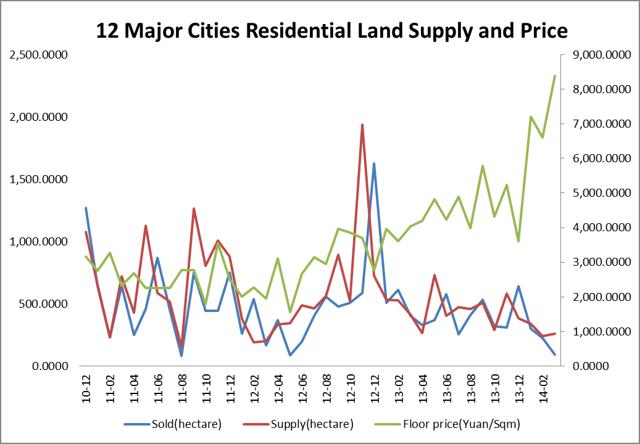 Source:Wind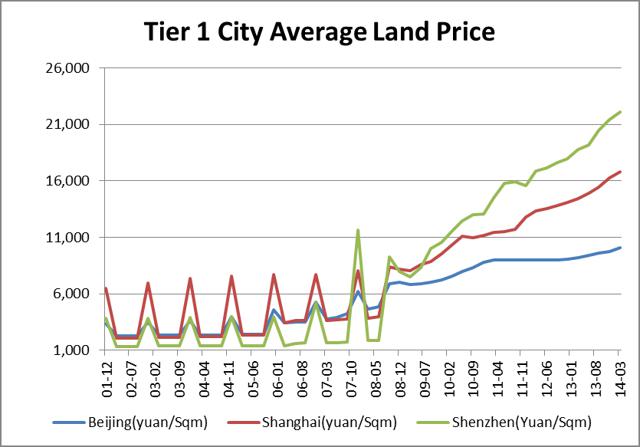 Source:Wind

Source:Wind
Credit conditions tightening both domestically and overseas
Though there is no immediate threat of a tightening monetary environment, credit growth has to slow gradually in coming years following a massive increase in financial leverage in the past five years. Developers are now facing funding pressure from both domestic and overseas sources.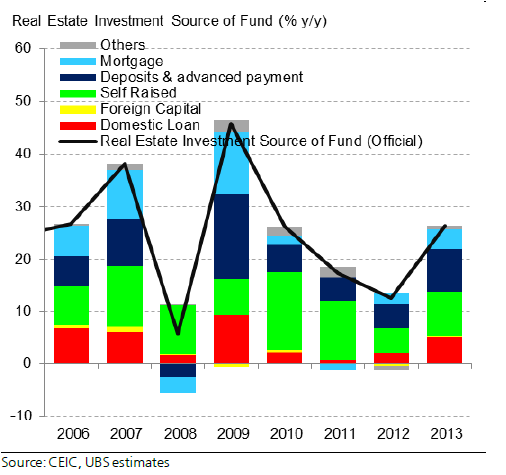 Source: UBS
Lenders are curbing lending to the real estate sector due to risk concerns, adding tension to the already vulnerable funding chain. The QE exit is shutting the door for offshore financing for onshore developers. April offshore financing amounted to $1.47 B, down 56% from March. Recent CNY depreciation also ballooned some developers' USD denominated liabilities.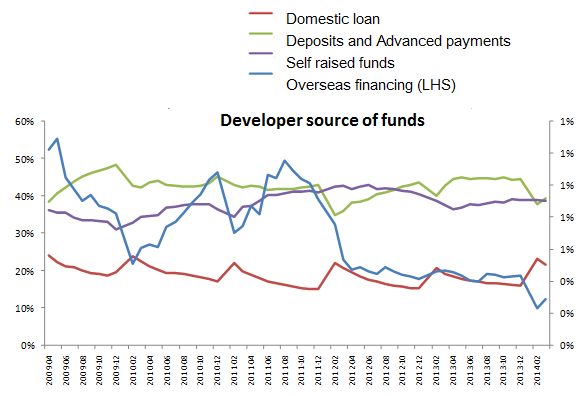 Source: Wind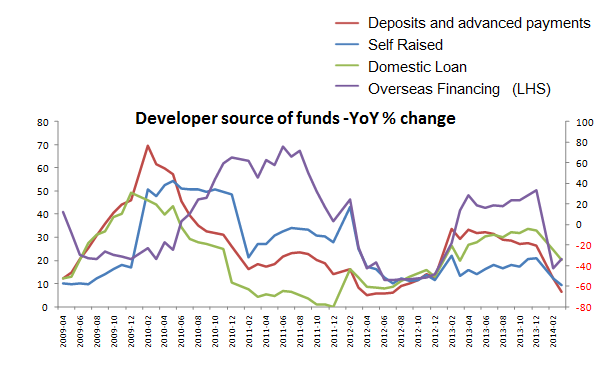 Source:Wind
Shift in homebuyer psychology
Mainstream media now are heavily covering the threat of a possible housing price collapse, which is really countering local government's bolstering efforts, as it encourages home buyers to delay entering into the market in anticipation of further price declines.
Disclosure: I have no positions in any stocks mentioned, and no plans to initiate any positions within the next 72 hours. I wrote this article myself, and it expresses my own opinions. I am not receiving compensation for it (other than from Seeking Alpha). I have no business relationship with any company whose stock is mentioned in this article.