Steve Keen is Associate Professor of Economics at Australia's West Sydney University and a widely followed economic blogger. His most recent post is entitled "Bank Profit a sign of economic sickness, not health."
Two of the graphs in the post tell most of the story.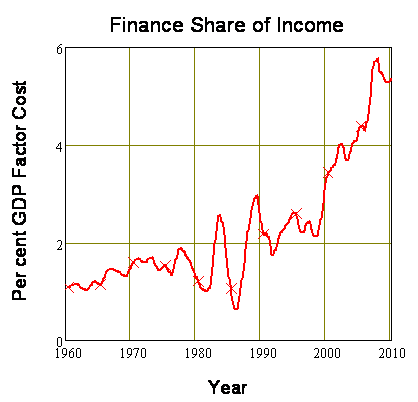 Keen says:
A sustainable level of bank profits appears to be about 1% of GDP. The blowout from this level to virtually six times as much began when bank deregulation began under Hawke and Keating, and then took off as Howard and Costello encouraged everyone to become "Mum and Dad Investors", which meant borrowing money from the bank and gambling on share and house prices.
Keen refers to banking in Australia as a Ponzi scheme.
The second graph is from a model (not yet fitted to the data) but Keen says the relationship to data is "ominous".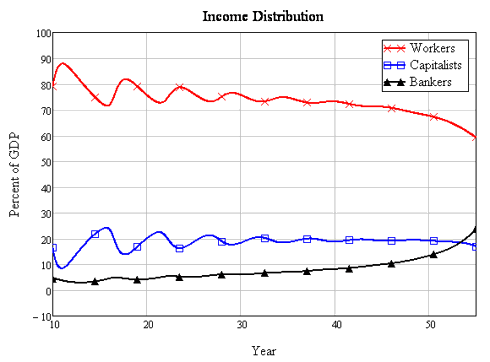 The vampire squid made famous by Matt Taibbi (Rolling Stone article) is thriving in Australia as well as the U.S. and Europe.
There is one major difference between the U.S. and Australia, however. Government debt in the U.S. is about 90% of GDP, while down under the ratio is only about 5.5%. Private debt is where the Aussies have gone overboard, with a ratio of 150% of debt to GDP. Even so, this trails the U.S. where private debt is more than 260% of GDP.
The lack of economic benefit of all this debt is evident in the following graph from my May, 2009 article on the declining usefulness of debt. The graph is constructed using nominal values of GDP and total U.S. debt, public and private.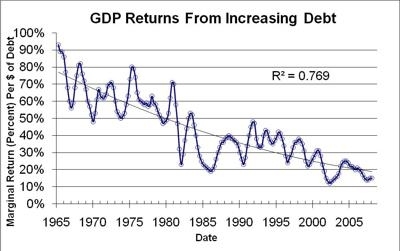 Australia may have an advantage over the U.S. because the down under economy is more centered on natural resources, like Canada, and is sitting on a store of wealth (in the ground). However, that does not diminsh the dangers posed by a finance sector run amok.
The second graph from Steve keen illustrates the problem. The "Ponzi-ation" of finance serves to siphon income from capital and labor to the enrichment of the finance parasites. Keen says this leads to depression.
Hat tip to Yves Smith at Naked Capitalism.
Disclosure: No positions.